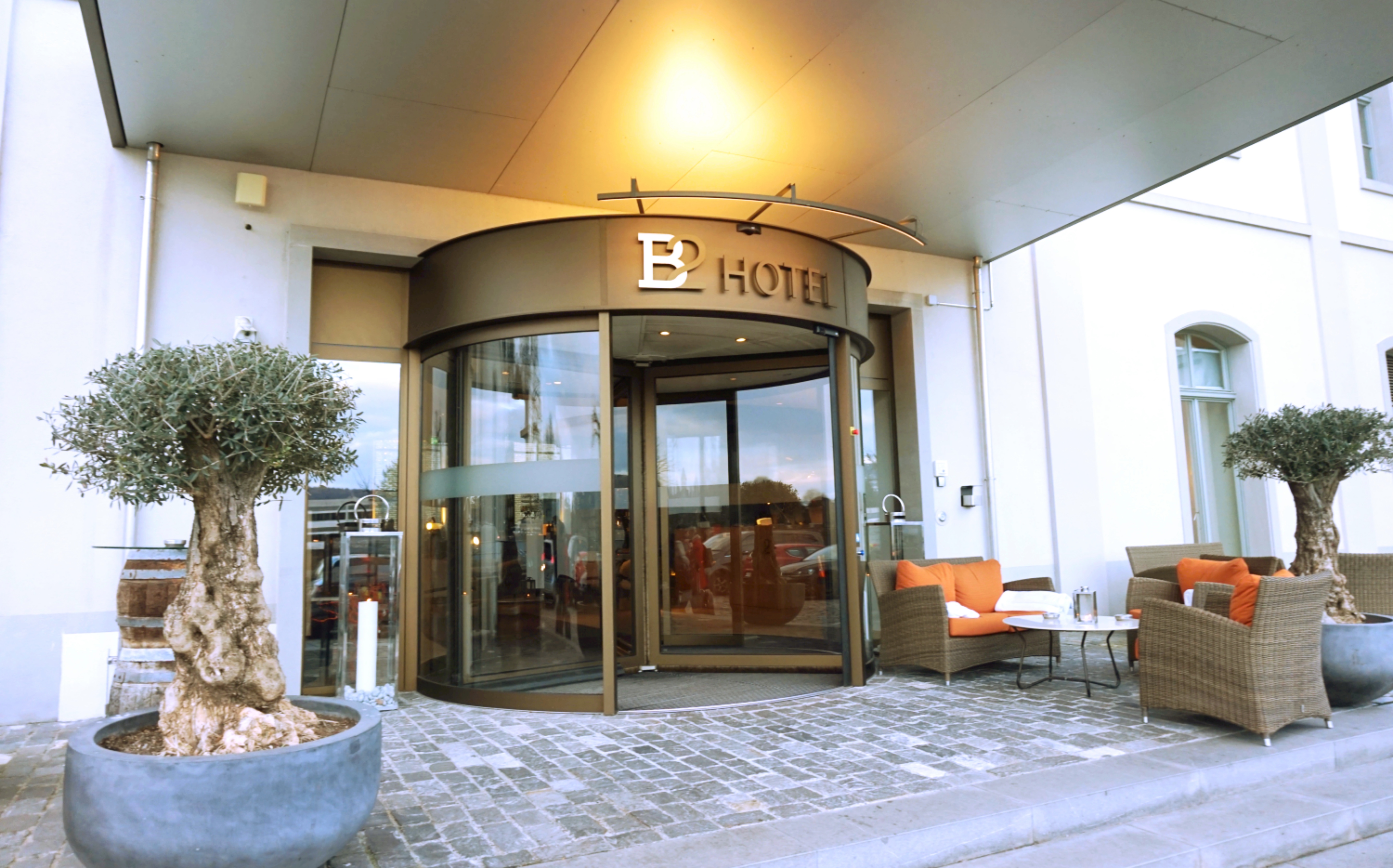 + B2 Boutique Hotel & Spa Zürich
If I can recommend a place to stay in Zürich, it will definitely be the B2 Boutique Hotel for sure. I had an excellent experience in this place where I fully could enjoy pleasant and relaxing moments. The hotel is located in a quiet and peaceful area of Zürich, just 5 min by public transportation to the center. It's easy to move around as a lot of lines of tram, train and bus are straight down the hotel.
When I asked around me where I can stay in Zürich, they all said the B2 Boutique Hotel. So I didn't hesitate to book a room there. Then before we go further, let's talk a little bit about that amazing and surprising place because it has a story. 🙂
B2 BOUTIQUE STORY
In 1867, Albert Hürlimann establishes a new brewery on the site of an old farm known as «zum steineren Tisch» (means the stone table) at Sihlberg in Zurich's Enge district. A ground-breaking refrigeration system known as the «Ice Machine», invented by German engineer Linde, allows Hürlimann to increase production and become the largest brewery in Switzerland. After 130 years of work, the factory closed shortly afterwards under pressure following liberalisation of the market.
In 2011, the first thermal bath in Zürich opened in that place and this fed by an existing spring. Step by step the roof and the walls of Hürlimann building are transformed into a luxurious wellness area and a year after, Turicum Hotel Management AG develops the B2 concept – Boutique and Bookmark Hotel.
+ HOW TO GET THERE
BY TRAM
Take tram No. 13 or 17 to Enge/Bederstrasse, walk straight around 200m on the Bederstrasse street then turn right into Steinentischstrasse. For around 3 minutes you will see the Hürlimann area just in front of you.
BY TRAIN
If you're coming from the airport take the S2 or from the Zürich central train station, you can take S4 to Zürich Giesshübelor station then 4 minutes walk to the hotel. Or S8, S2 or S24 from the central main station to Zürich Enge, you have 9 minutes walk to B2 Boutique.
+ MY EXPERIENCE
My weekend in Zürich was wonderful and particularly my stay at B2 boutique hotel. The interior deco is wonderful, very original and specially historic.
I was very impressed about the Wine Library where I enjoyed a very good buffet breakfast. That area is fully filled by 33 000 books stored on the shelve of the walls. An amazing place to dine!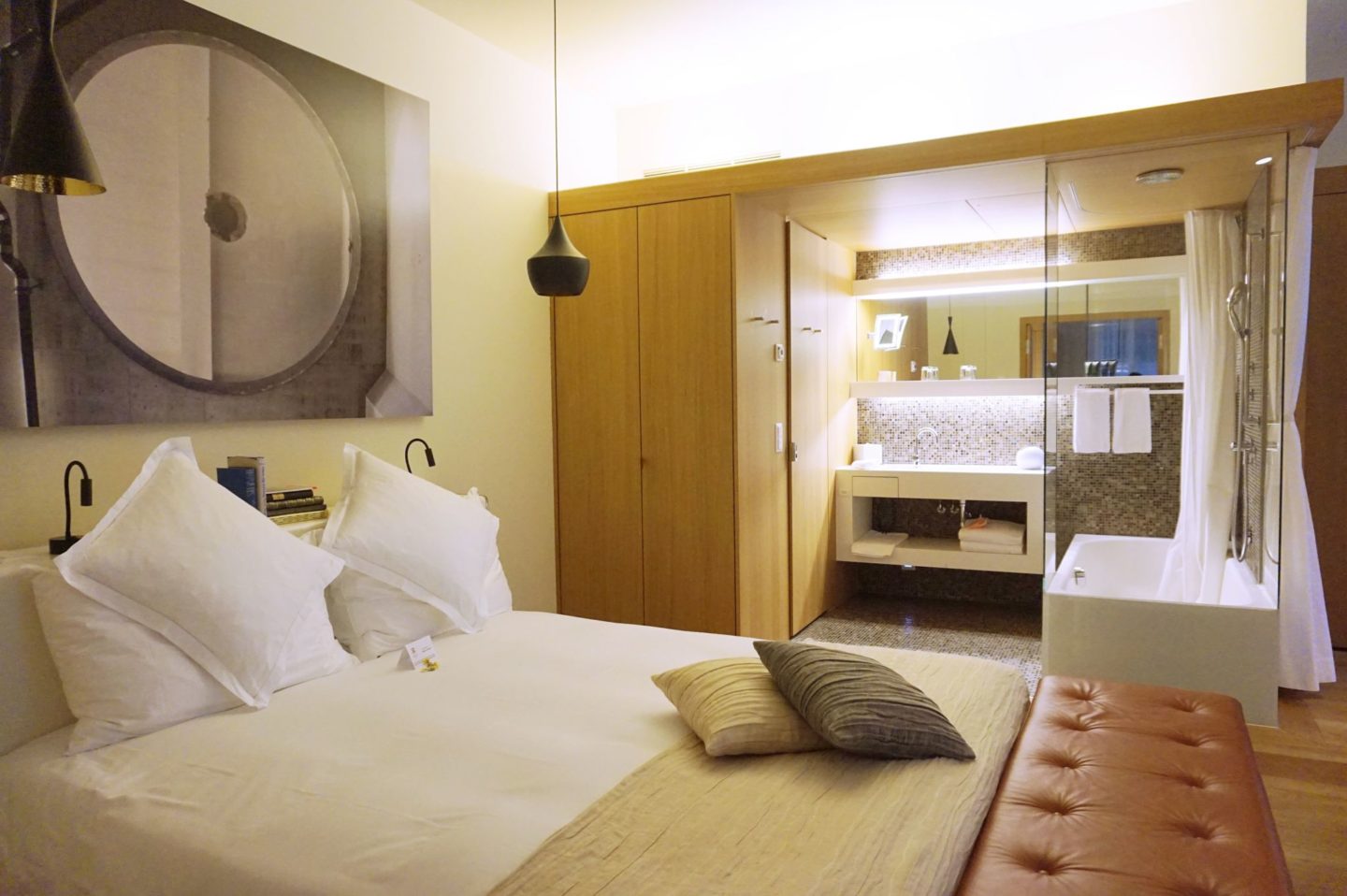 Also the room that I had (a Junior Suite) was very spacious and confortable. It's a 52 sqm room with a separate living room and an additional rest room. I was amaze by the beauty of the room because it offers an open bathroom. It's practically part of the bedroom, just separated by a sort of glass wall and a curtain.
The room is equipped with Nespresso coffee and tea, air conditioning, free wifi and a mini bar.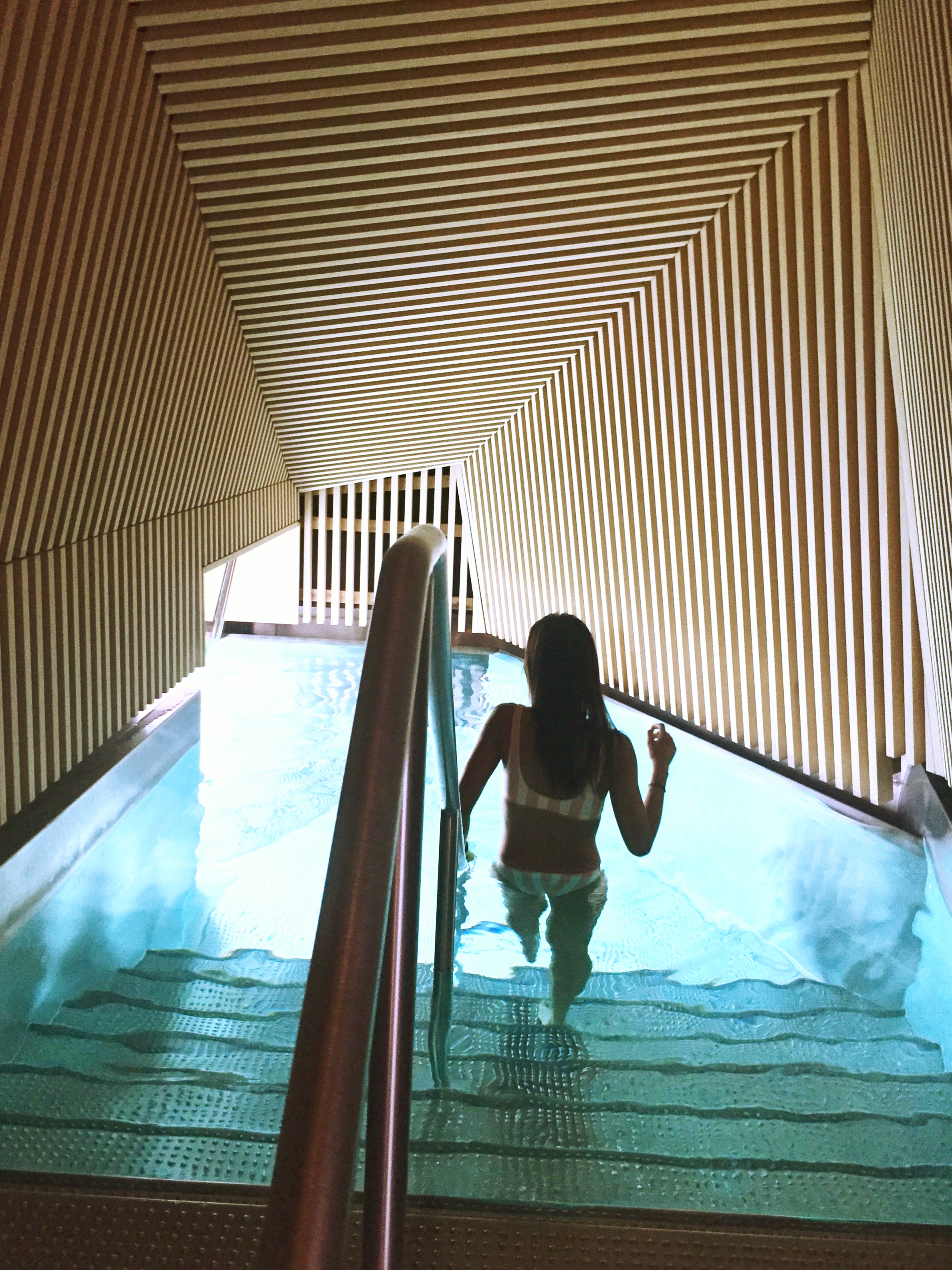 I also enjoyed my morning at the spa located on the top of the hotel. A wonderful infinity rooftop pool with an overlooking of Zürich.
It was such a relaxing and pleasant moment! I think I would stay there the whole day!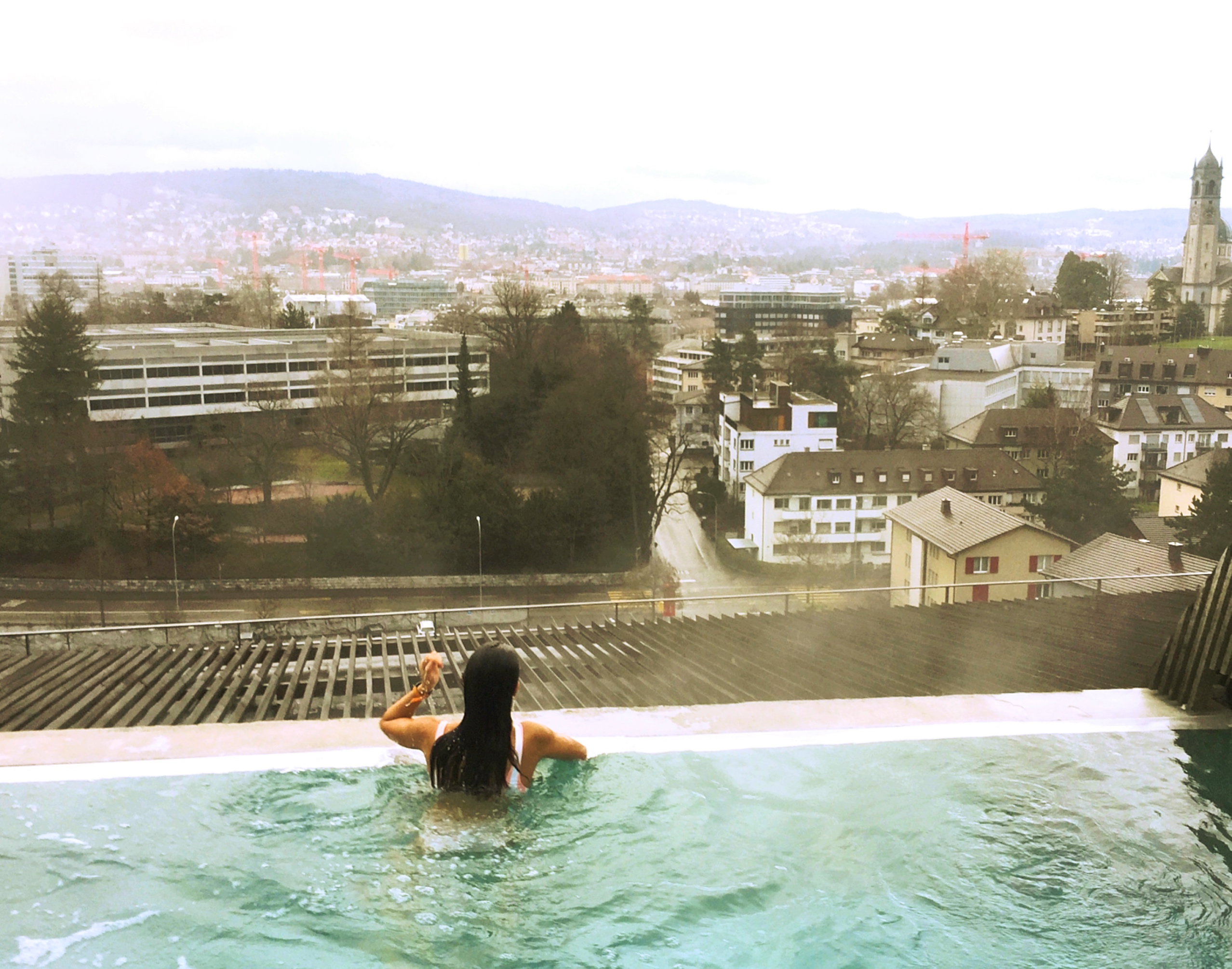 Finally, the staff of the hotel was irreproachable! They took great care of us. The least demand was executed quickly enough and puts you in a perfect comfort. Very efficient, they were really friendly, smiling and quite helpful.
I am very happy with my choice and glad that the people around me recommended this place. So my turn to recommend, if you have to go to Zürich do not hesitate to stay at B2 Boutique Hotel 😉
Address: Brandschenkestrasse 152, 8002 Zürich, Switzerland
Phone number: +41 44 567 67 67
What to visit in Zürich, check my article here
Book a room in this hotel, click here!
Read more about my travel experiences in the world, here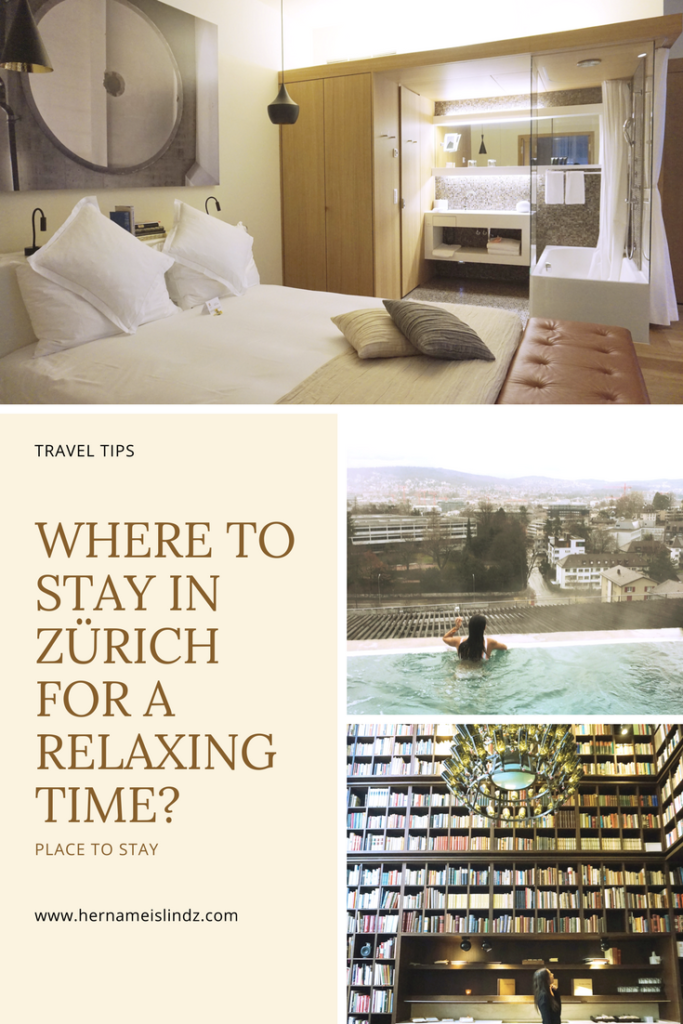 If you like this article don't hesitate to share it on Pinterest 🙂