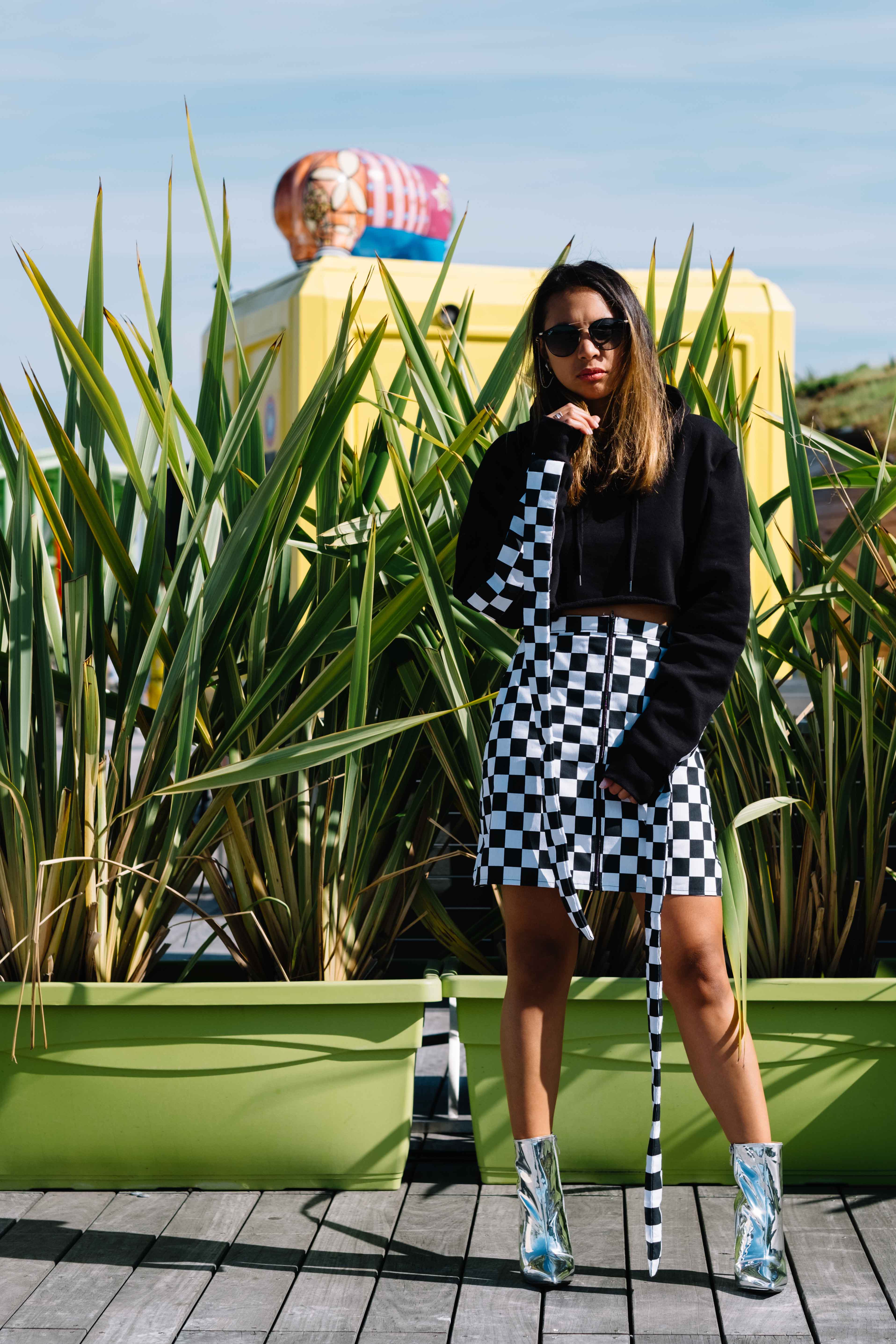 BOWSDONTCRY a vintage shop and clothing brand customization
Hi Folks! I'm back with a new article regarding Bowsdontcry a vintage shop and personalized clothes, but first, let's talk a little about my life right now. I was very busy lately as you saw it on my social networks (if you follow me) with my birthday party; three days of celebration then my departure in Tunisia. It was always the rush, going here and there!
The birthday celebration went very well, I enjoyed it with my childhood girlfriends with whom I share incredible moments since several years now. Then with my family and closed friends, everyone was reunited last Sunday around a huge barbecue party under the sunshine. It was great everyone was there, I really enjoyed myself and had so much fun! 🙂
After that fabulous weekend, I flew to Djerba in Tunisia for a 2 months stay. I'm talking about this new adventure and my new mission in my previous article here. Actually I'm not on holiday – well it's a big word if I'm telling you that I'm working – cause I manage the new restaurant Pékin-Tokyo Express recently opened few days ago, all in a beautiful island where there's always sunshine and it's warm. What else?! 😛 An article will be written about this place very soon.
Let's talk about fashion and style now, here is an amazing outfit created by Sarah, my childhood friend and fashion designer of Bowsdontcry. Do you remember about the photoshoot I had when I was wearing a denim jacket with "Denver the last dinosaur" at the back? Well it's her 🙂 Find the photoshoot here.
I'm totally in love with this set of black hoodie and checkered skirt, they are some amazing pieces. A great look where you find style and originality with the checkerboard strip on the entire sleeve which dangles. It makes all the difference of the garment. This detail was seen in the collaboration between Vetements and Champion (collection here), a combination of a luxury and sport wear brands. It's associated with a high-waisted trapeze skirt and an amazing pair of killer boots in silver color, from Public Desire. 
I am a huge fan of this outfit and also the pictures are more than successful. Redha the photographer did an amazing job! Love it!!!
How about you, what do you think about these pictures? And this outfit? Yay or Nay?!
xx
Lindz
---
🇫🇷BOWSDONTCRY UNE BOUTIQUE VINTAGE ET UNE MARQUE DE CUSTOMIZATION DE VÊTEMENTS
Hello tout le monde ! Je suis heureuse de vous retrouver aujourd'hui pour un tout nouvel article. J'ai été pas mal occupé ces derniers temps comme vous avez pu le voir sur mes réseaux sociaux (si vous me suivez), avec mon anniversaire qui s'est déroulé sur 3 jours et mon départ pour la Tunisie. C'était un p'tit peu le rush à droite, à gauche !
L'annive s'est super bien passé, j'ai pu profiter de mes copines de primaire et de lycée avec qui je partage des moments de folie depuis un bon nombre d'années maintenant. Puis ma famille et les amis proches, tous réunit dimanche dernier autour d'un grand barbecue au soleil. C'était super il y avait vraiment tout le monde, je me suis régalée et amusée ! 🙂 C'était la folie !!!
Par la suite, après ce fabuleux week-end, je m'envole pour Djerba en Tunisie pour une durée de 2 mois. Je vous parle de cette nouvelle aventure dans l'article précédent – ici – où je vous raconte ma nouvelle mission. Je ne suis actuellement pas en vacances – enfin c'est un grand mot si je vous dis que je travaille – puisque je m'occupe de la gestion du nouveau restaurant asiatique Pékin-Tokyo Express ouvert il y a quelques jours, tout ça sur une île où il fait tous les jours beau temps et chaleur. Que demander de plus ? Un article sera dédié à cet endroit très prochainement.
Bon parlons mode, ici je vous fais découvrir un look de folie créé par Sarah, créatrice de la marque Bowsdontcry et une pote d'enfance. Souvenez-vous du shooting photo où je posais avec une veste en jean "Denver le dernier dinosaure" au dos ?! Et bien c'est elle ! Retrouvez le shooting ici !
Je vous dis de folie car je suis tombé amoureuse de cet ensemble sweat à capuche noir et jupe taille haute en damier. Un super look où nous retrouvons style et originalité avec le détail de la bande en damier qui traverse toute la manche et qui pends, ce qui fait toute la différence du vêtement. Ce détail a été vu dans la collab de la marque Vetements et Champion (collection ici), l'association d'une marque luxe et sportwear. Il est porté avec une jupe taille haute de forme trapèze et d'une superbe paire de bottines qui tuent couleur argent, achetées chez Public Desire.
Je suis fan fan de cette tenue puis les photos sont plus que réussis. Redha, le photographe a fait du bon boulot ! J'adore !!!!
Et vous, qu'est-ce que vous en pensez de ces clichés photos ? et de cette superbe tenue ? On surkiffe ou pas ?! 🙂
Bisous,
Lindz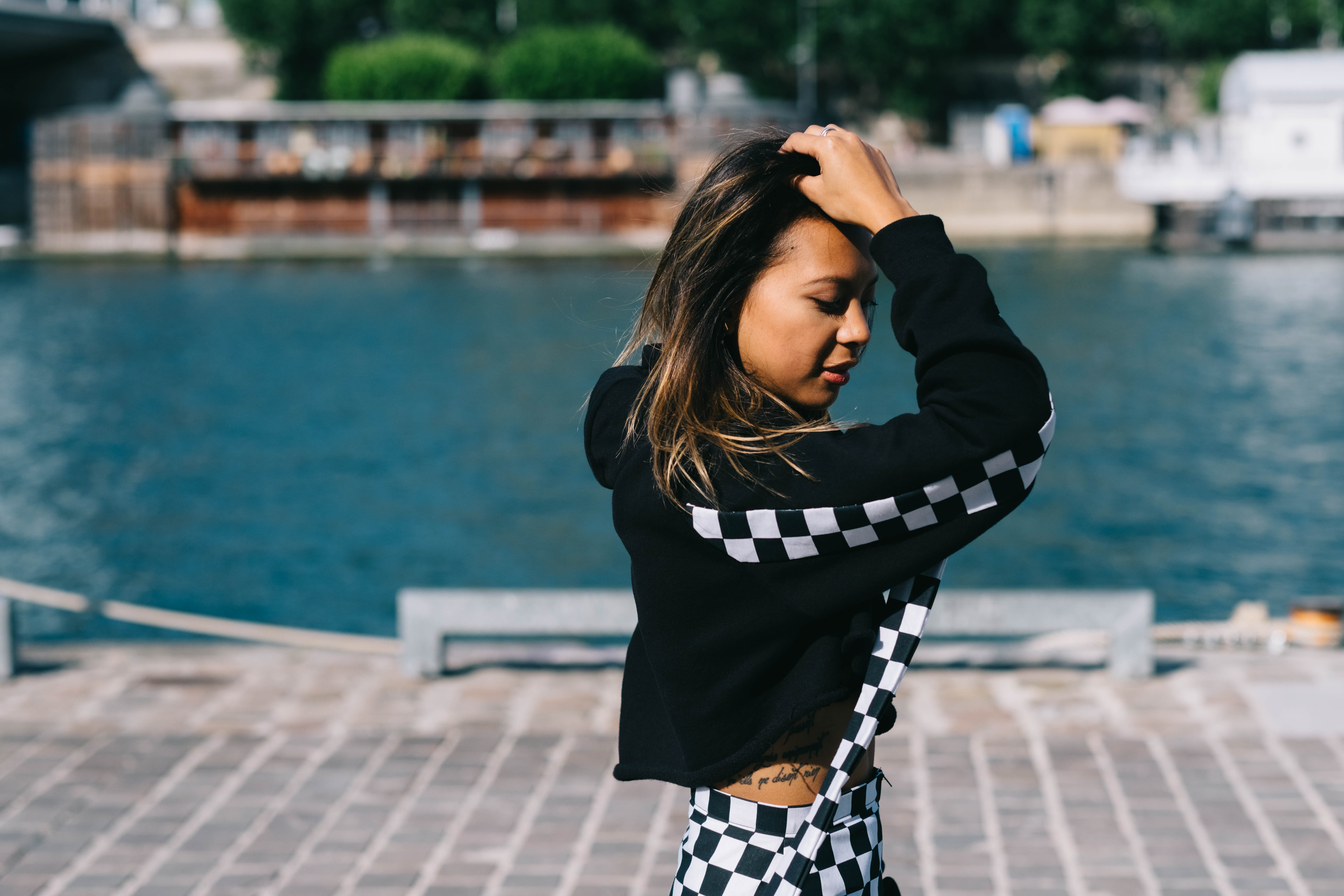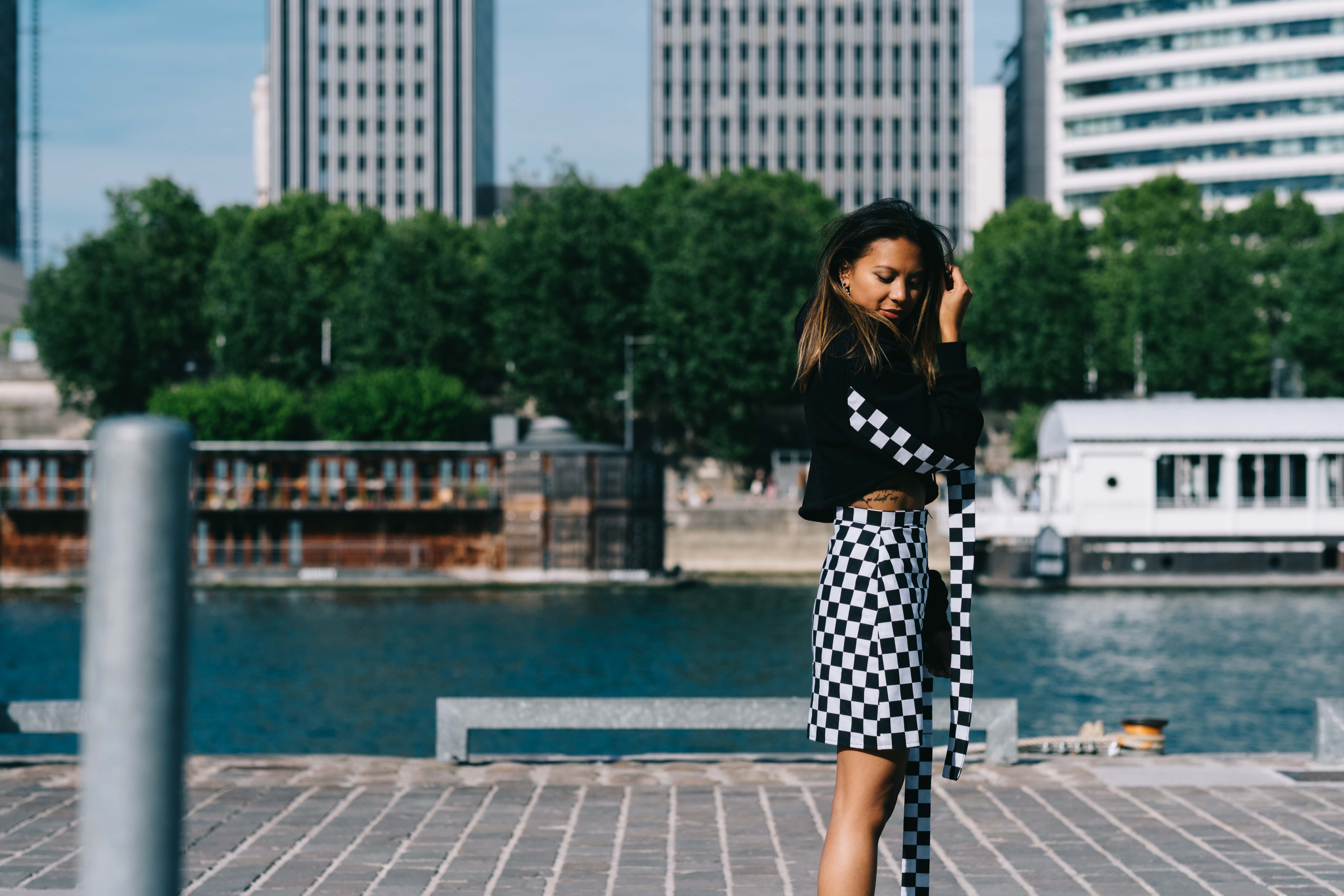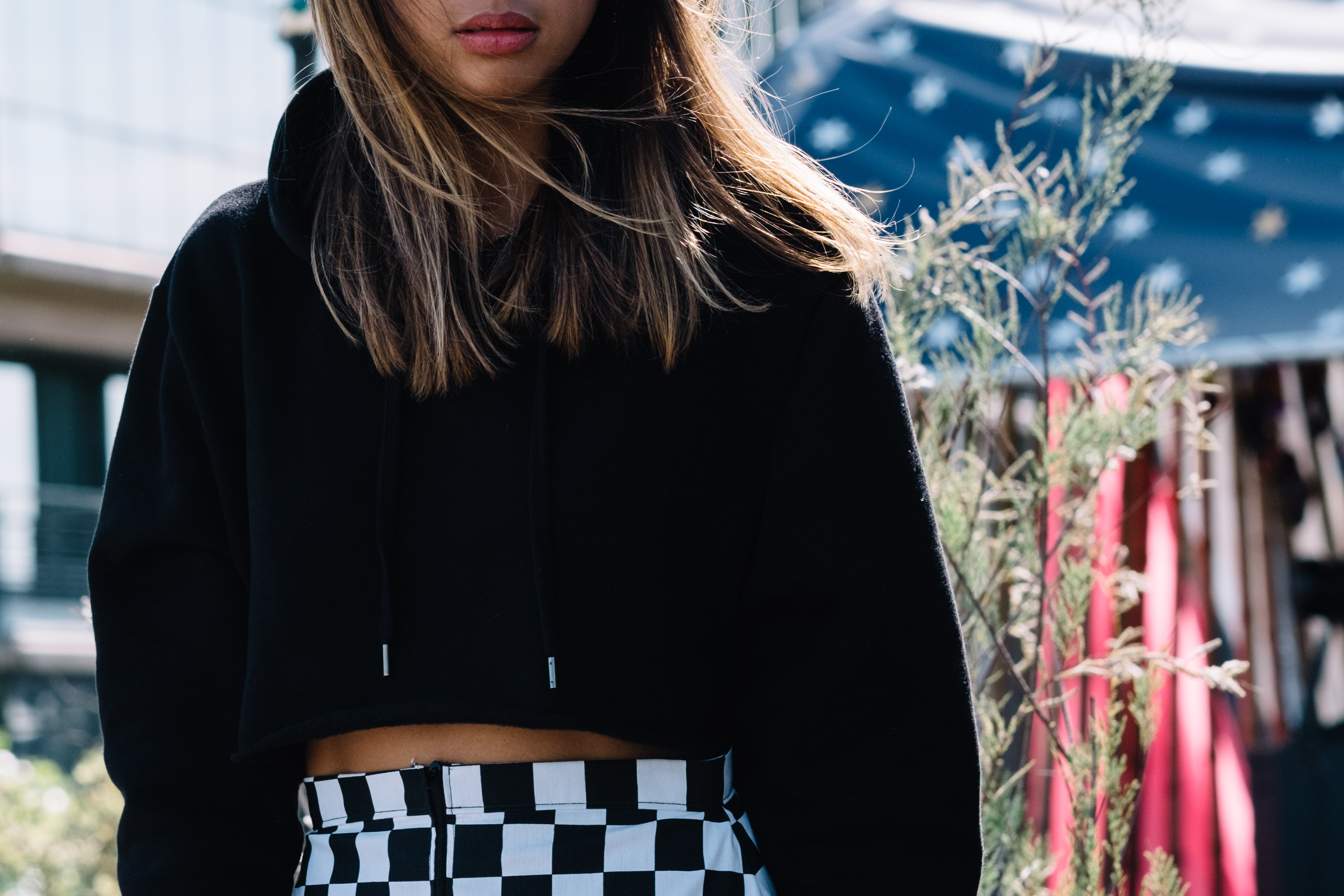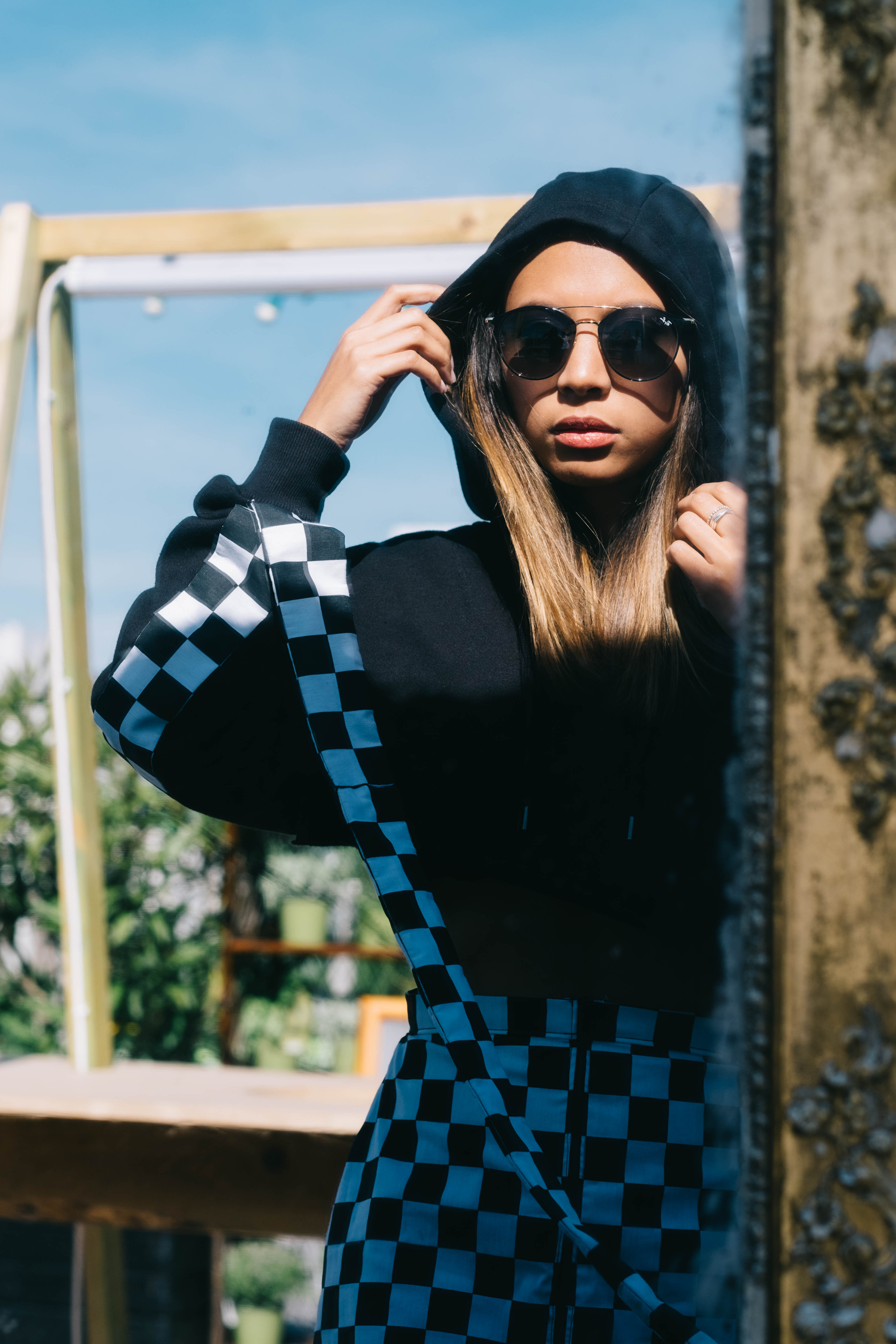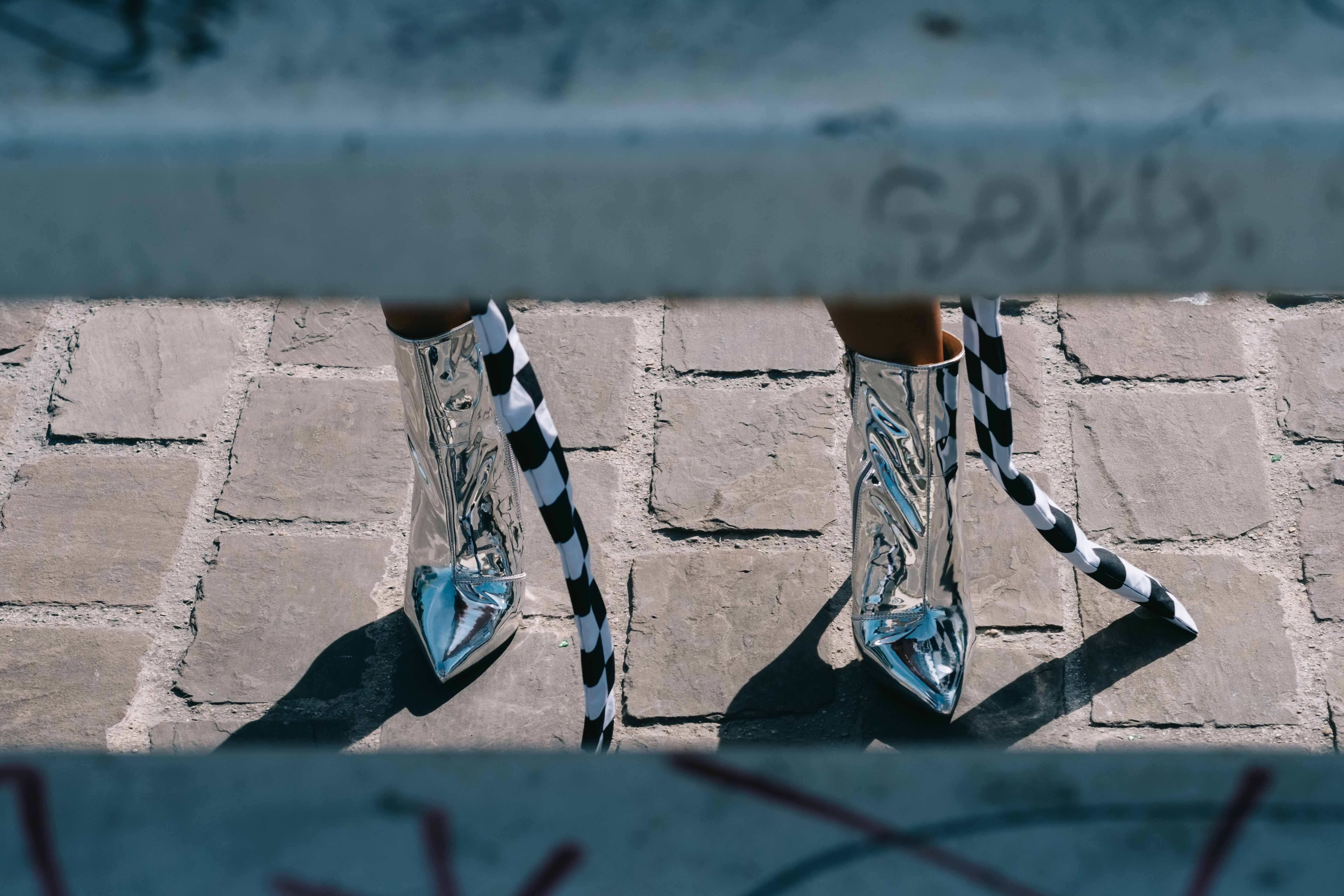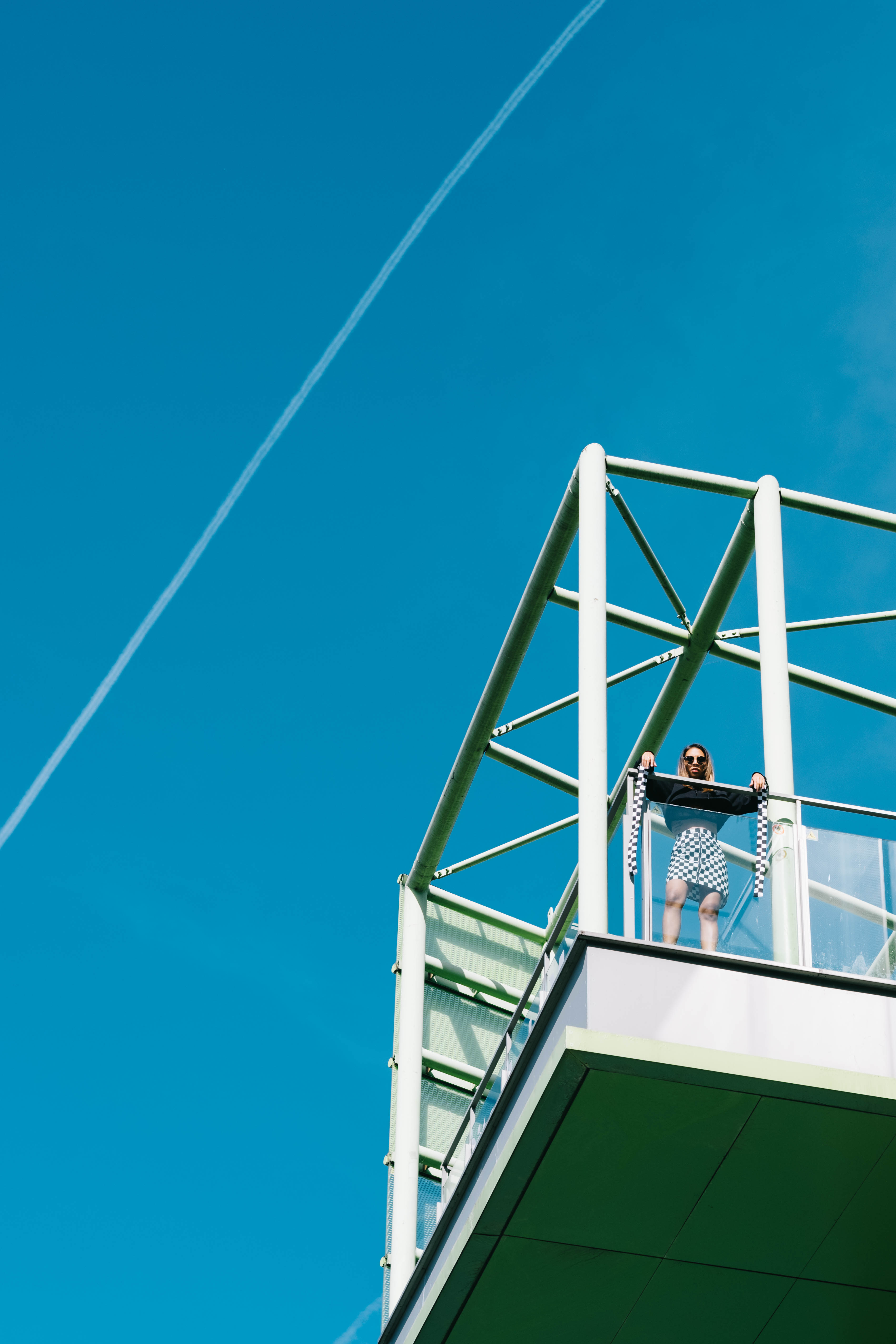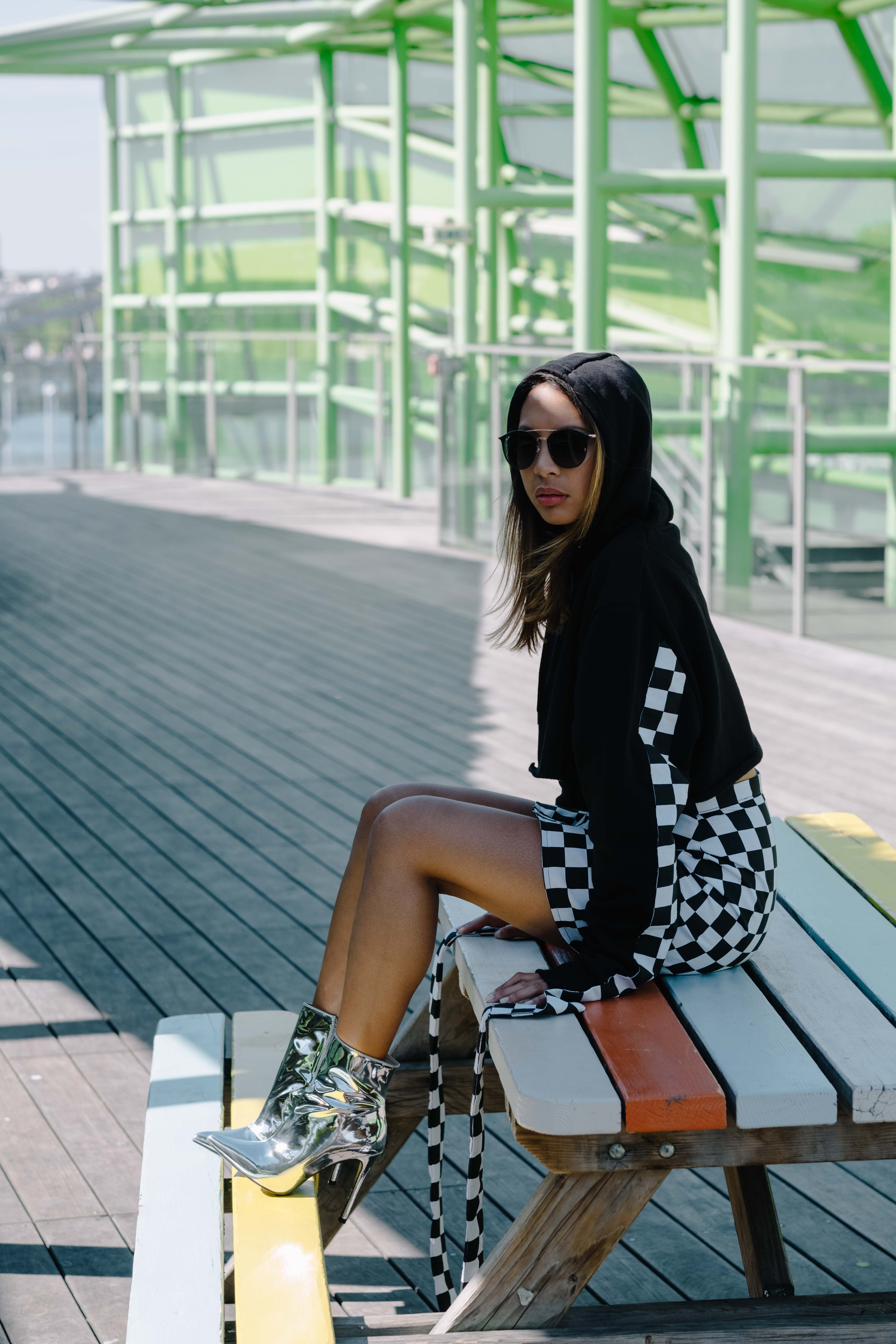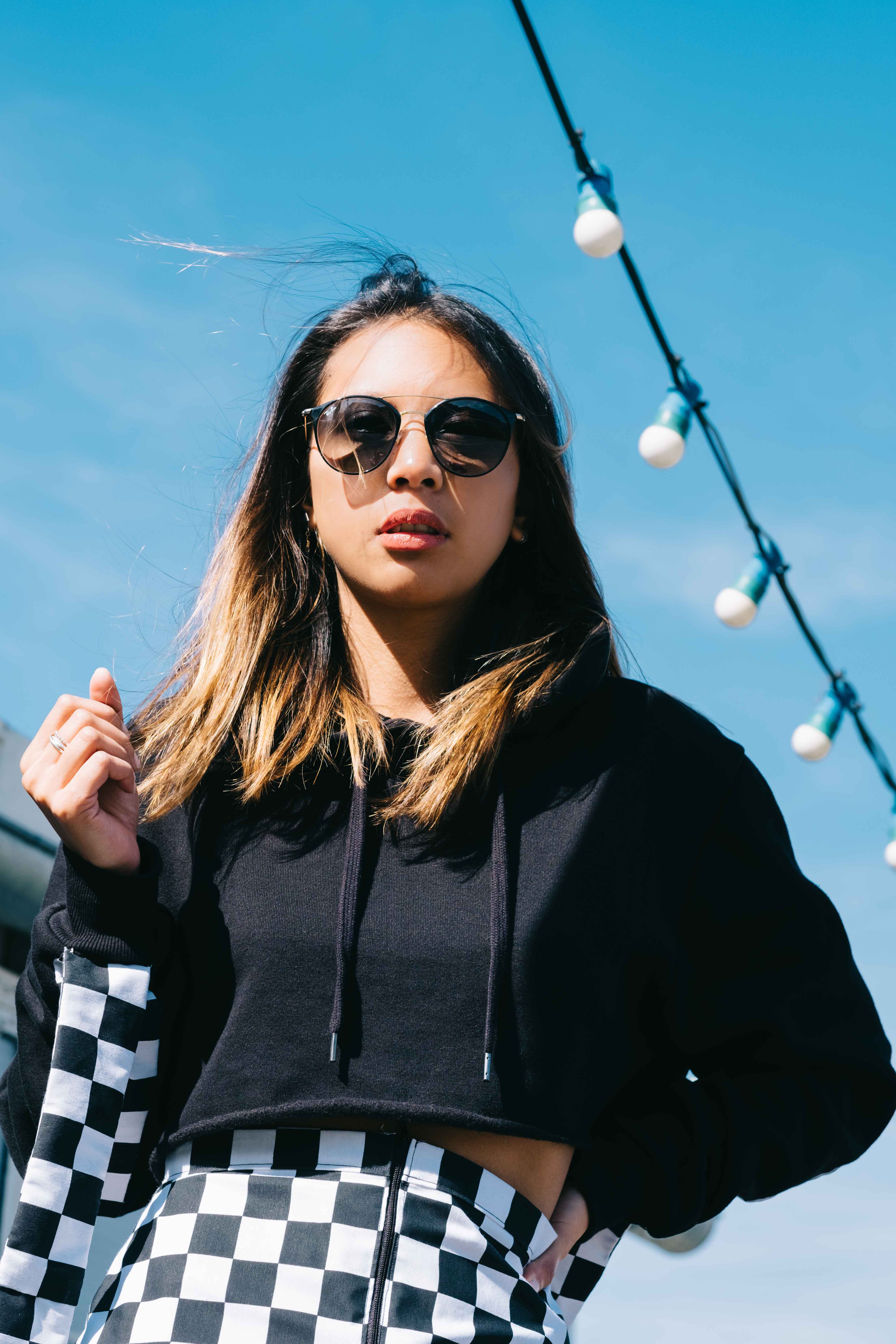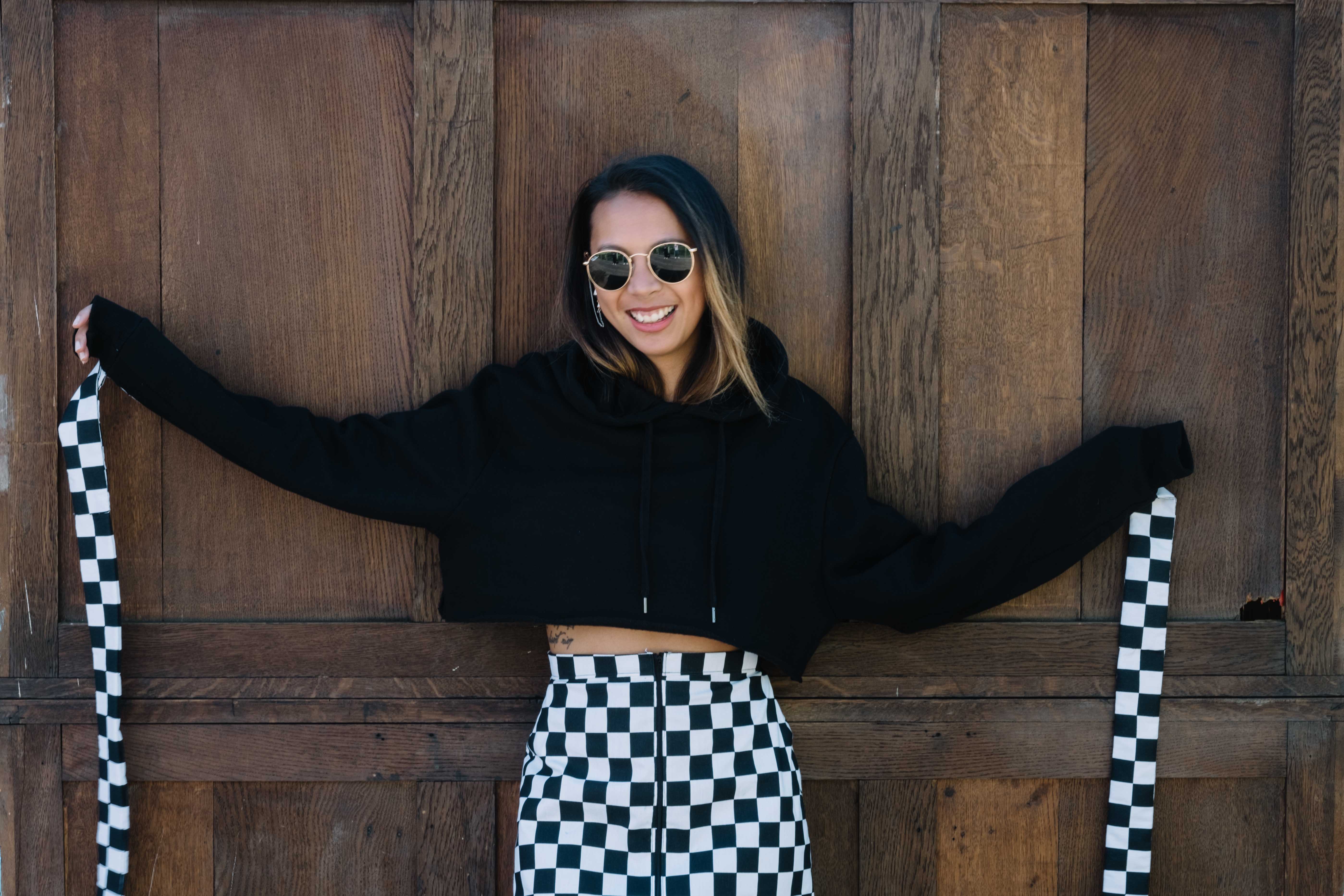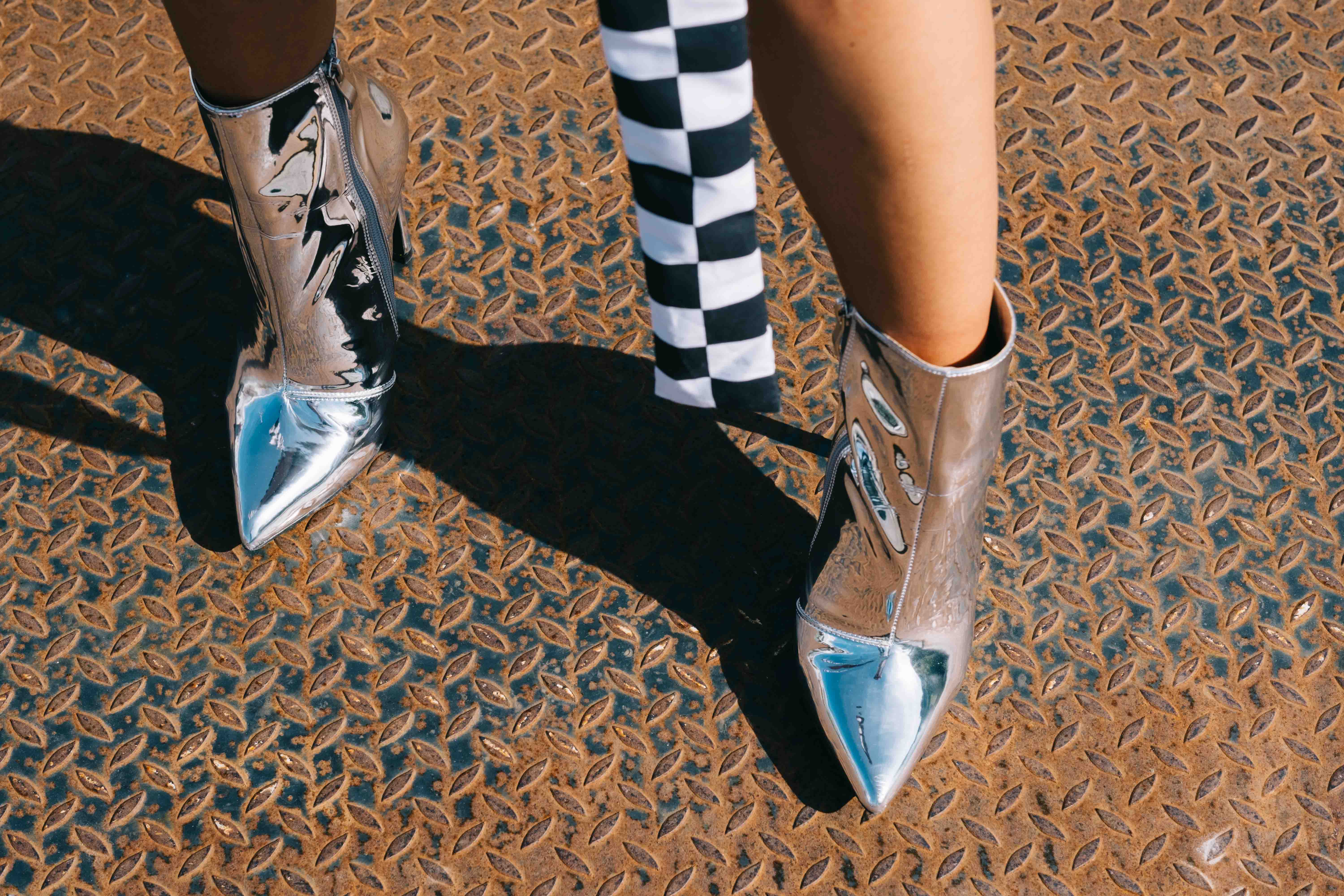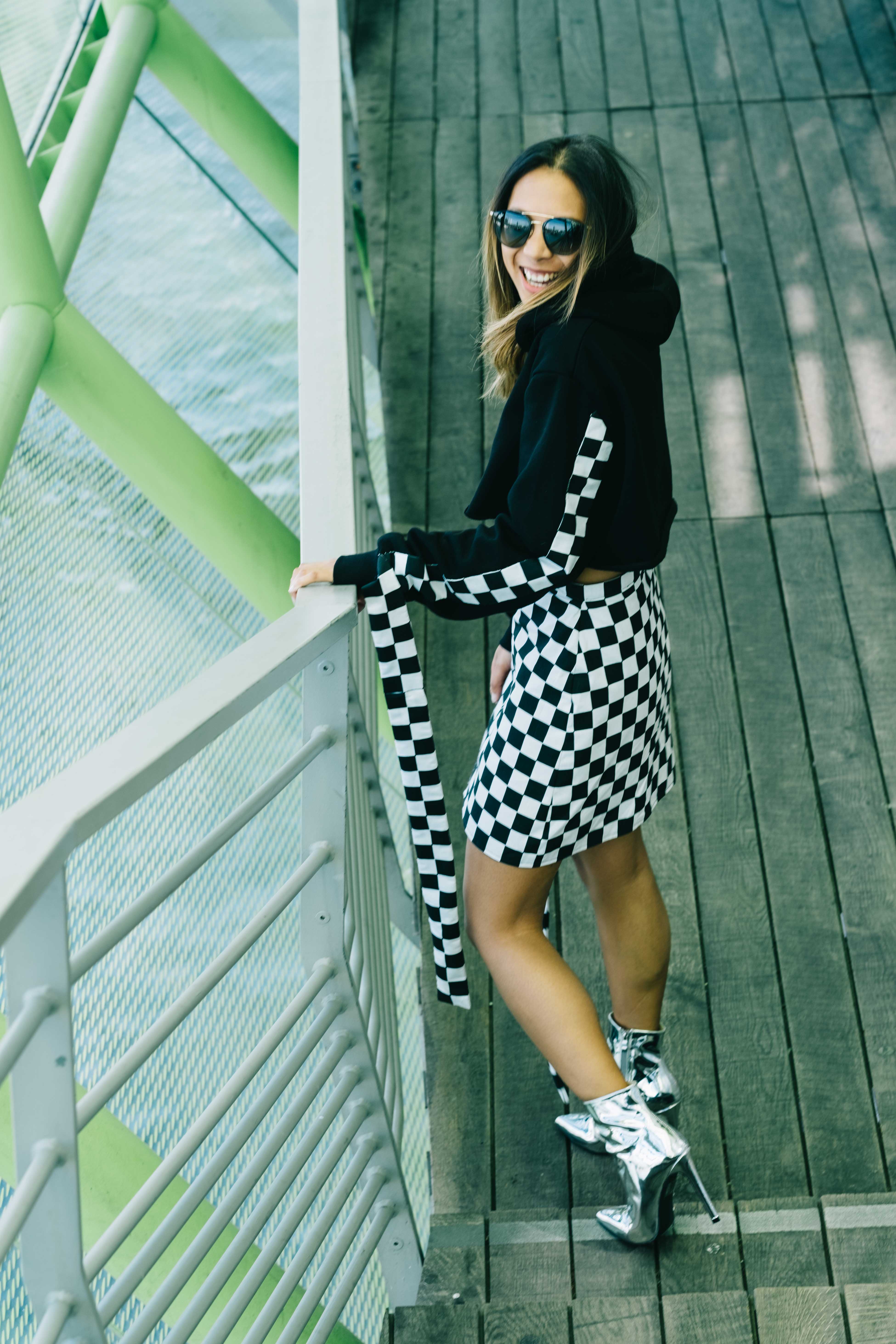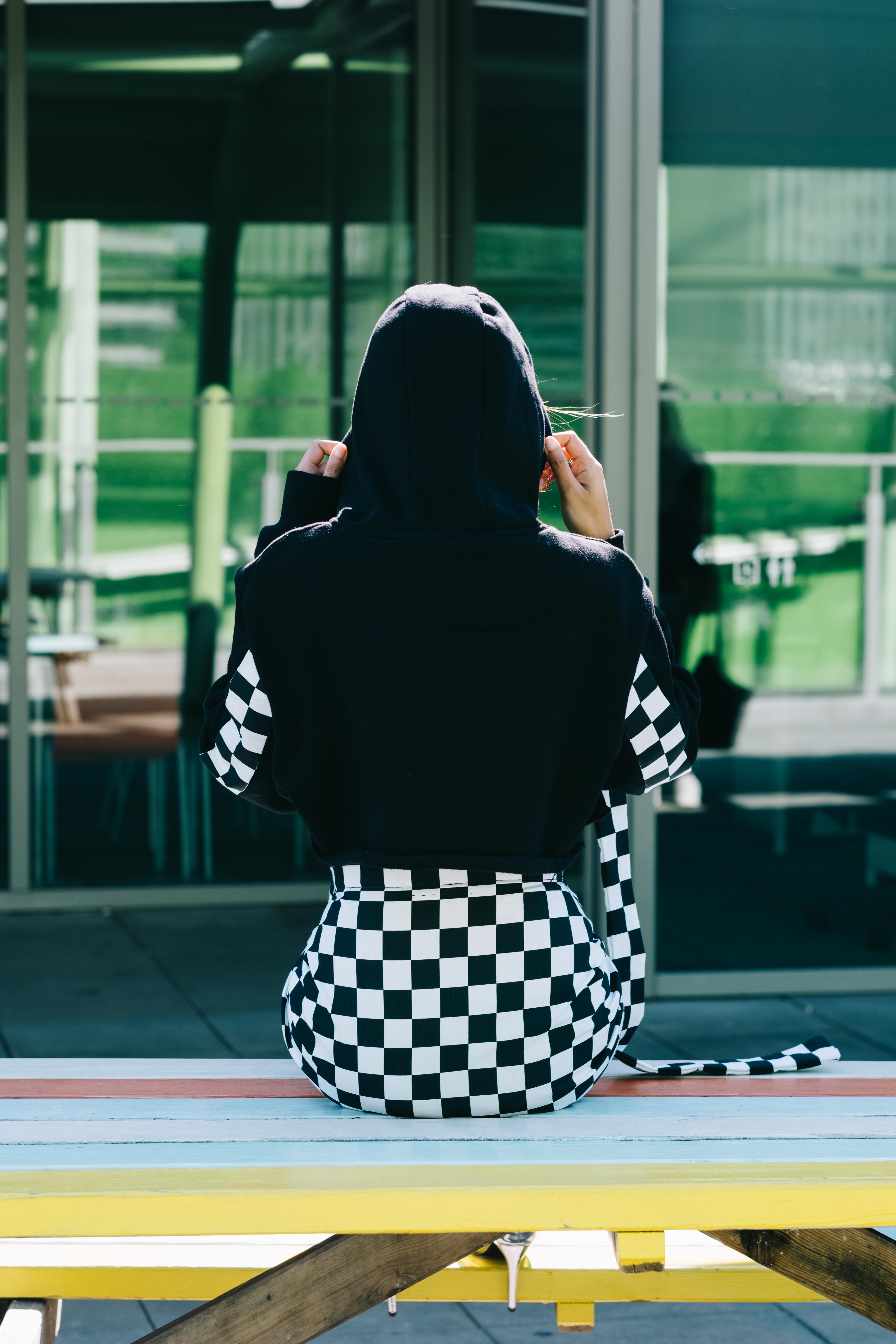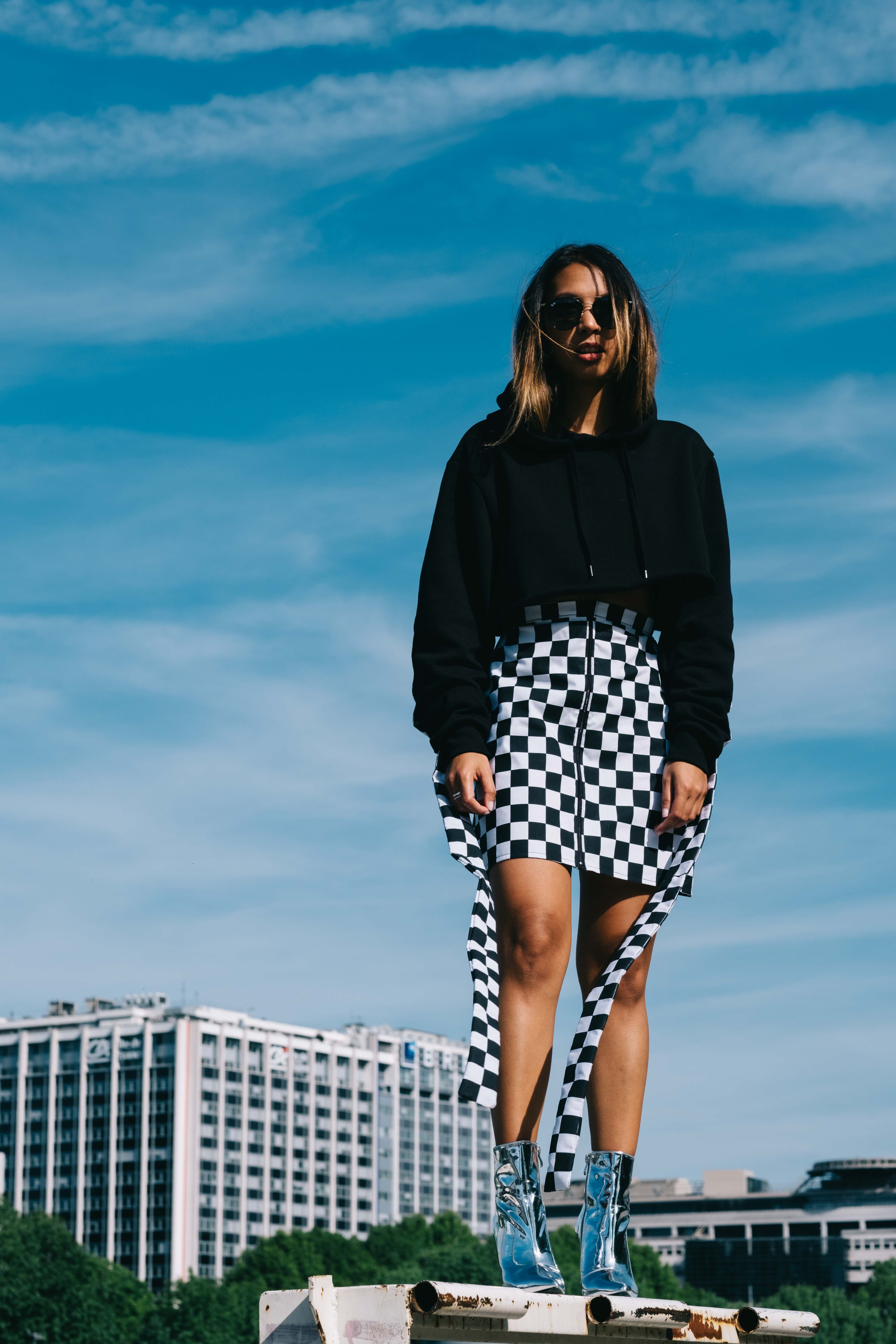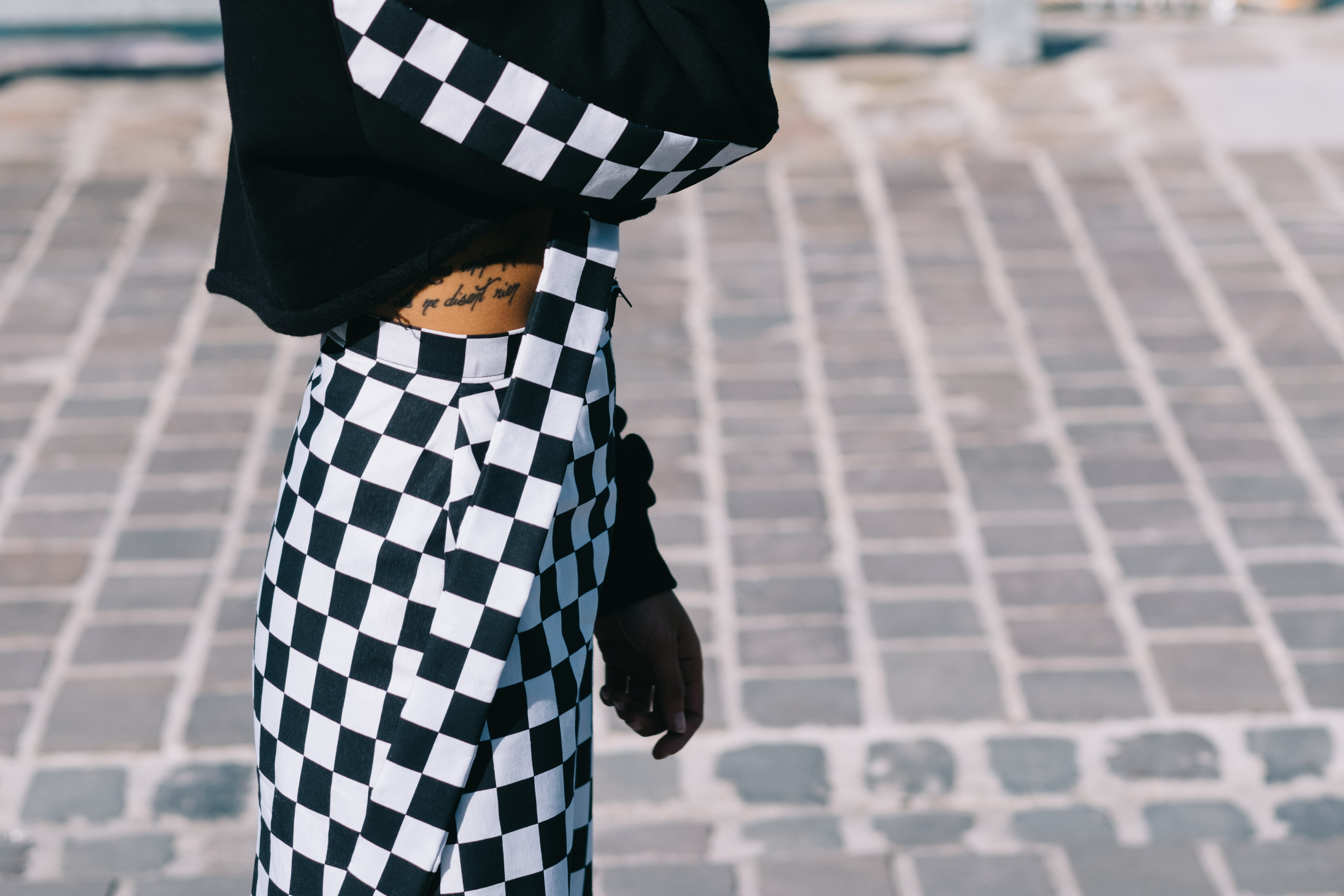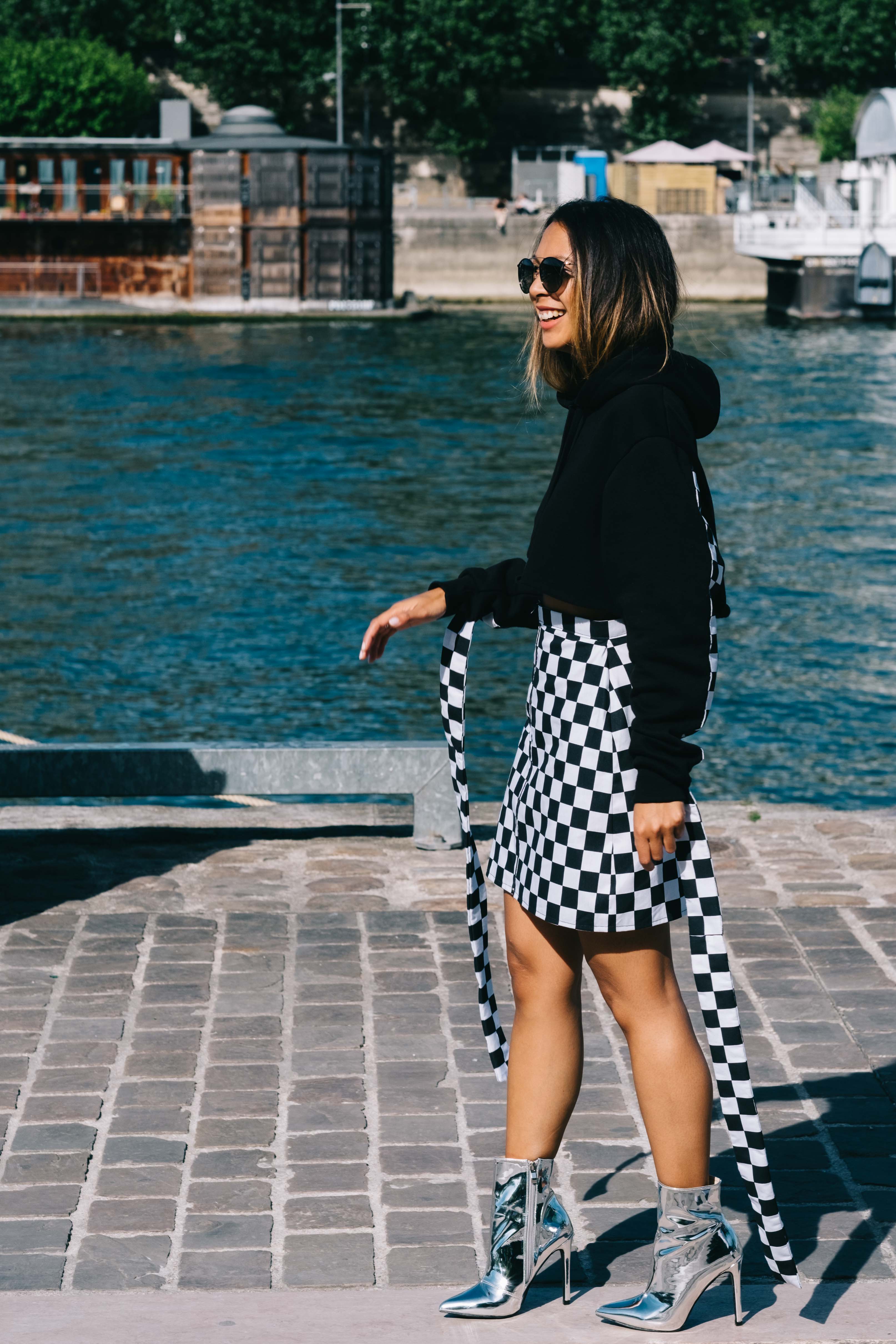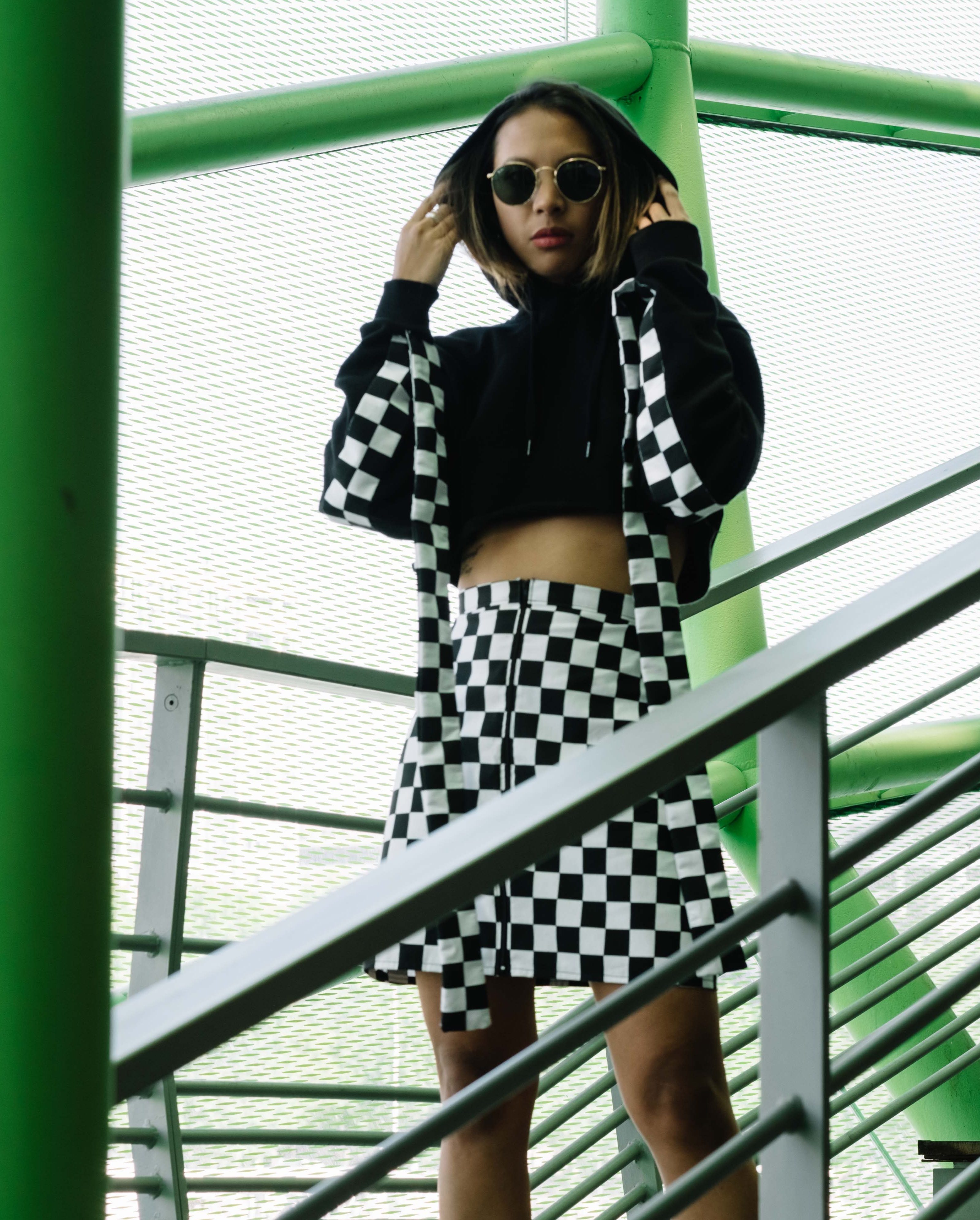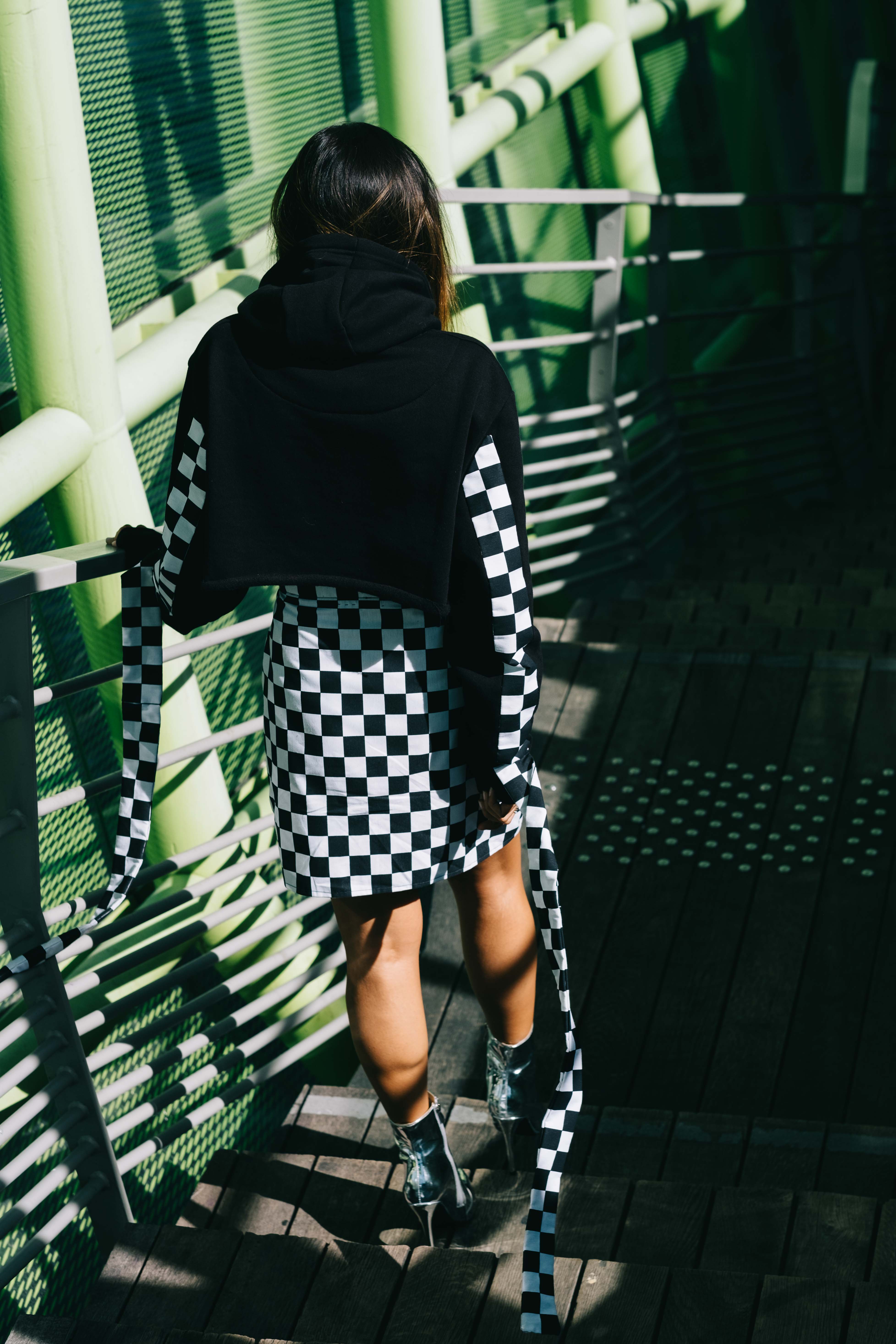 Where: Paris 12ème
Pictures by Redha Kebir (https://www.instagram.com/redhakebir/)
---
WHAT I'M WEARING/CE QUE JE PORTE:
BOWSDONTCRY hoodie + skirt: here
PUBLIC DESIRE boots: here
RAY-BAN sunglasses: here
H&M Earrings (old collection): similar here and here
---
BOWSDONTCRY eshop: https://marketplace.asos.com/boutique/bowsdontcry
PROMO -20% code: LINDZ20