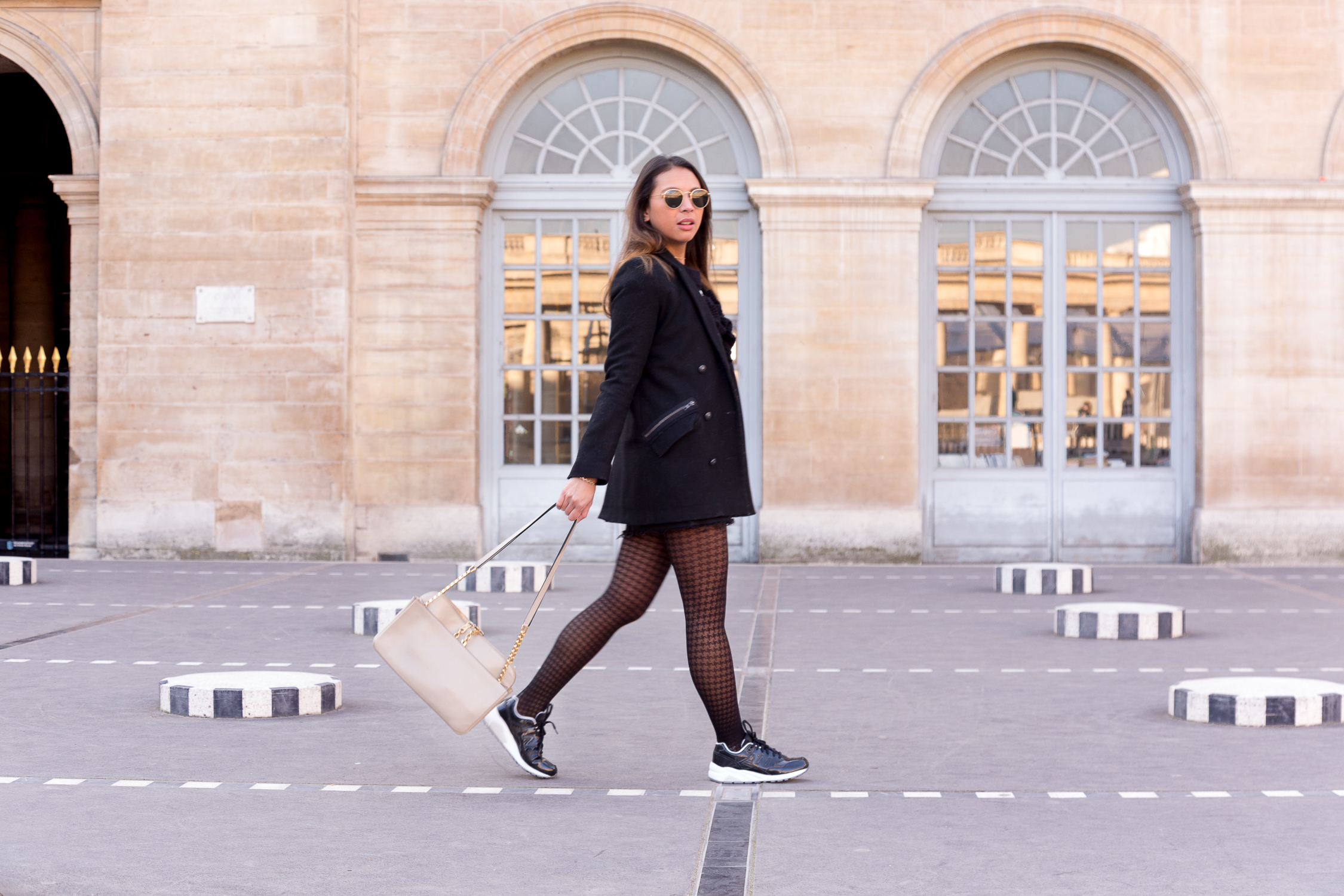 Hi babes! Did I miss you? January was a very busy and intense month, I guess I'm starting the new year very well.
So this is my first fashion blog post of 2017, I'm showing here a black and white outfit, casual but a little bit chic, versatile – trainers during the daytime and boots at night! 
Completely matching with the place where we've shoot, Le jardin du Palais-Royal was the place to go. And I won't even tell you about the small coffee shop of Maison Kitsuné, under the galeries. If you have the chance to go there, make sure you will pass by this cute little place.
Ok, let's get back to the subject, I'm wearing a black and white jumper, bought at Topshop. I really love the details in front and also closer there's some holes on the sleeves, far from a simple jumper. Associated a denim black skirt from the same brand but from the new collection and a pair of New balance on sales which I'm wearing everyday. I love them!!! I like the tights' trends this season I bought a lot from plains to patterns. Those ones are from Dim.
My coat is from The Kooples from a very old collection, I guess I just wanted to show you! And because it suits very well with the rest of the look. So girls, what do you think about this outfit? xx
***
Hello les filles ! Est-ce que je vous ai manqué ? Le mois de Janvier a été un mois assez chargé et intense, je crois que je commence bien la nouvelle année.
Alors c'est le premier post mode de 2017, je vous montre ici un look en noir et blanc, décontracté mais un peu chic, à porter comme de jour avec des baskets ou comme de nuit avec des bottines !
Complètement assorti à ce lieu où nous avons shooté, je porte un pull noir et blanc, acheté chez Topshop en soldes. J'aime beaucoup le détail devant et de près on peut apercevoir des petits trous sur les manches du vêtement. Associé d'une jupe noir en jean de la même marque mais de la nouvelle collection et d'une paire de New Balance en solde que je porte presque tous les jours. Je les adore !!! J'aime la tendance des collants en ce moment, j'en ai acheté plusieurs, des unis et à motifs. Ceux-ci viennent de chez Dim.
Mon manteau est de chez The Kooples d'une collection très ancienne, j'imagine que je voulais juste vous le montrer ! Et parce qu'il va très bien avec le reste de ma tenue. Alors les filles, que pensez-vous de mon look ? Bisous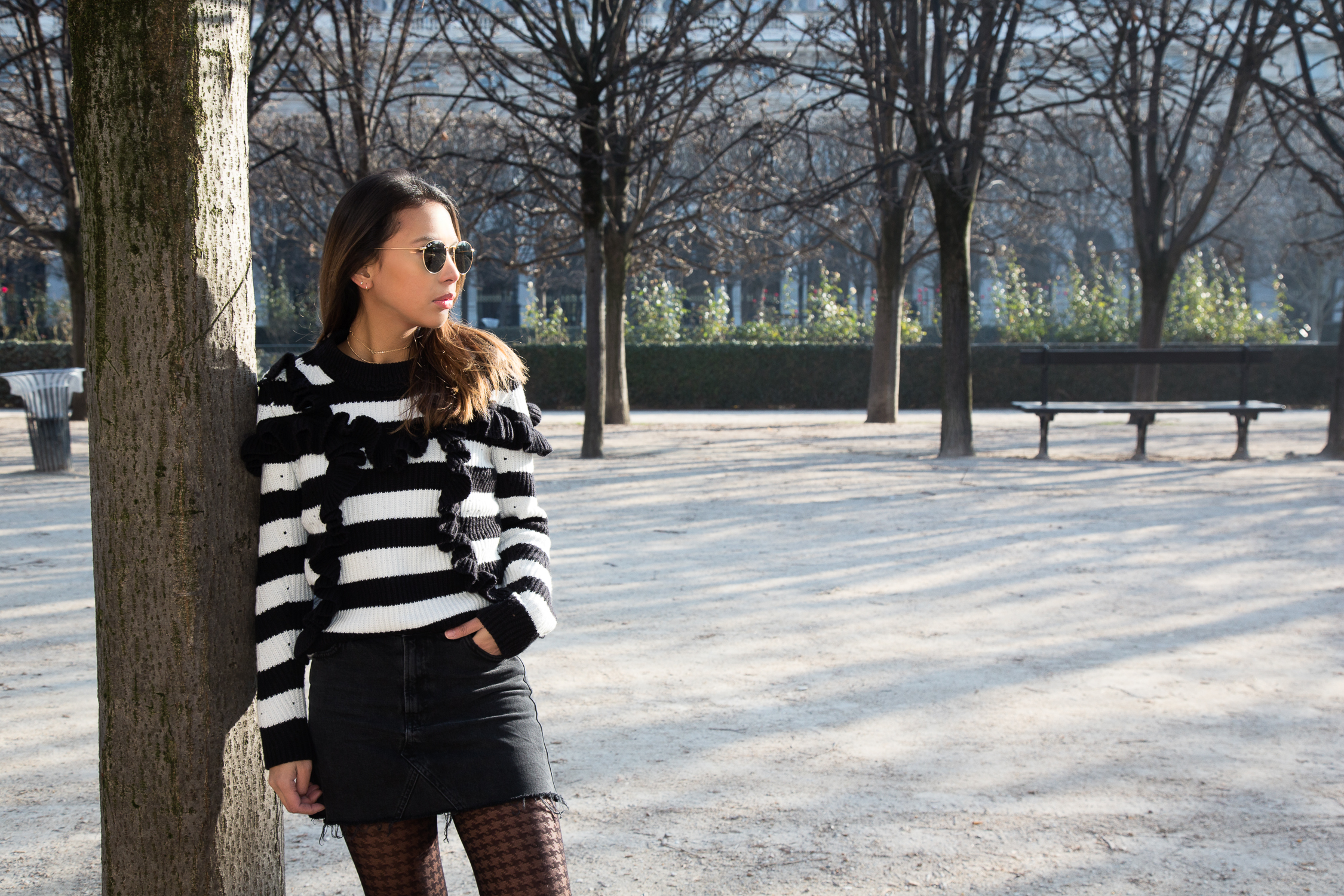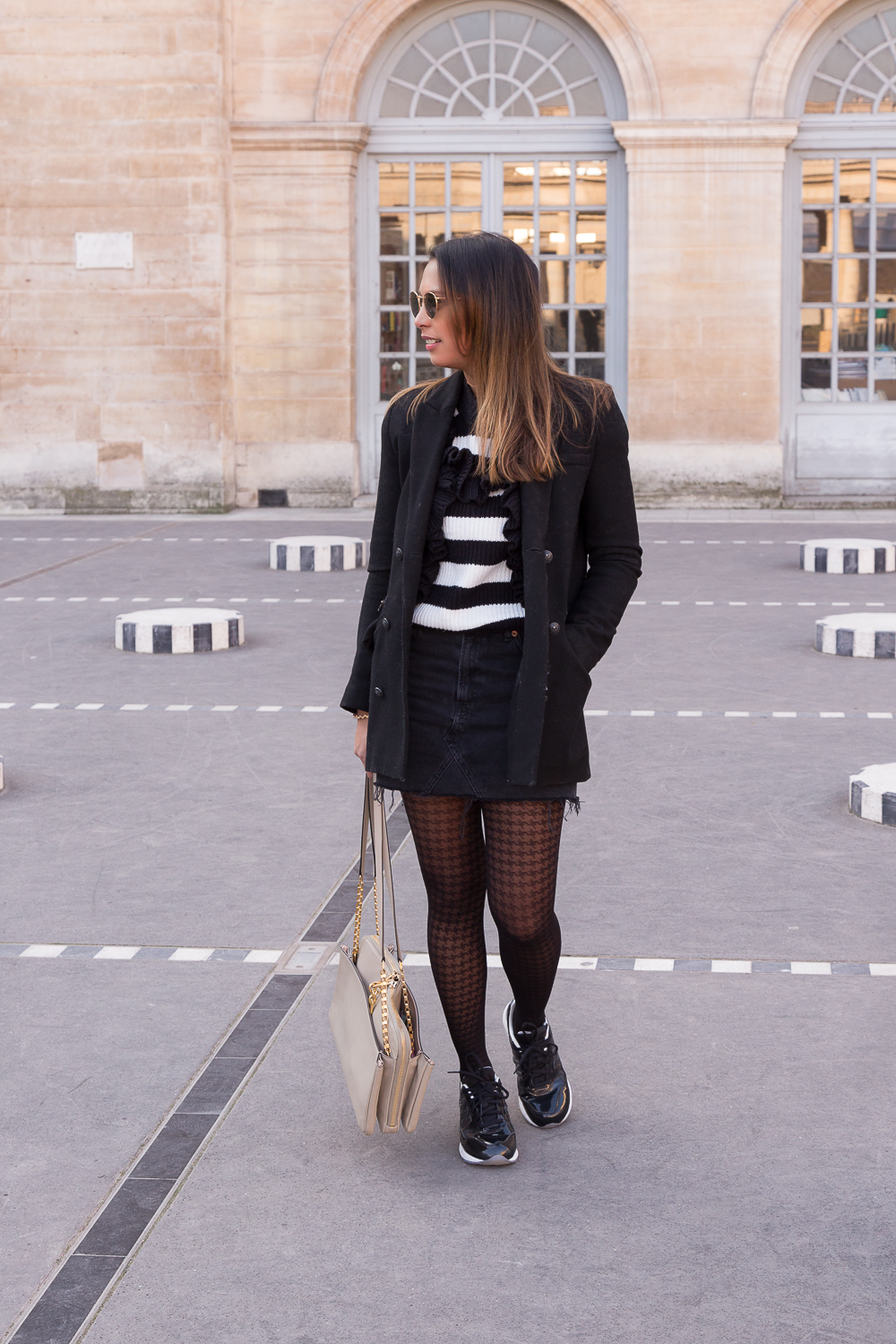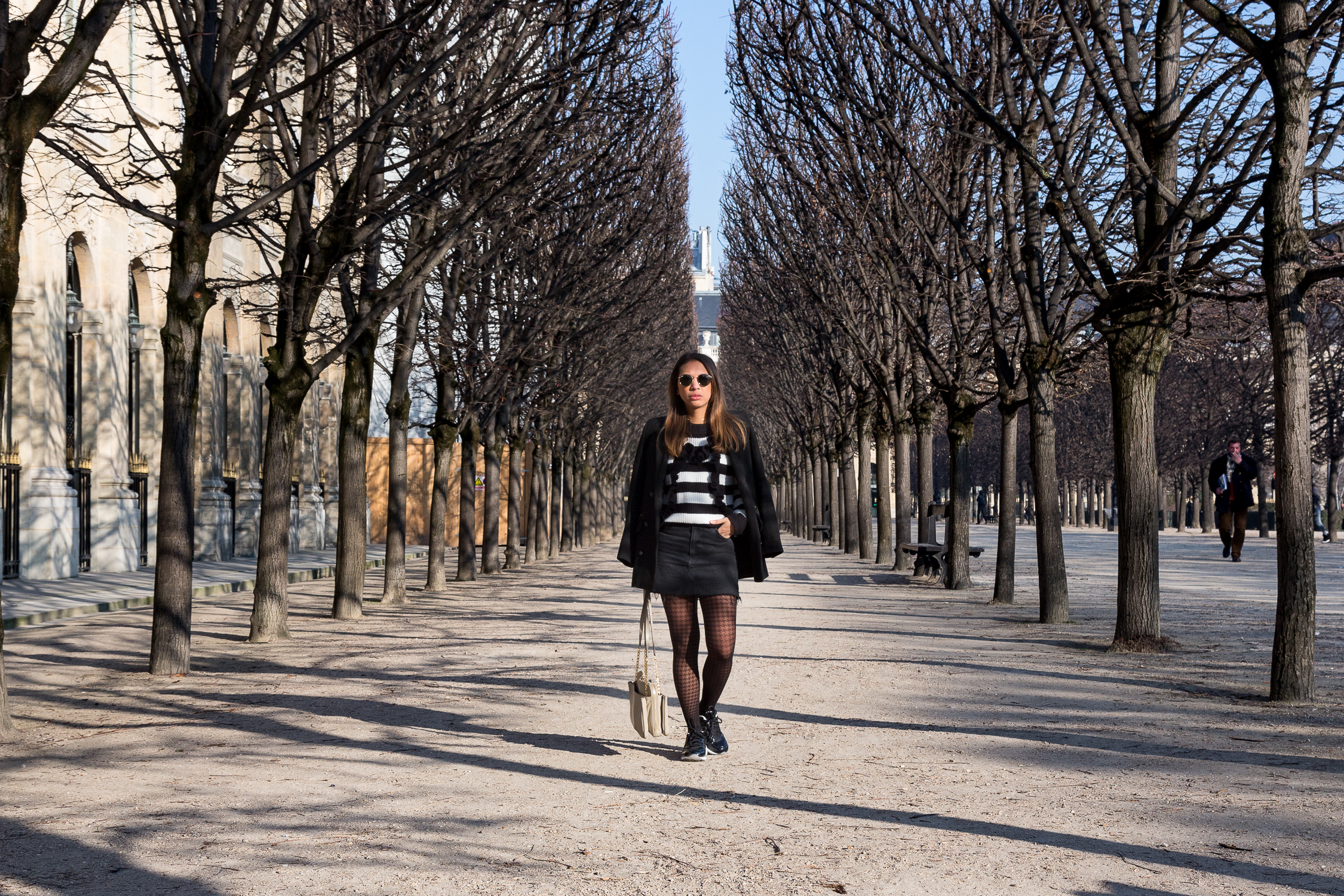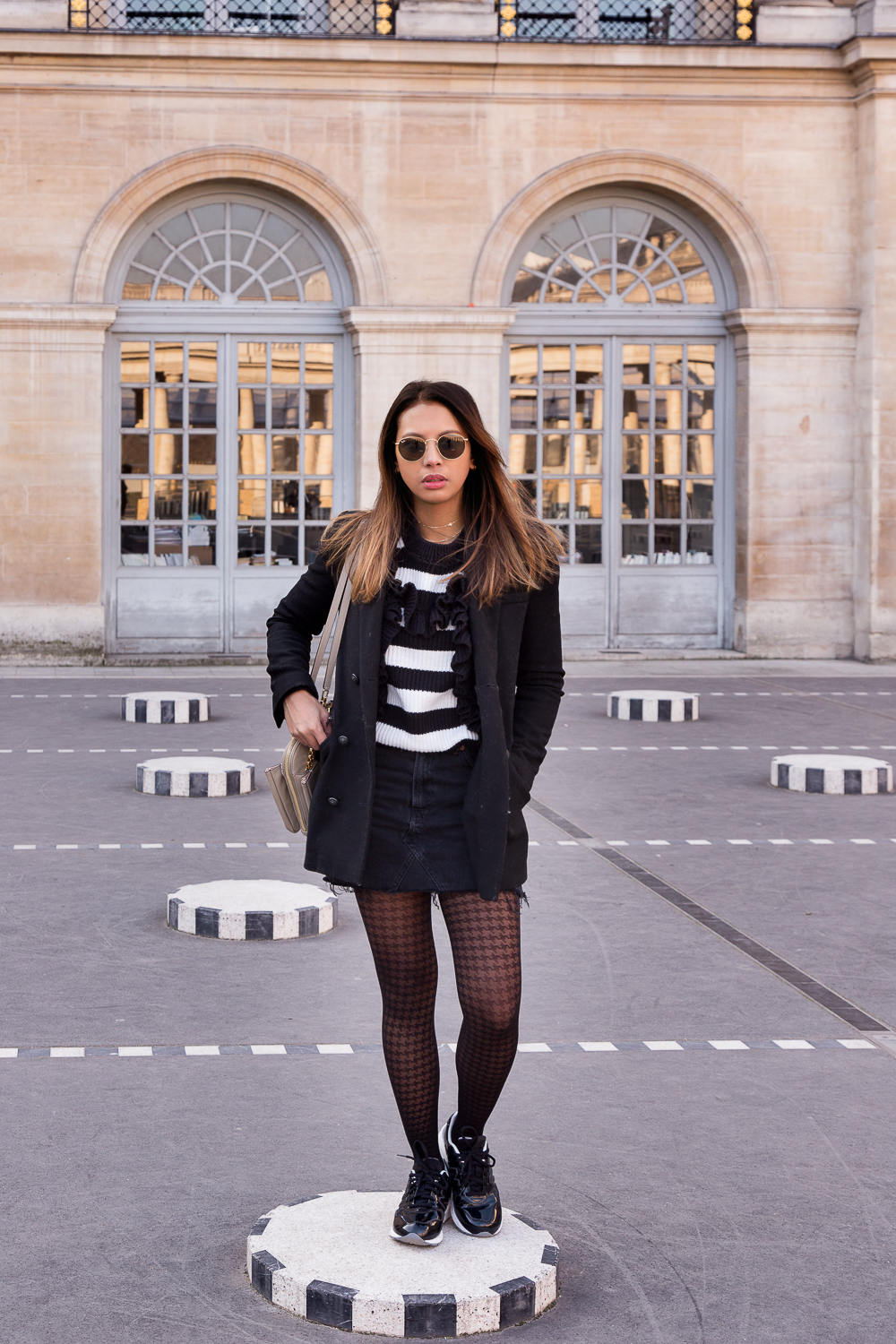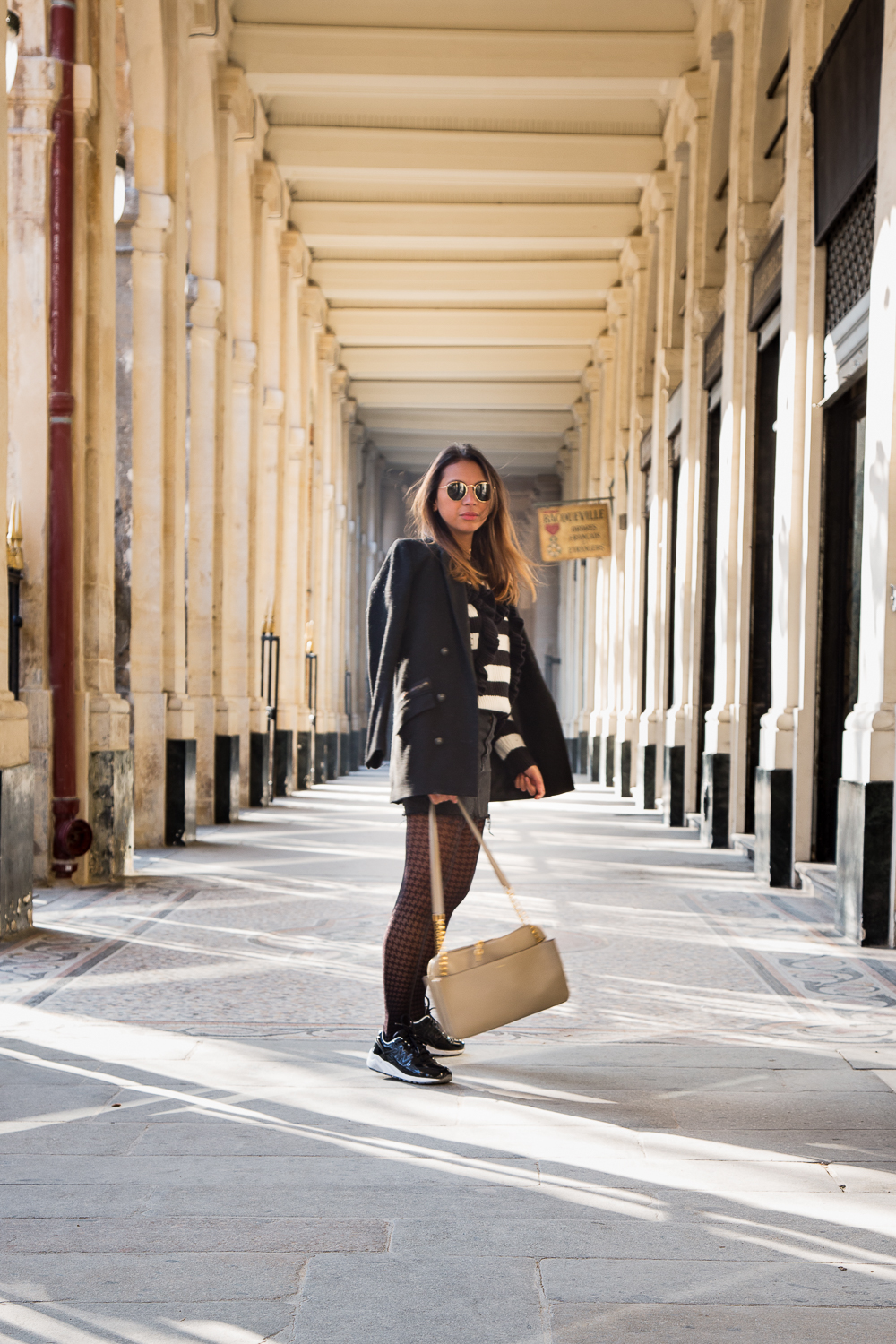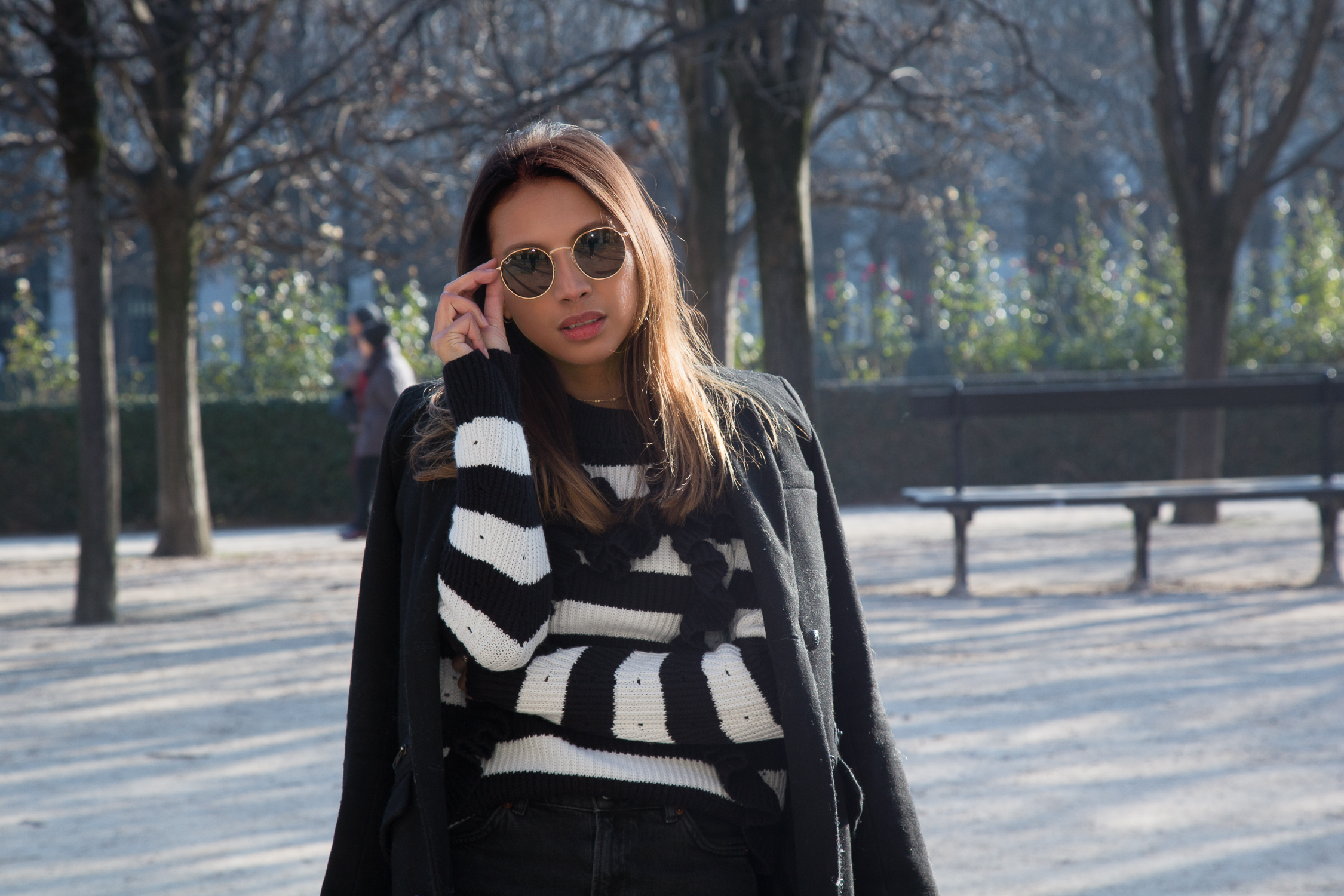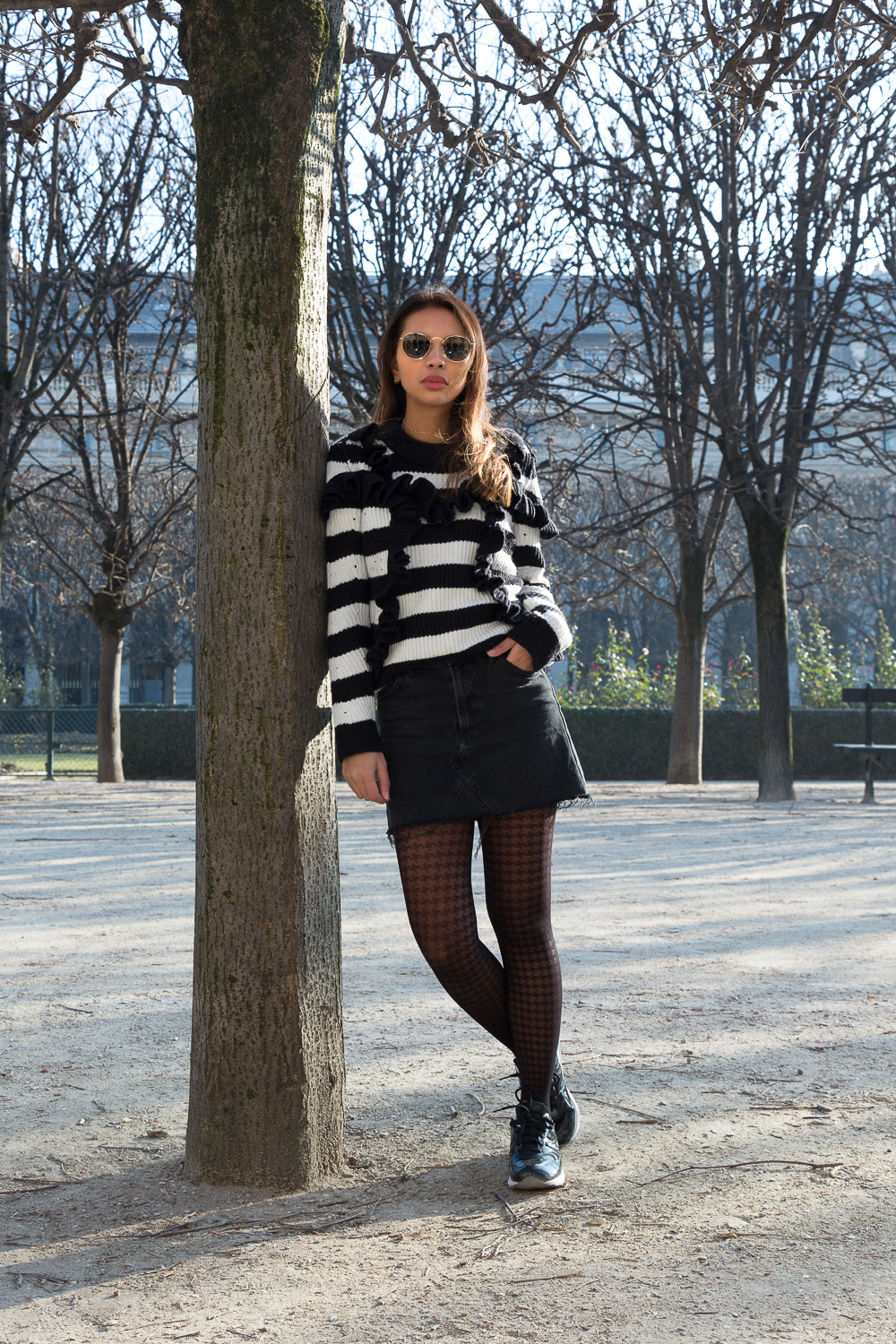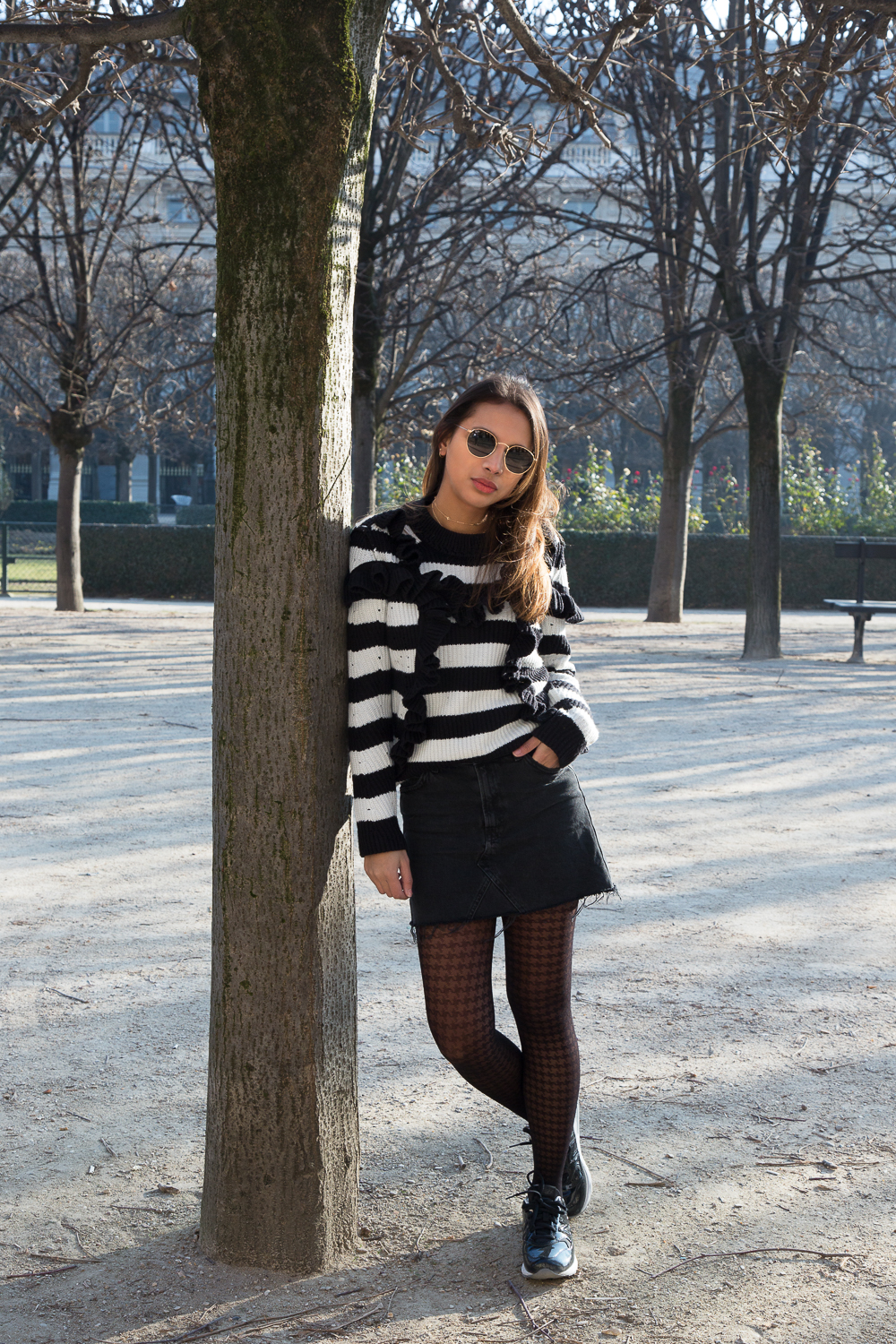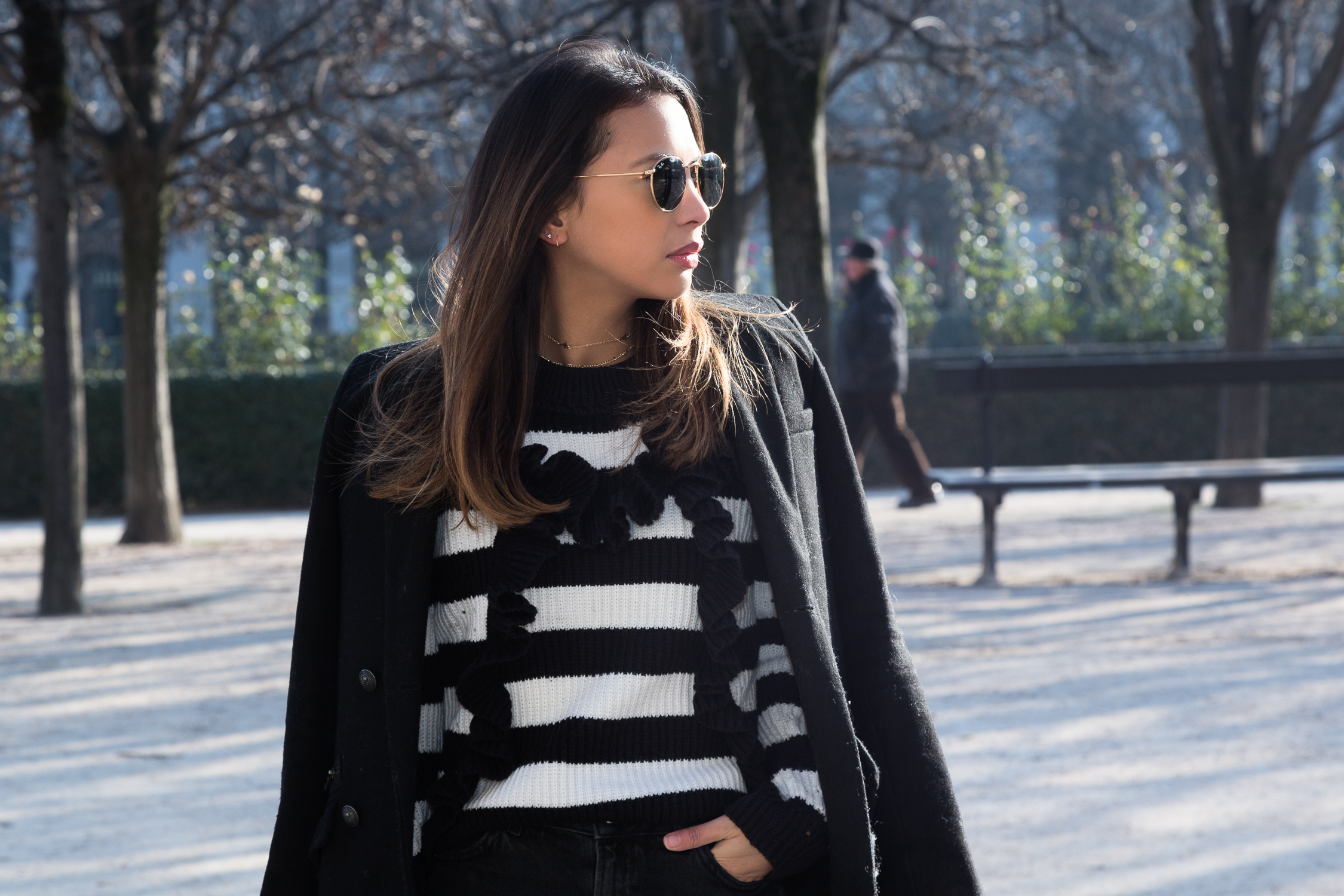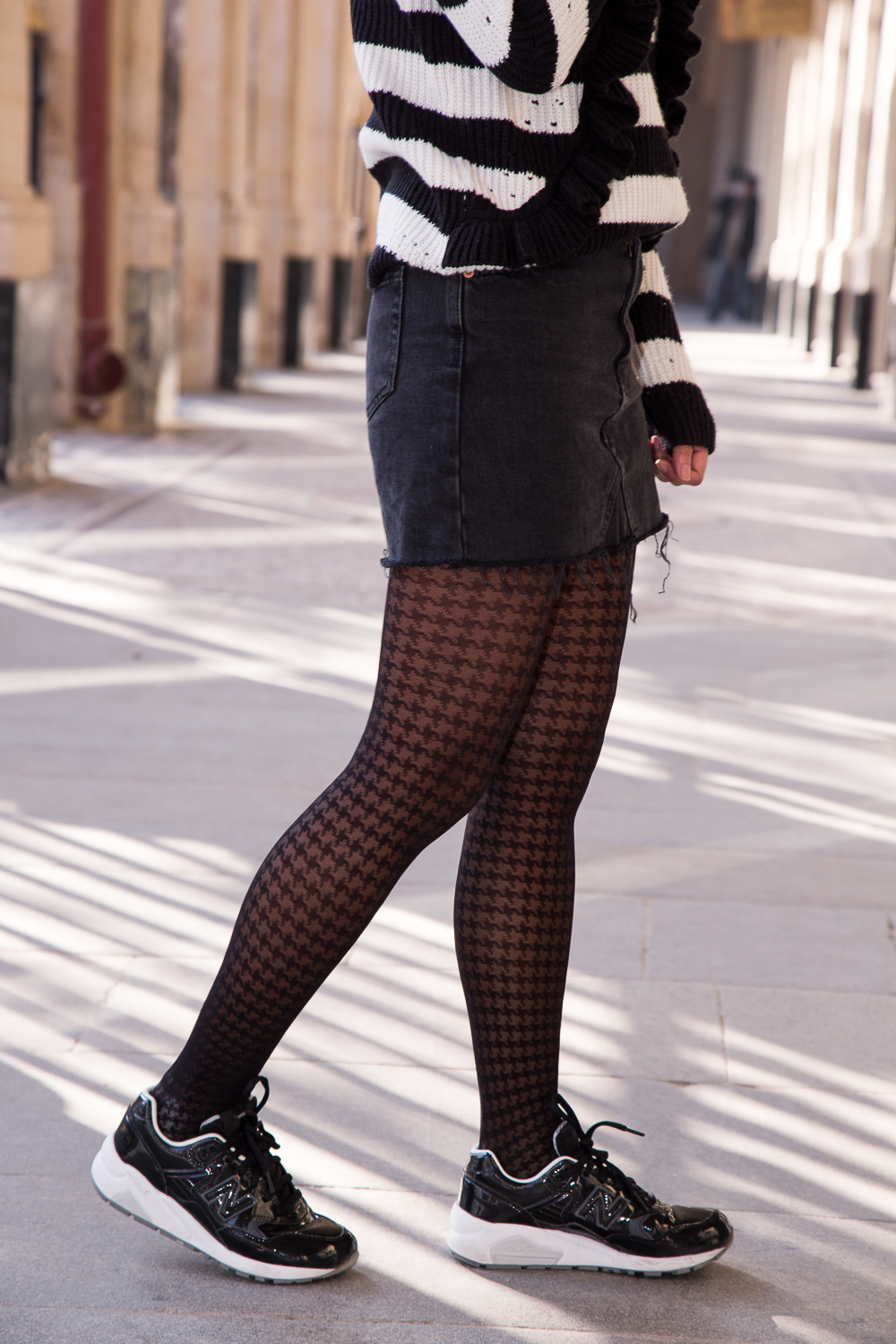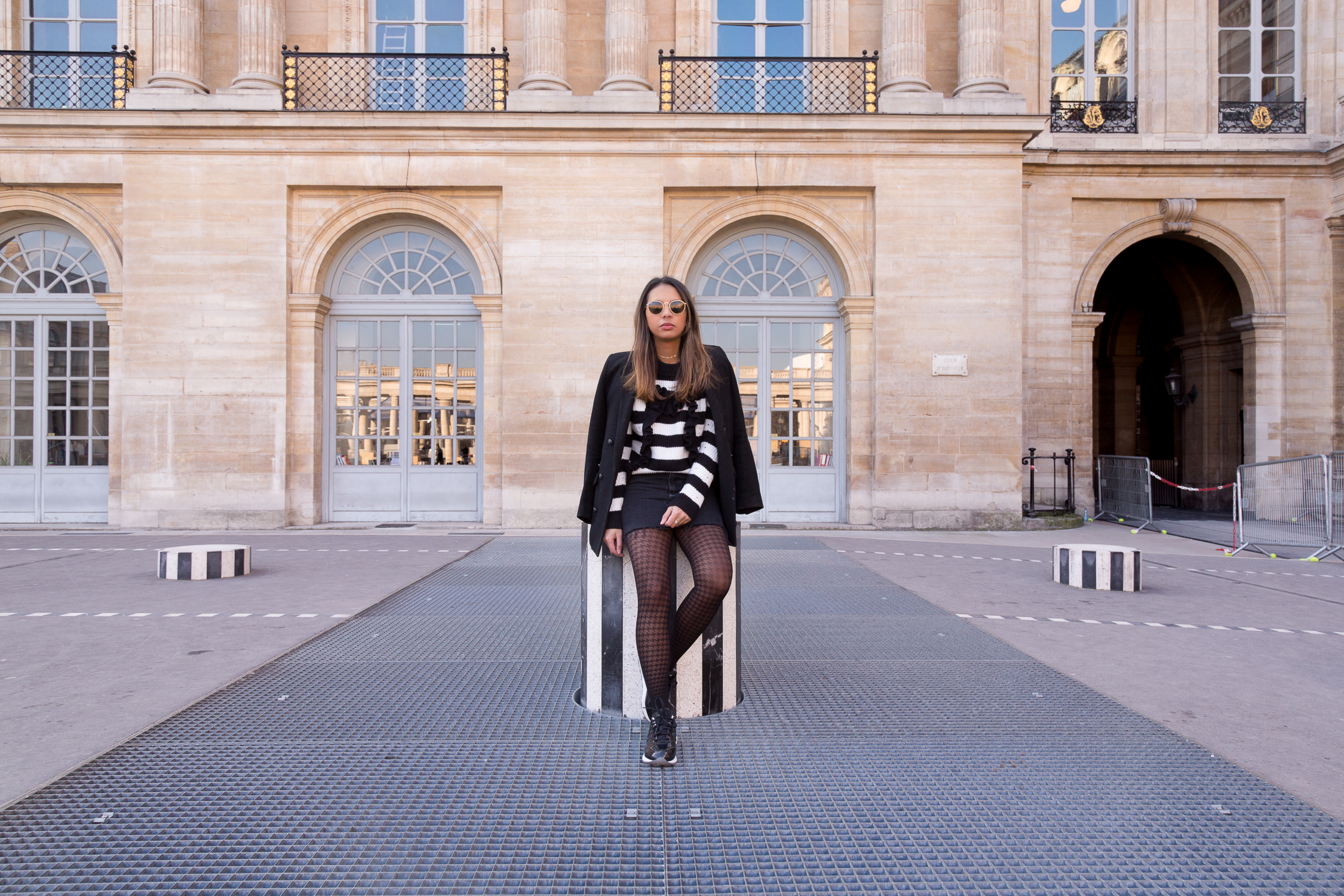 What I'm wearing/Ce que je porte : The Kooples coat, Topshop jumper, skirt & chookers, Dim tights, New Balance sneakers & Ray-ban sunglasses.
---
Where? Jardin du Palais Royal, Paris 1er. 
SHOP MY STYLE