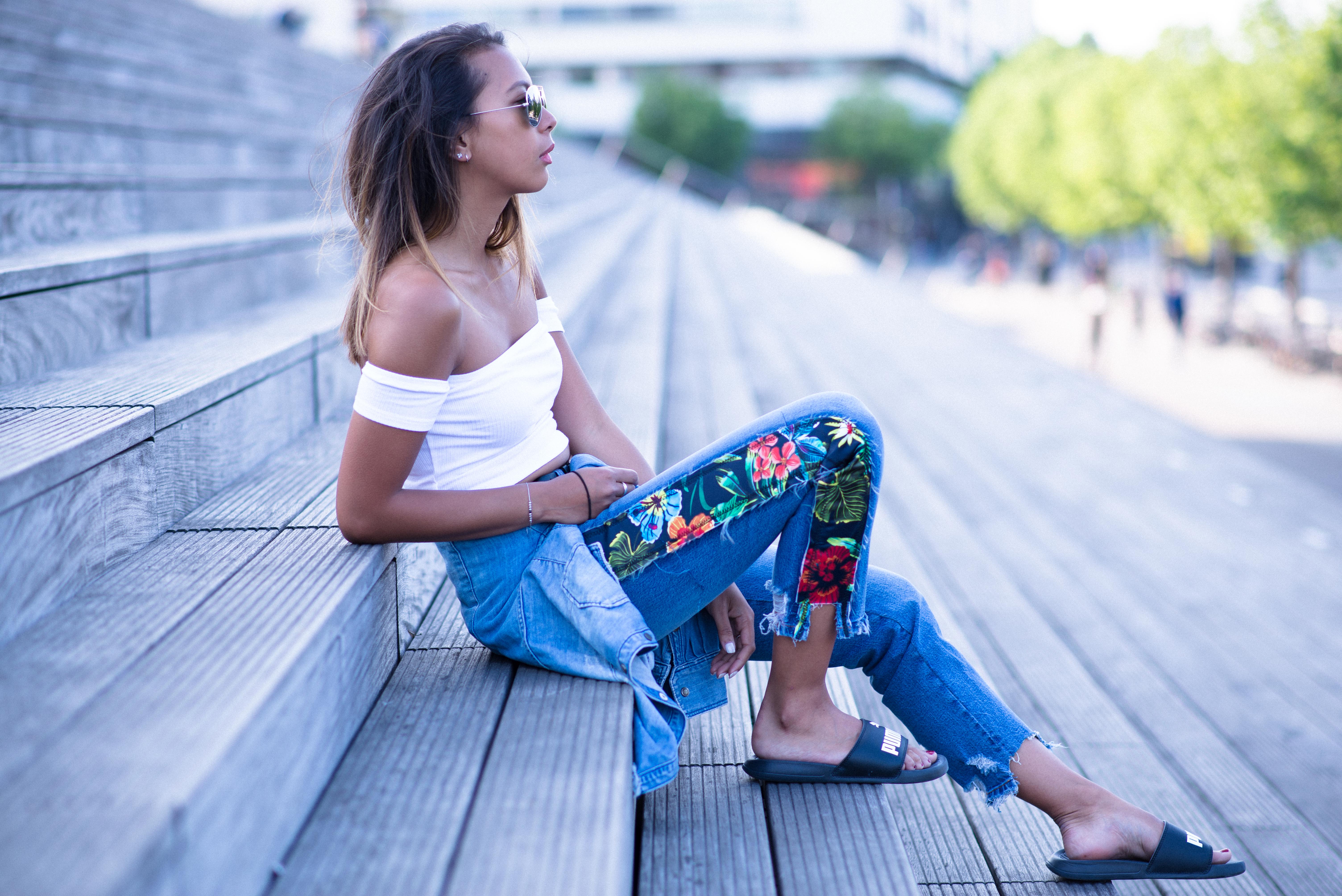 Hello hello folks! 
This is my first article of the month, I can tell you that I'm very happy and excited right now! First of all, because my birthday is approaching and yeah it's my last year before I crossed the thirties.
Ouchhh it's very very hard! But the good thing is that I don't look my age. I'm grateful and lucky for that 🙂
Other news: In 2 weeks, I'm flying to my next adventure! For this summer season (1 month and a half) I'm flying to Djerba to help my uncle for a new spot that will open in May the 27th, first day of Ramadan. 
Victim of its own success, « Voyages en Asie » is growing up by creating Pekin-Tokyo Express dedicated to take-away meals. I am very glad and excited for this new experience and I can't wait to discover what happens next. My return in France is scheduled for mid-July because I'm going to Asia straight after for three weeks for another exciting project! I'm so thrilled about this trip and eventhough I'd love to tell you more about it, here is not the subject! One step at a time 😉
Back on topic, here I'm showing a new outfit taken by Jude (new collaboration pic) during a sunny day in Paris. Here are jeans with a floral strip on the side, worn with a white off shoulder crop top (currently I fell in love for those little tops and because it's trendy), associated with a pair of sporty flip flops to smash this casual feminine style. This season, it's the perfect alternative to sneakers. Why wear closed shoes, when you can wear as well comfy flip-flops!
Finally I'm very happy about these pictures that are quite successful. I have to admit that I had a lot of difficulty to do my selection! What do you think guys??? x 
***
Hello hello tout le monde !
Premier article du mois de Mai, je peux vous dire que je suis en folie ! Tout d'abord parce que c'est bientôt mon anniversaire, et oui dernière ligne droite avant que je franchisse le cap de la trentaine. Aie Aie Aie dur !
Voyons, le bon côté des choses c'est que je ne fais pas du tout mon âge. Plutôt chanceuse 🙂
Autre nouvelle : Dans 2 semaines, je m'envole pour de nouvelles aventures !!! Pour une saison d'été (1 mois et demi) je viens apporter mon aide à mon oncle à Djerba pour un tout nouvel endroit qui ouvrira ces portes le 27 Mai prochain, premier jour de Ramadan.
Victime de son succès , « Voyages en Asie » s'agrandit en créant Pékin-Tokyo Express dédié aux repas à emporter. Je suis ravie et excitée de cette nouvelle expérience et hâte de découvrir ce que me réservent ces prochaines semaines. Retour en France prévu mi-Juillet pour un voyage de 3 semaines en Asie pour un autre projet assez excitant. Même si je suis très très très enthousiaste au sujet de ce voyage et que je meurs d'envie de vous en parler, là n'est pas le sujet ! Chaque chose en son temps 😉
Revenons à nos moutons, ici je vous présente un nouveau look shootait avec Jude (nouvelle collab photo) pendant une journée très ensoleillée dans Paris. Ici jean avec bande fleurie sur le côté, porté avec un crop top blanc à épaules dénudées (et oui en ce moment je suis à fond sur ces petits hauts, et puis c'est la tendance), associé à une paire de sandales sporty pour casser ce look féminin et décontracté. Pour cette saison, c'est une belle alternative des baskets. Et puis pourquoi porter des chaussures fermées, alors qu'on peut très bien porter des claquettes super confortable, en toute détente !
Pour finir, je suis très contente de ces photos qui sont assez réussies. Je vous avouerai que j'ai eu beaucoup de mal à faire ma sélection ! Qu'est-ce que vous en pensez les gars ??? x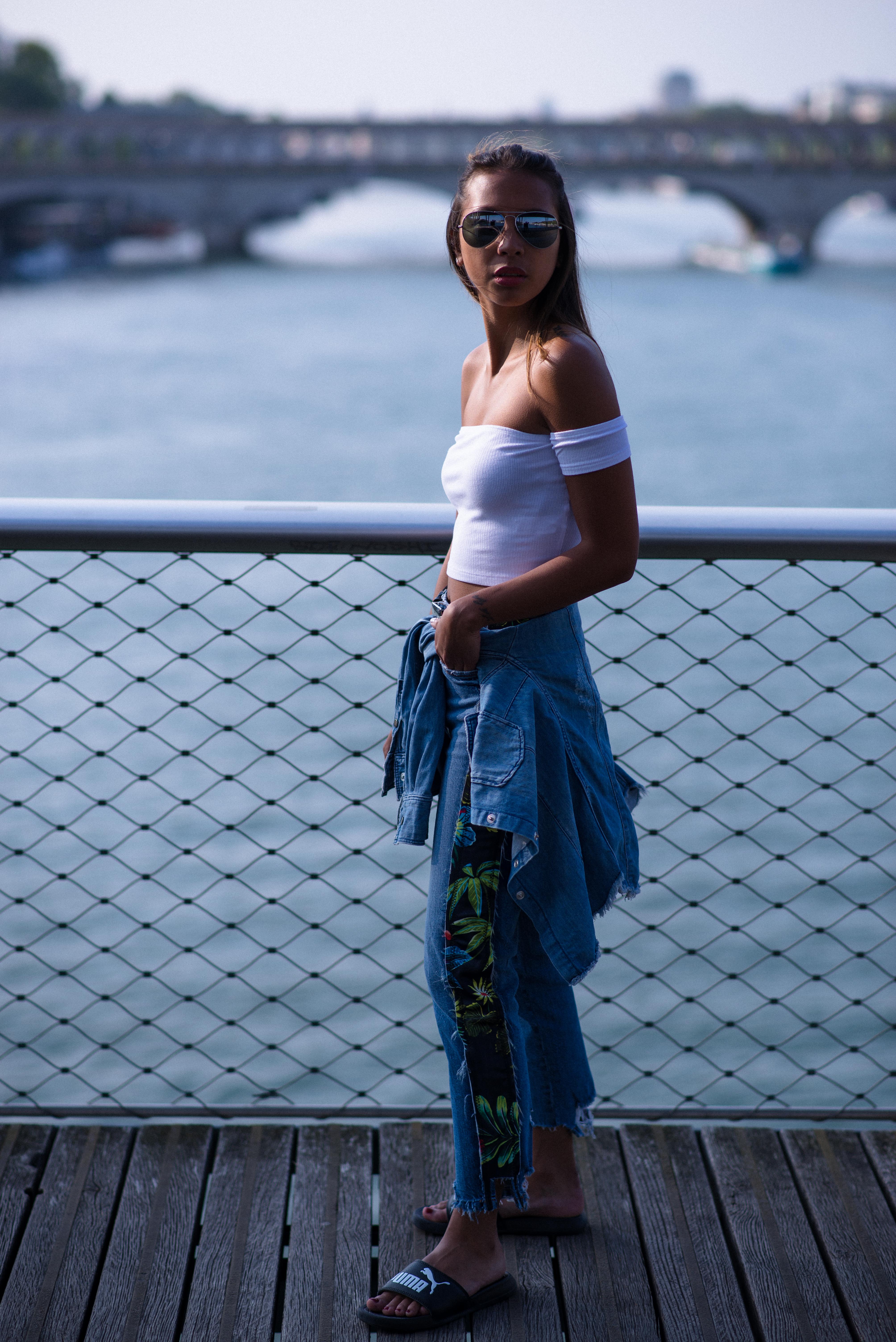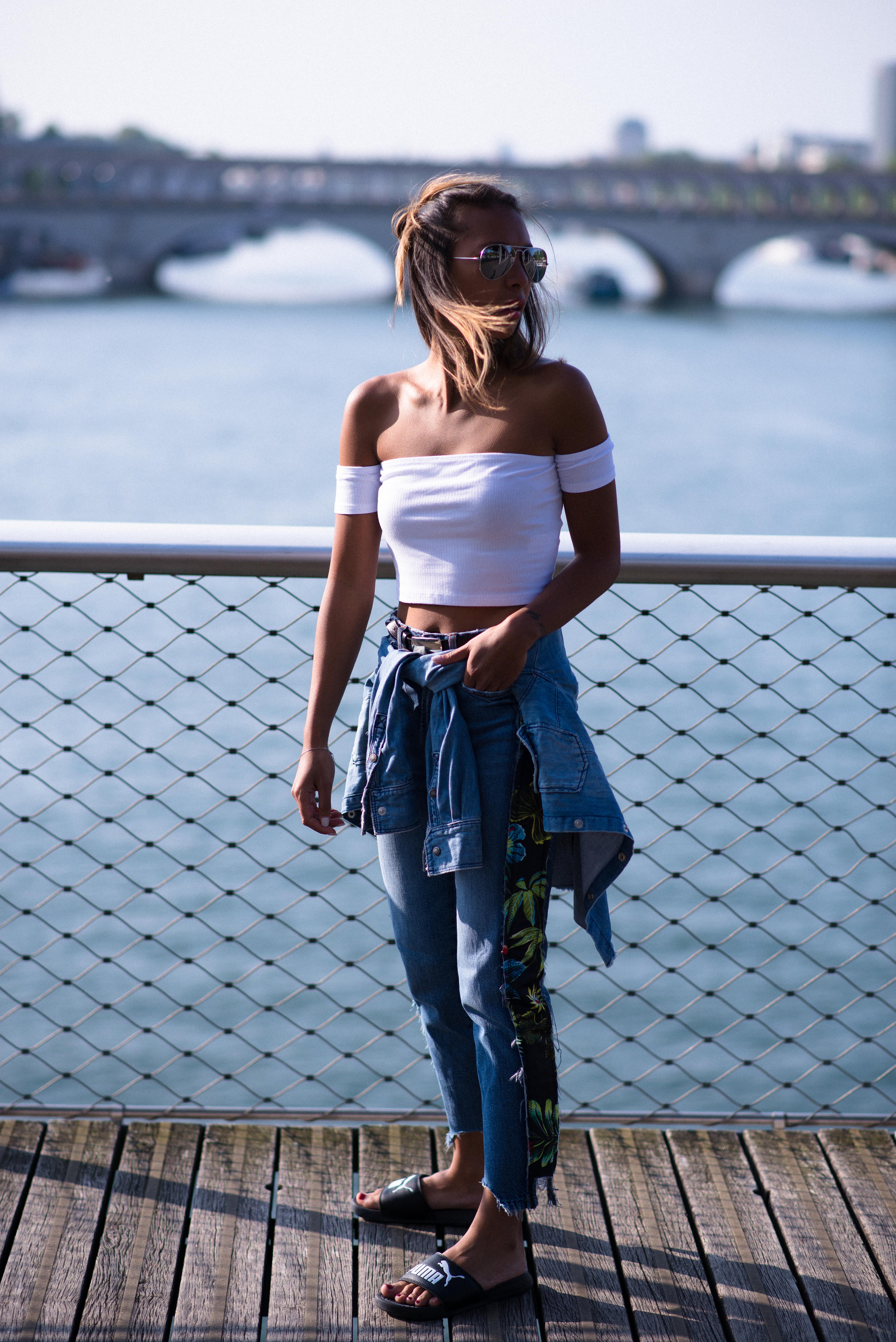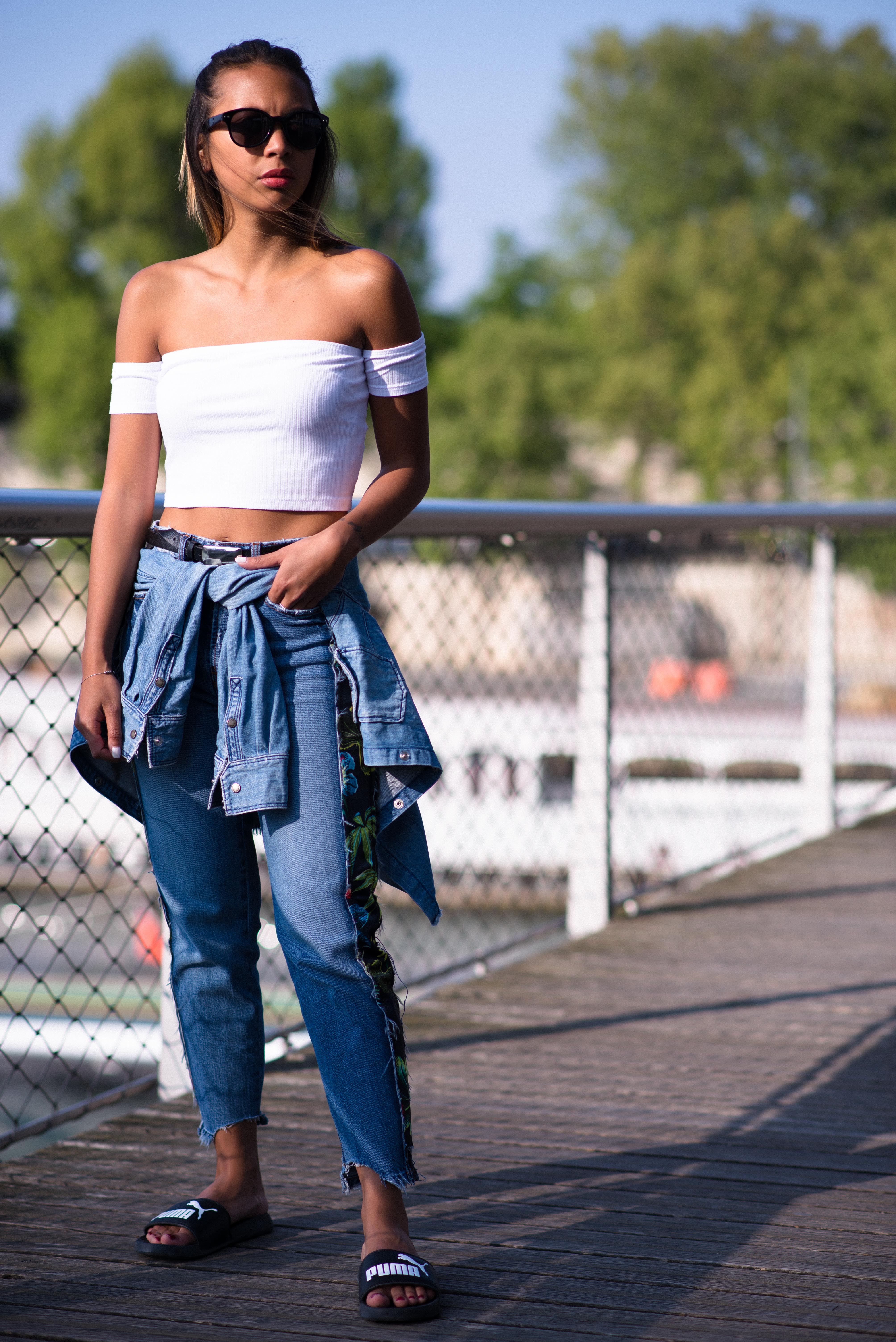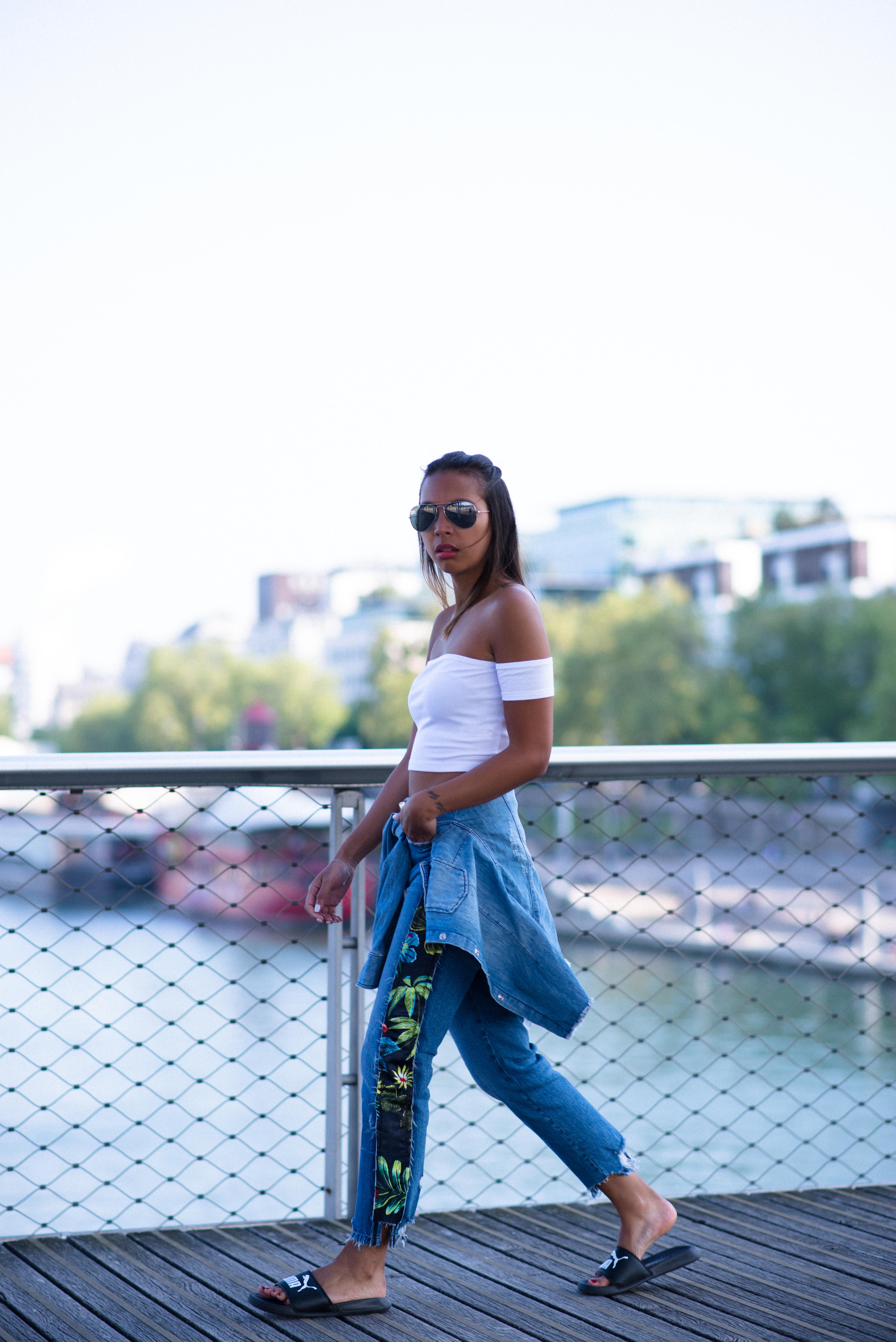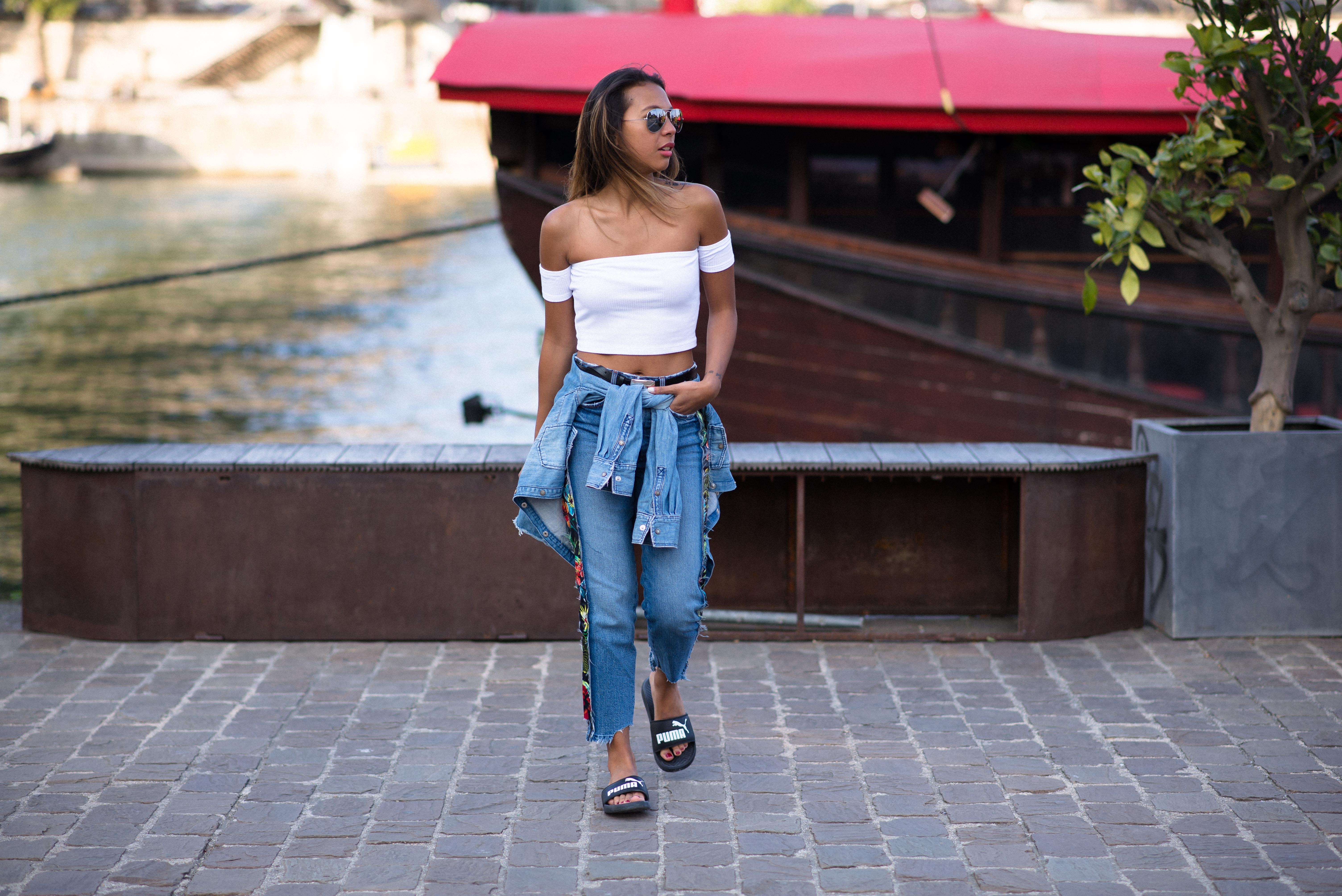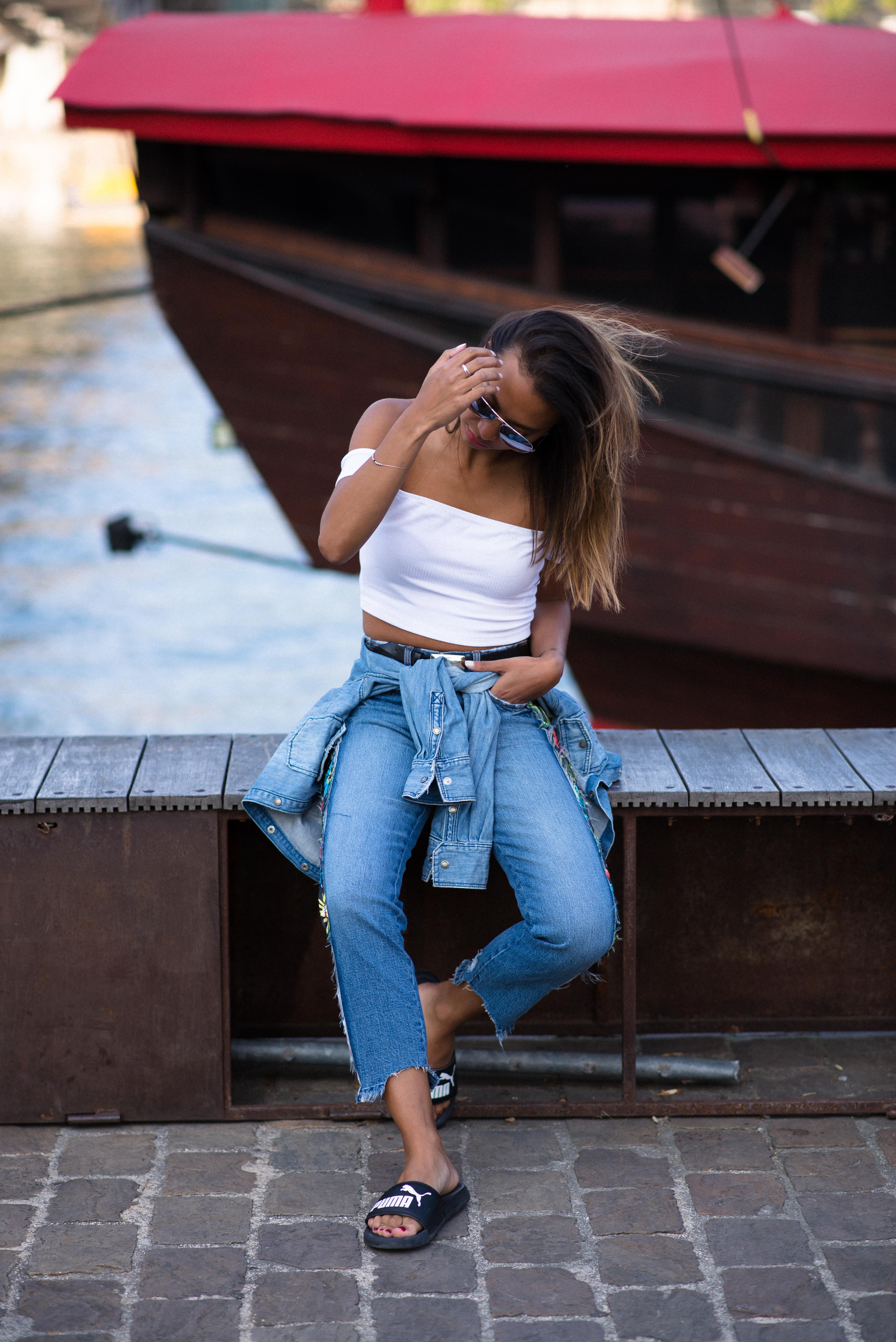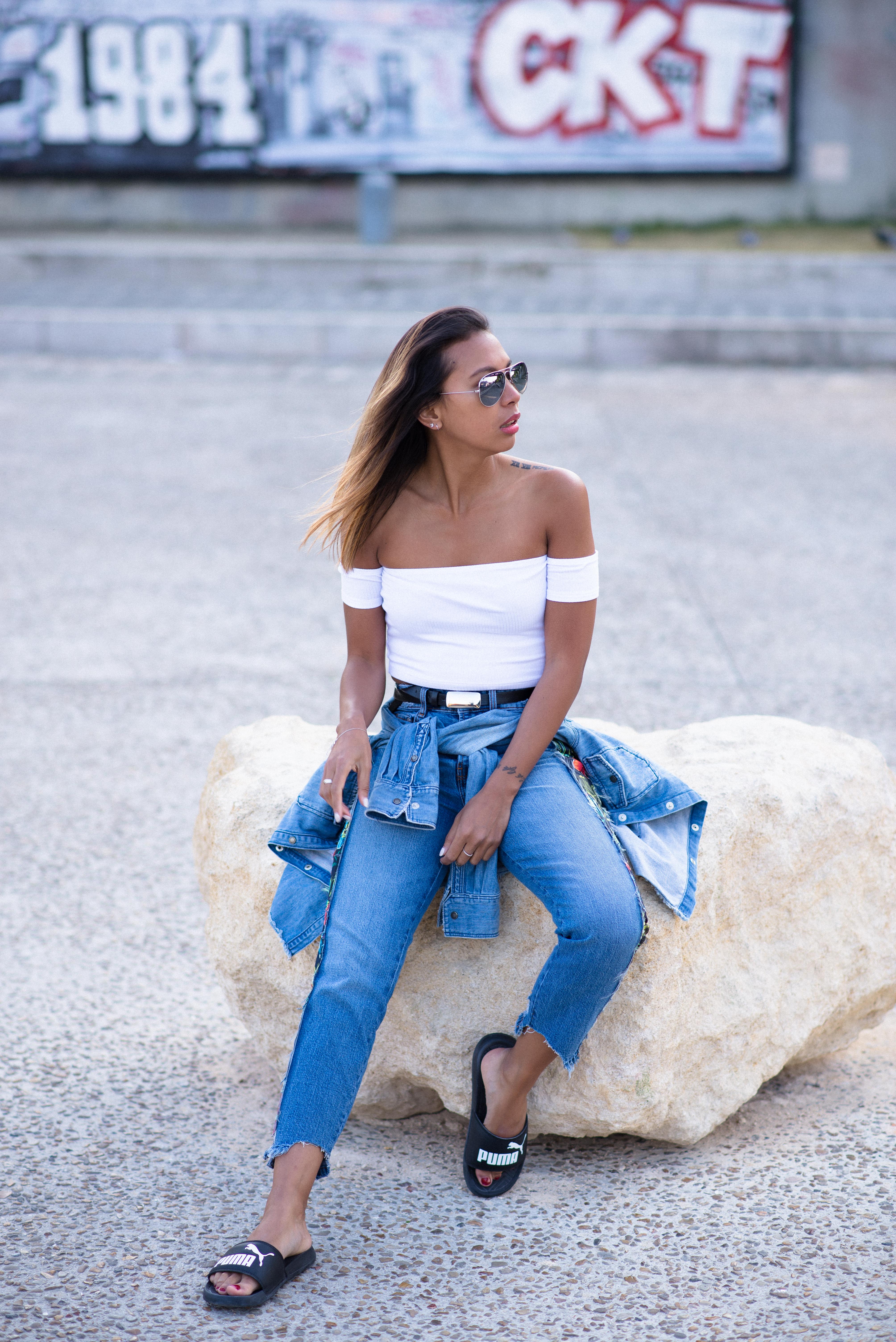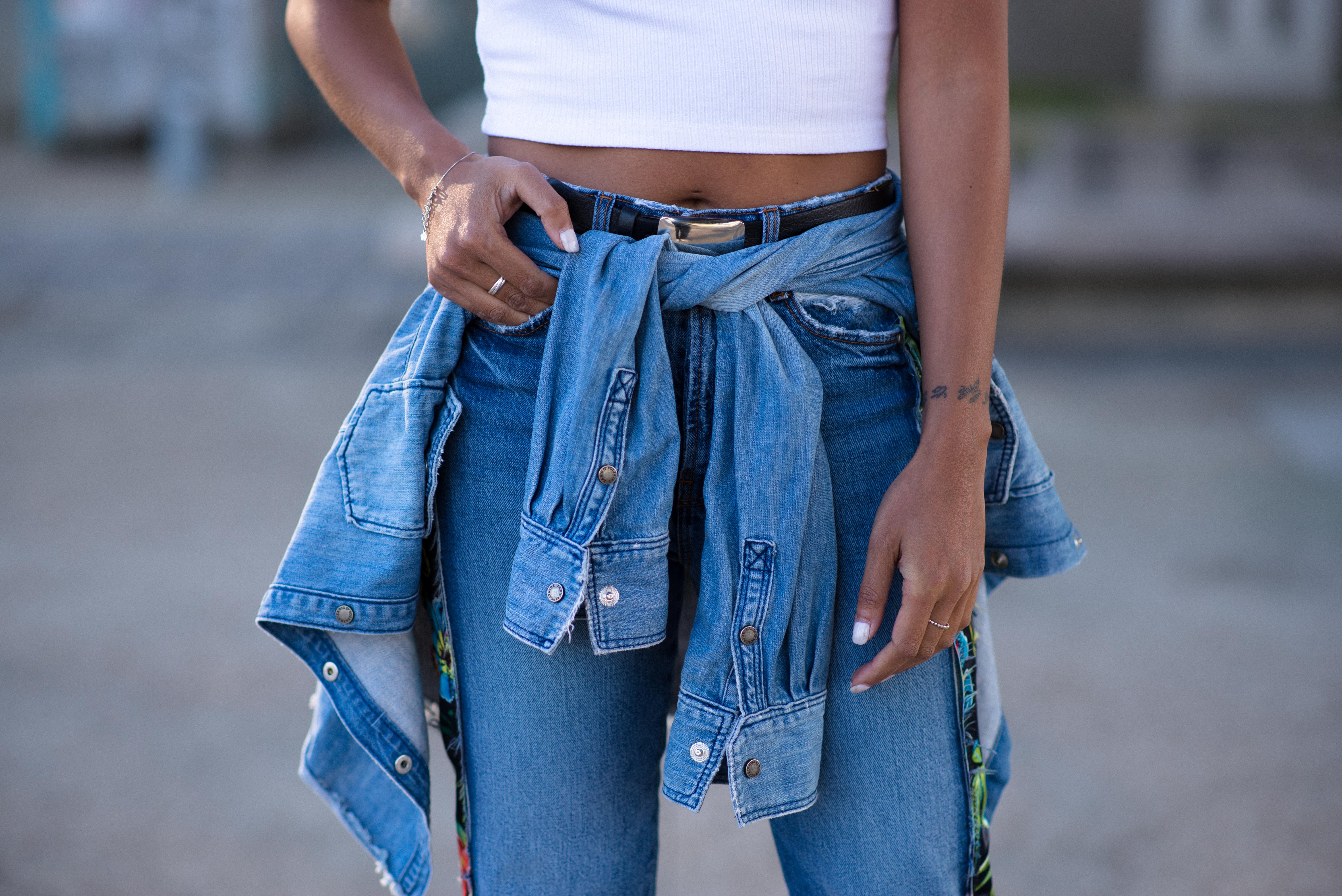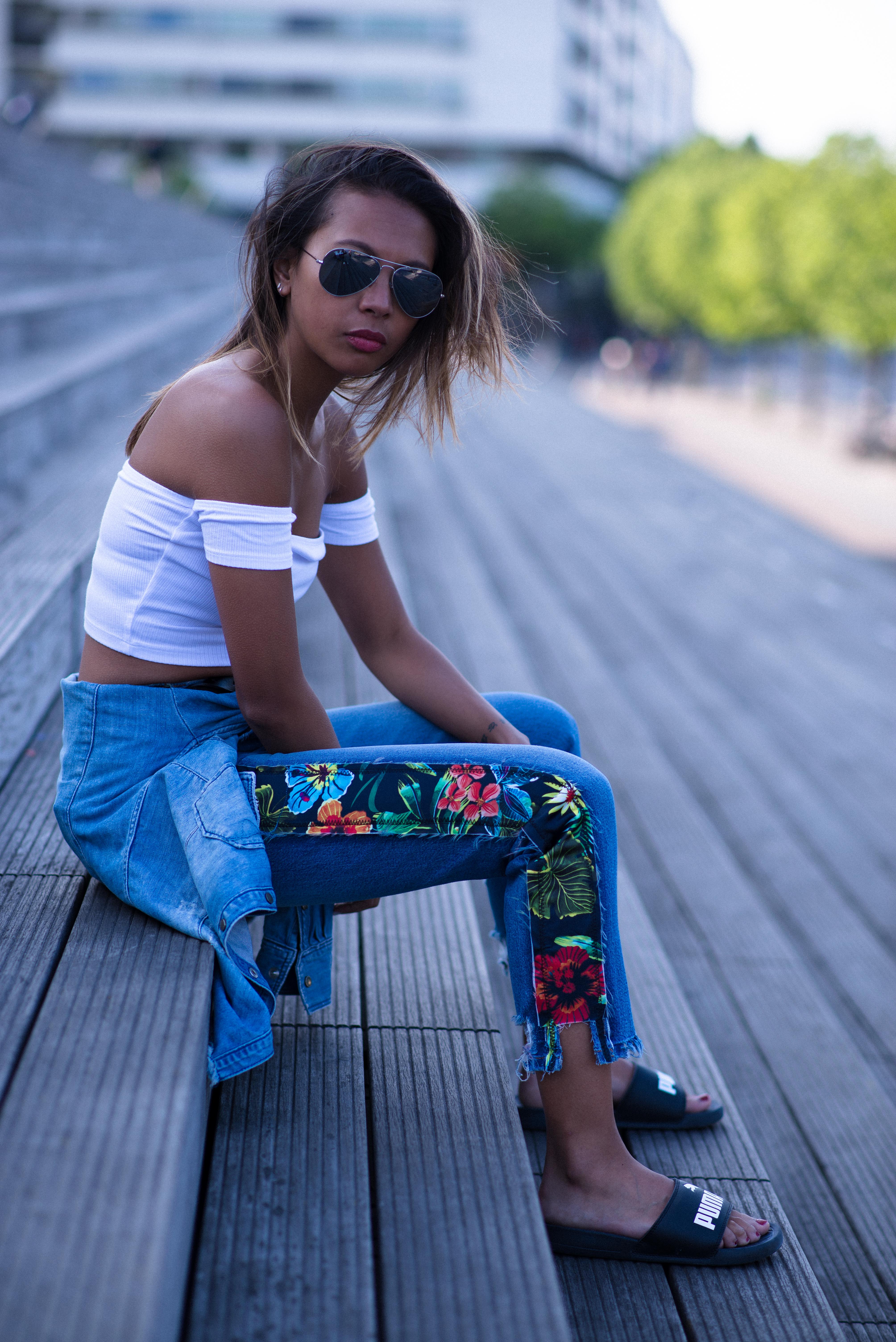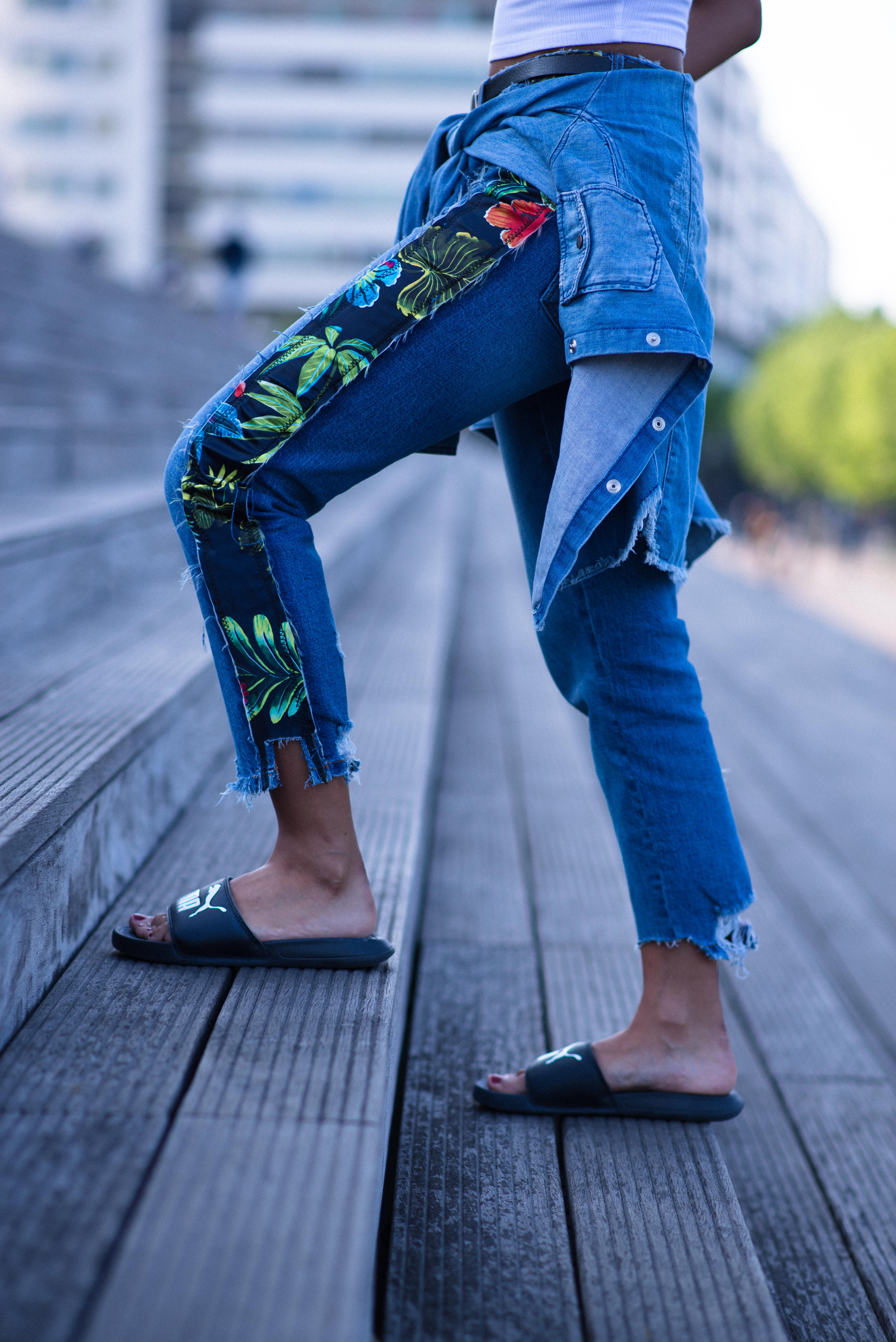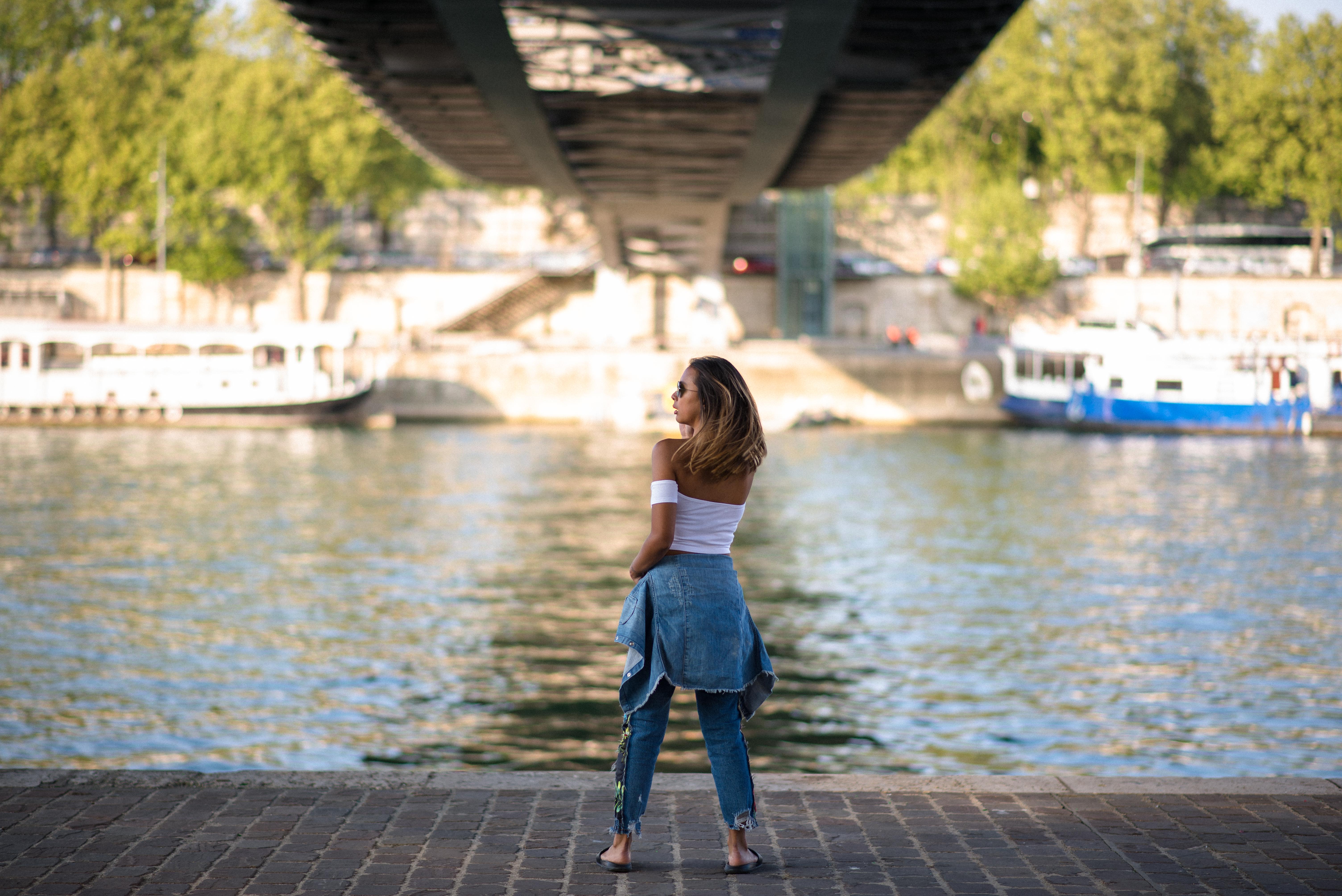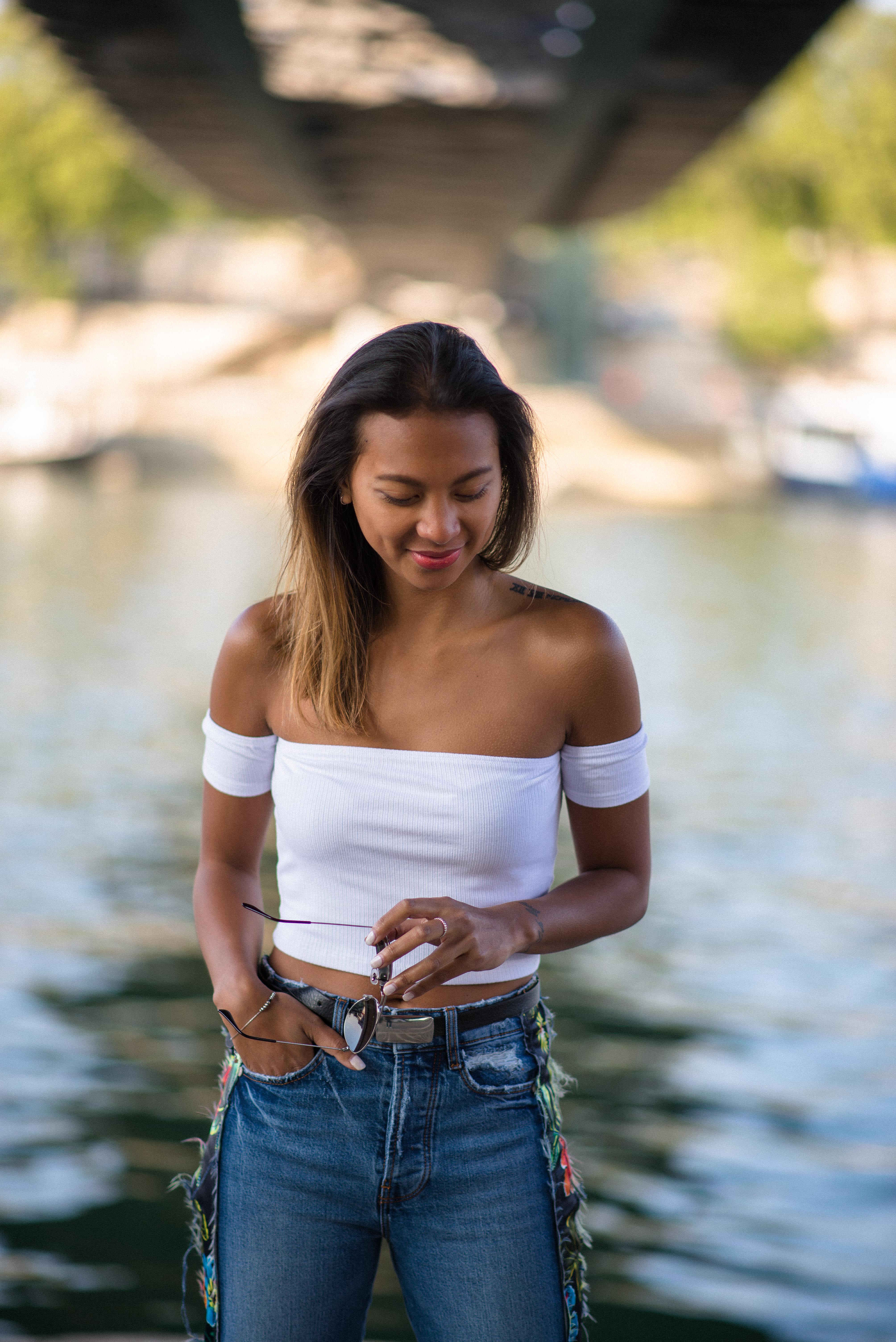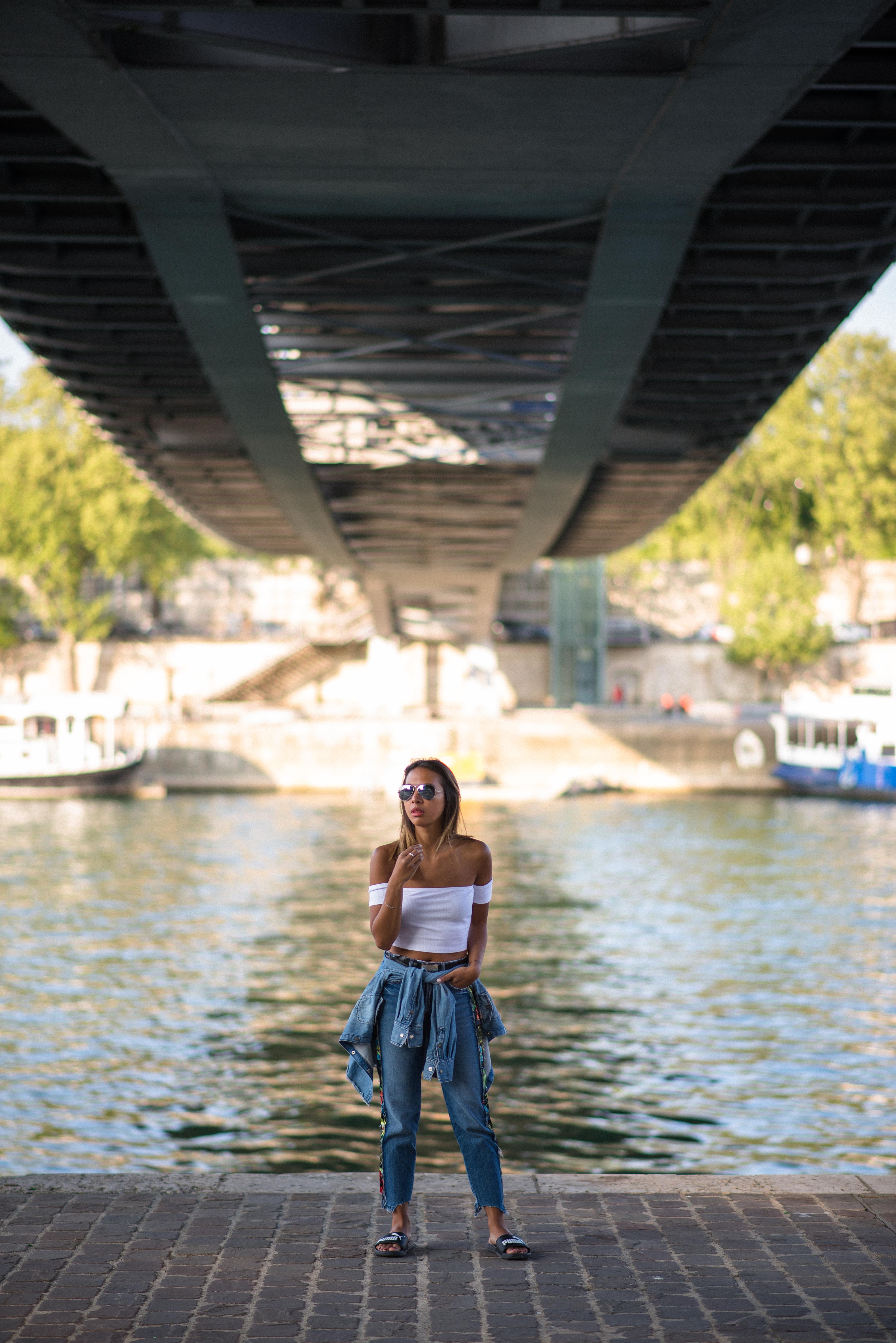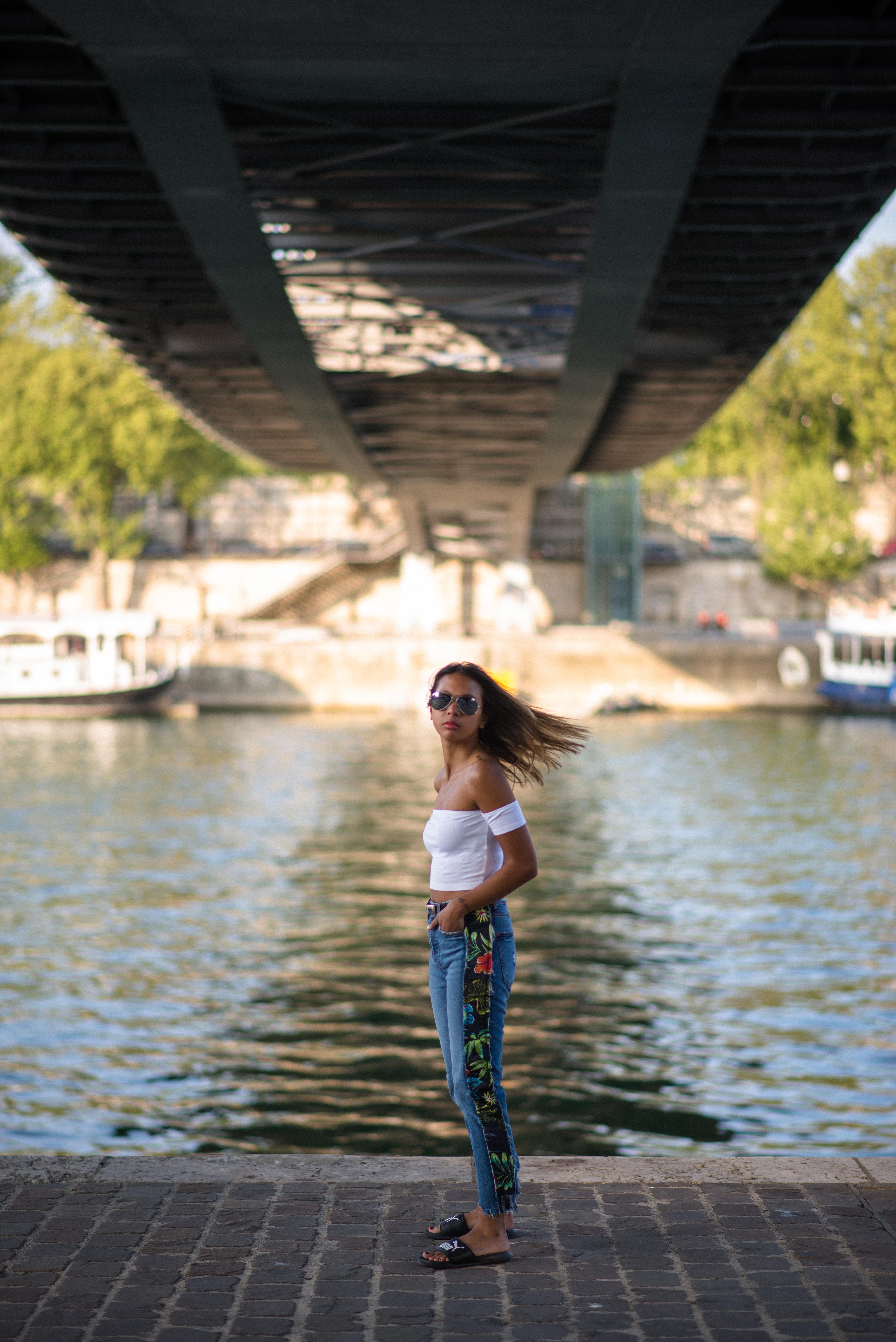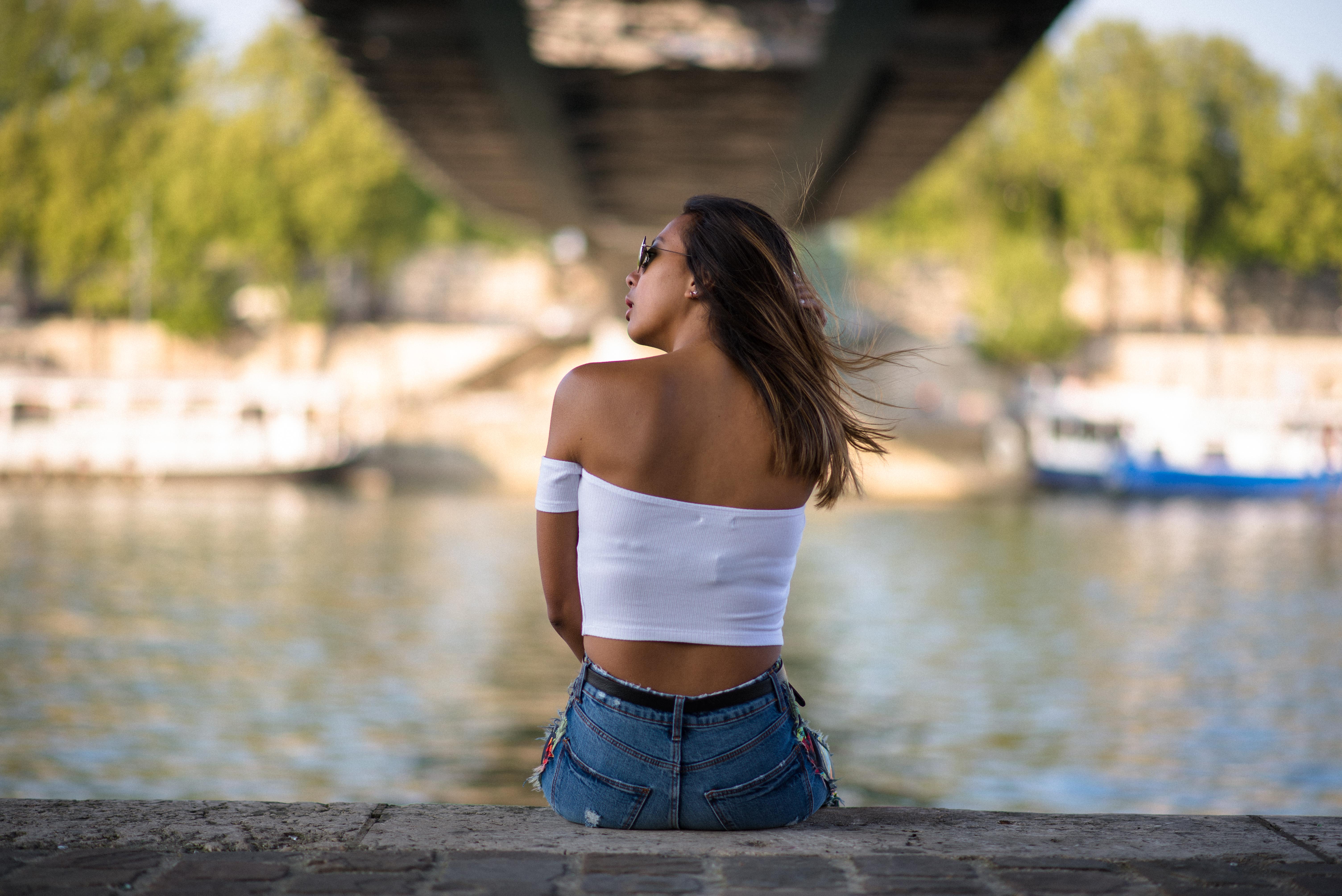 Where: Paris 75012
Pictures by Jude Foulard (https://www.facebook.com/JudeFoulArt/)
---
WHAT I'M WEARING/CE QUE JE PORTE
BERSHKA off shoulder top / Haut à épaules dénudées: here
ZARA jeans (size 32): here
PUMA flip flops (size EU37): here
ZADIG & VOLTAIRE denim shirt (size S) old collection: similar here or here 
RAY-BAN SUNGLASSES: here
---
SHOP MY STYLE