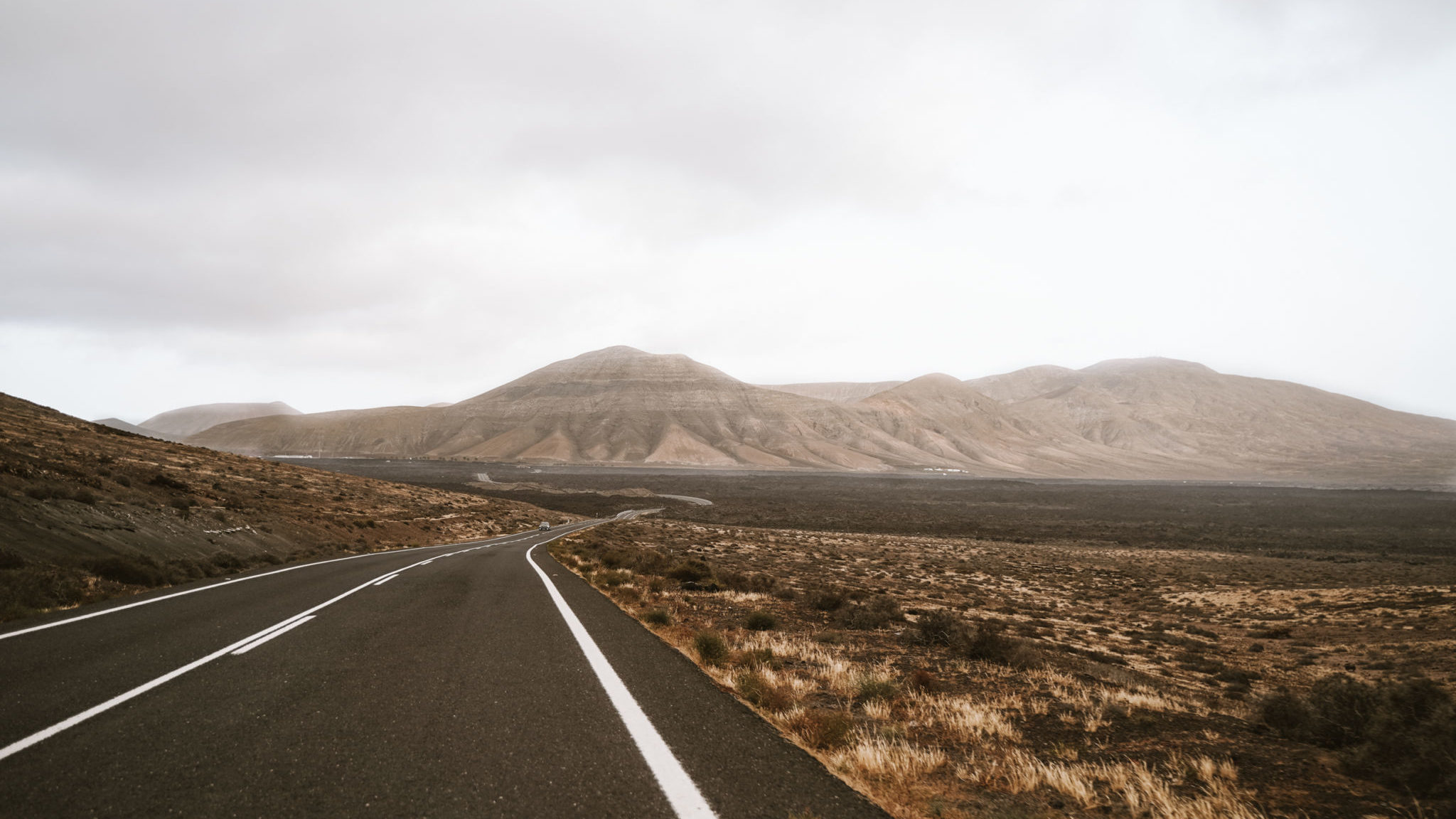 Finally the lockdown is over in France and it's time for us to leave Paris for a few moments to discover some new places! We decided to do a road trip in Lanzarote, one of Canary islands in Spain.
PREPARATION – BEFORE THE TRIP
RESTRICTIONS TO ENTER IN THE COUNTRY
At the moment, the persons who are fully vaccinated can enter in the country without a PCR test, you must show a certificate or document certifying vaccination against COVID-19. However, for the others, you must present, a negative certificate of a Diagnostic Test of Active Infection or a certificate of Recovery after having passed this disease in order to enter Spain.
If you're travelling with Vueling, here's the document that you have to fill up : https://static.vueling.com/corporative7/media/1217/sworn-statement.pdf
This depending on which companies you're travelling with.
Also, to enter in Spain you have to complete this document to obtain a QR code that you will have to present once arriving in the country: https://www.spth.gob.es/
Regarding your return to your country, you will need another negative test of COVID-19 (again for people who are not fully vaccinated) – for France, it can be a PCR or an antigen test done within the 48 hours before the departure. Here's a link where you can set your rendez-vous, I recommend to book early as it can be fully booked very quick:
https://trustoneapp.com/registration/eurofinsmegalab/
PCR TEST normal 70€ / Quick result 90€ / Antigen 29,17€
FOR FRENCH GUYS: Keep the invoice, so you can ask the refund of this test to your Sécurité Sociale: link
FLIGHT TICKETS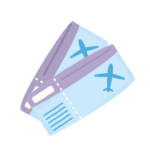 350€ back&forth/person with Vueling – direct flight for around 4 hours from Paris Orly to Lanzarote Arrecife
It's a bit expensive but we booked it in very last minutes, normally it's around 120€ back & forth.
WHERE TO STAY
Hotels, villas, boutique hotels :
Barceló Teguise Beach
B&B Buenavista Country Suites
La Finca Malvasia
Le Buenavista Lanzarote
La Buganvilla (minimum 3 nights)
La Casa Perdomo (house to rent)
Hotel Boutique Palacio Ico
We stayed within Playa Blanca, one of the three seaside resorts – the others are Puerto del Carmen and Costa Teguise.
Villa Puerto Rubicon – where we stayed 5 days. It's located near the Marina, shopping area, restaurants and groceries.
The villa is very huge with 3 bedrooms, 3 bathrooms, a kitchen with appliances, a swimming pool and a barbecue side. The place is perfect for family or friends and it's very clean and confortable!!!

For 5 days we payed around 350€ – 70€ per night.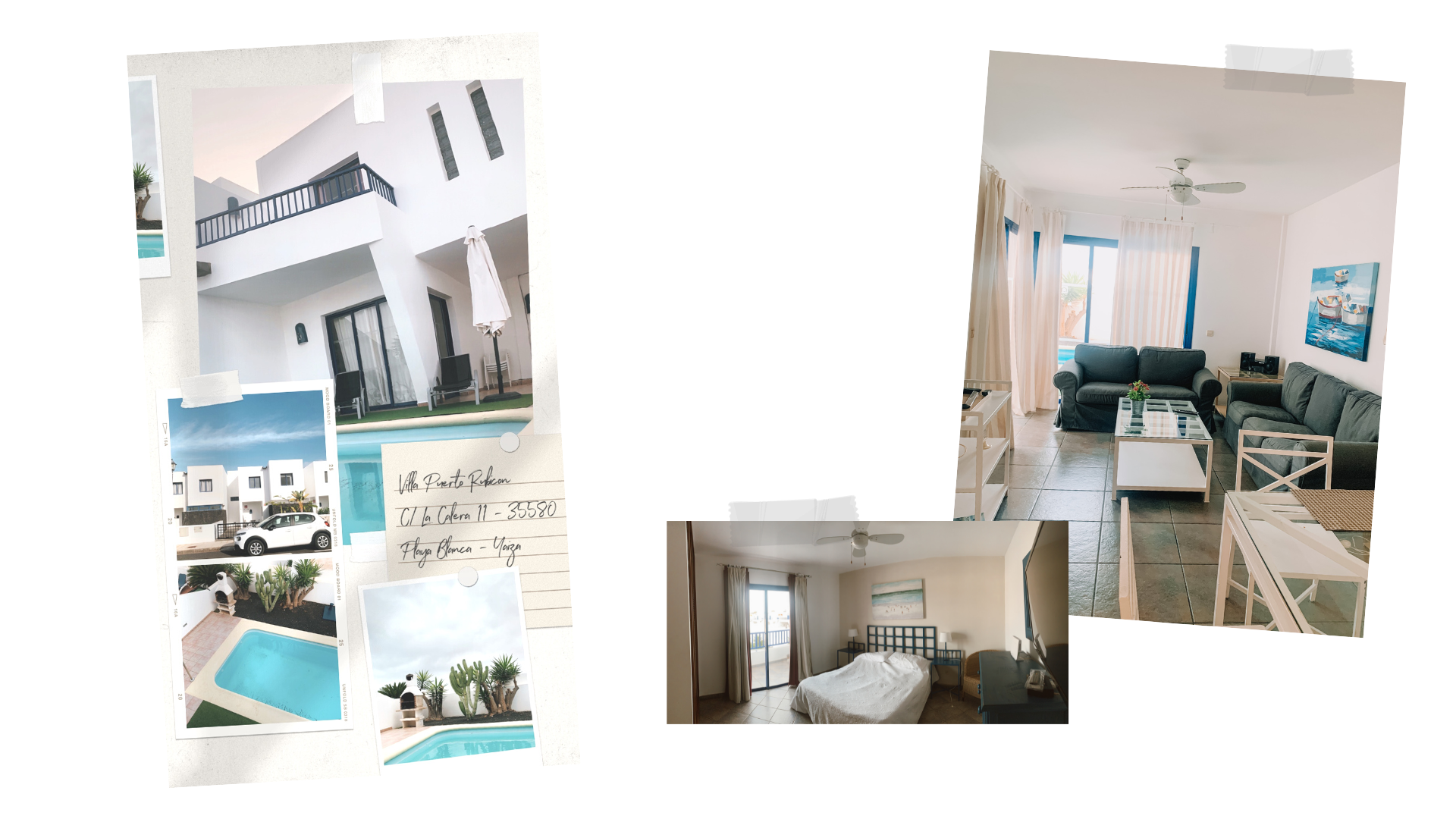 To book your villa, it's here!
RENT A CAR
When you say road trip, you think car! Because it's essential to have a car to explore the island. It will be much easier to stop anywhere and whenever you want. We booked it at the airport for 78€ for the 5 days. The gas is around 42€ to tank up.
THE TRIP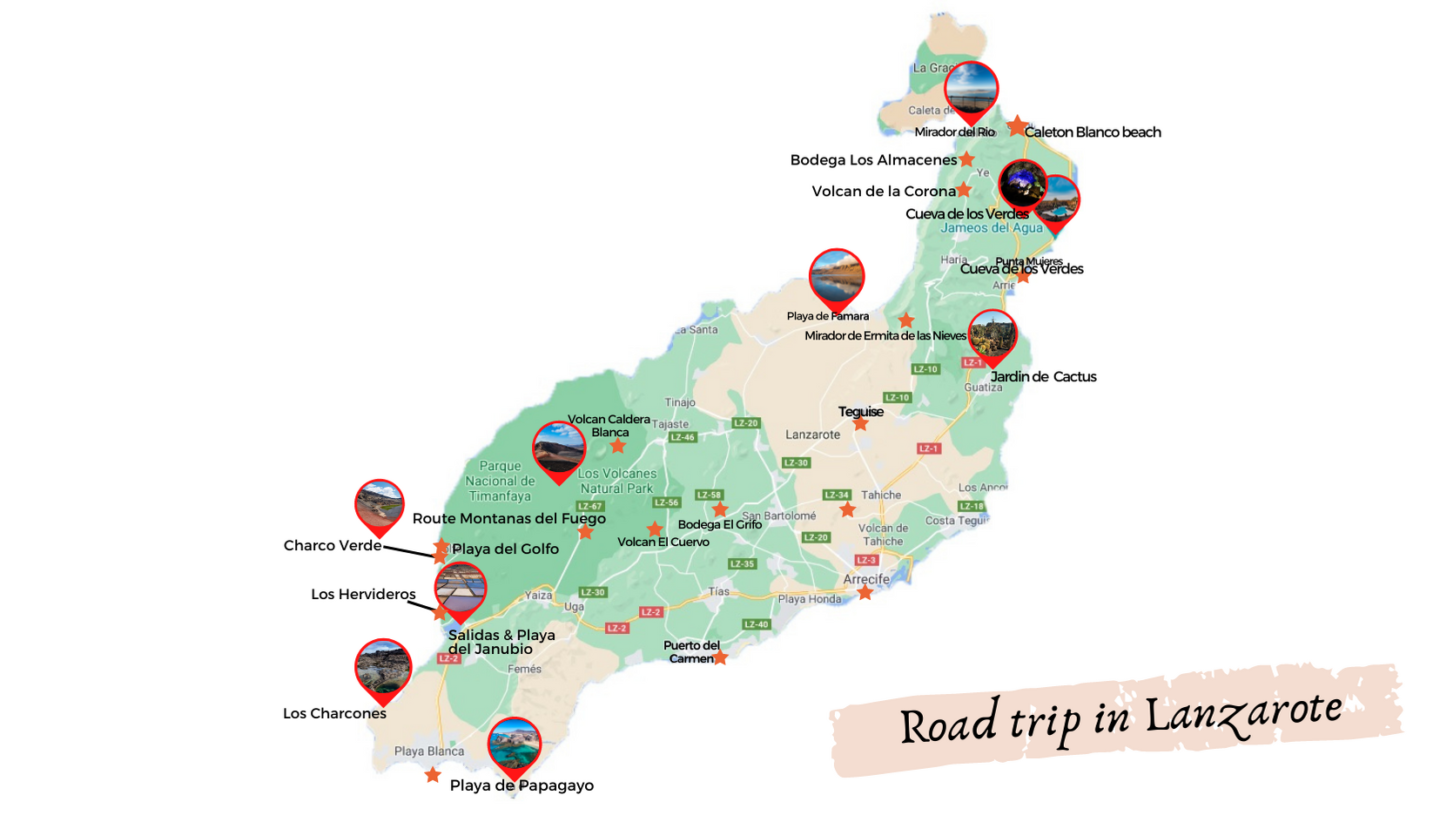 To enjoy to the fullest, I will recommend to stay at least 1 week in the island. You will have time to explore, to chill and relax!
THINKS TO DO/PLACES TO VISIT
I divided the island in 2 parts: north and south
THE NORTH
Mirador del Rio – Where you can contemplate a panoramic view over the Graciosa island.
Entrance is 5€ for adult / opening hours: 10am-17pm
Tips : You can also see the view without entering the building ; you just need to be careful as there's no fences around if you go closed to the side.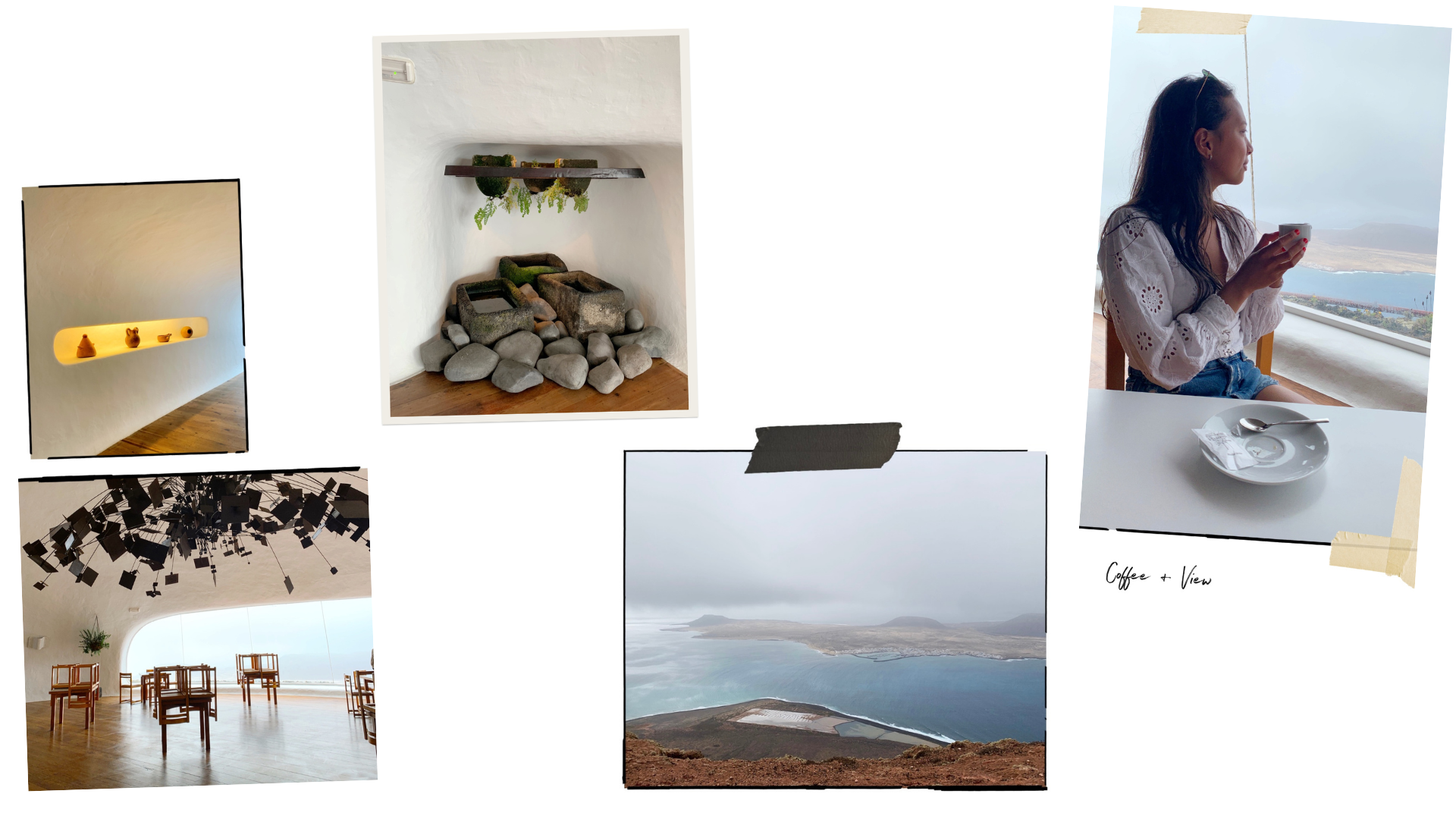 On the way back, stop to La Bodega Los Almacenes where you can buy typical food and wines for souvenirs.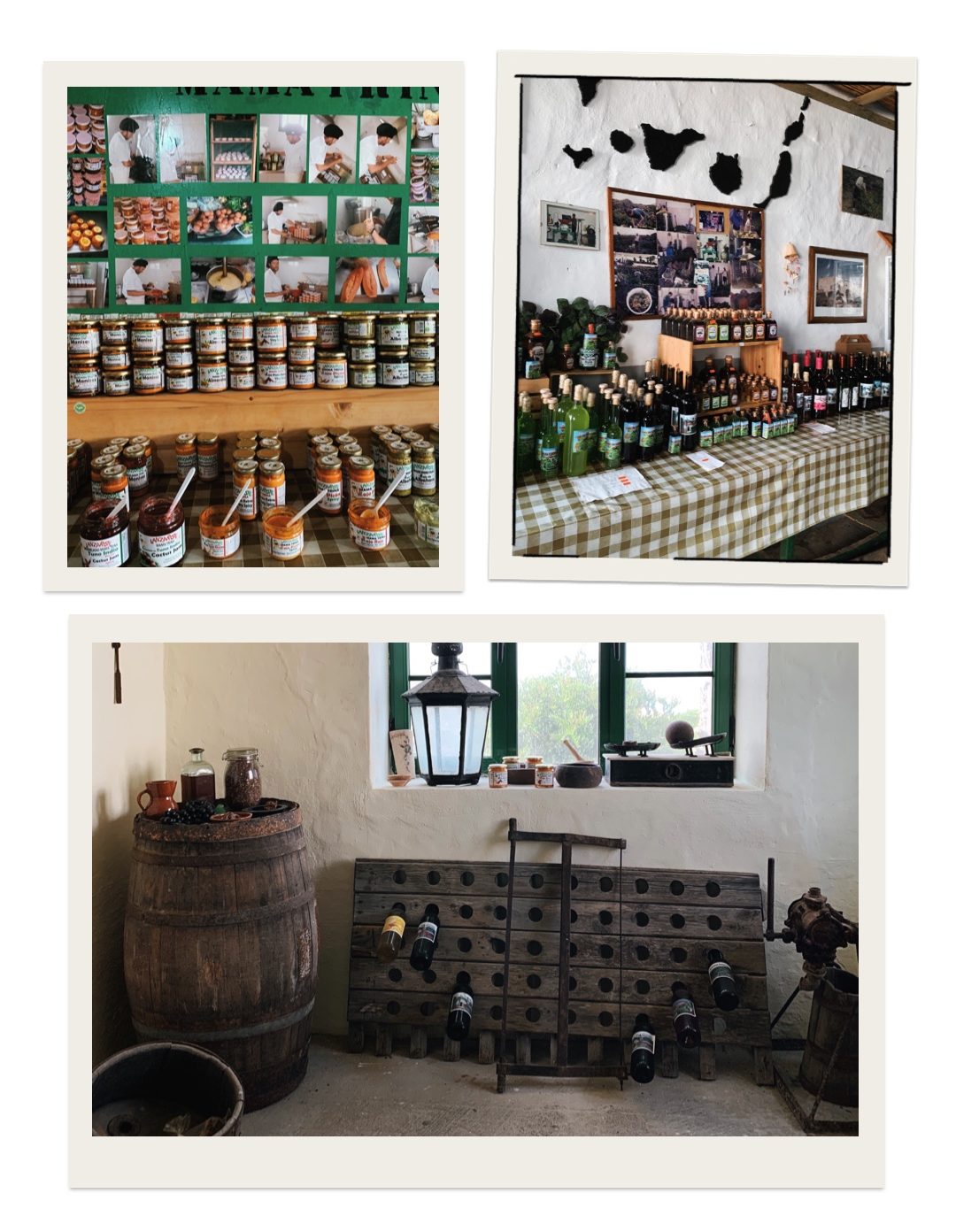 Cueva de los Verdes – Visit the tunnel made by lava, during the eruption of the Corona volcano.
Entrance is 10€ for adult – Several packages are available that let you visit several centers of attractions / Opening hours 10am-16pm / tour duration: 50 minutes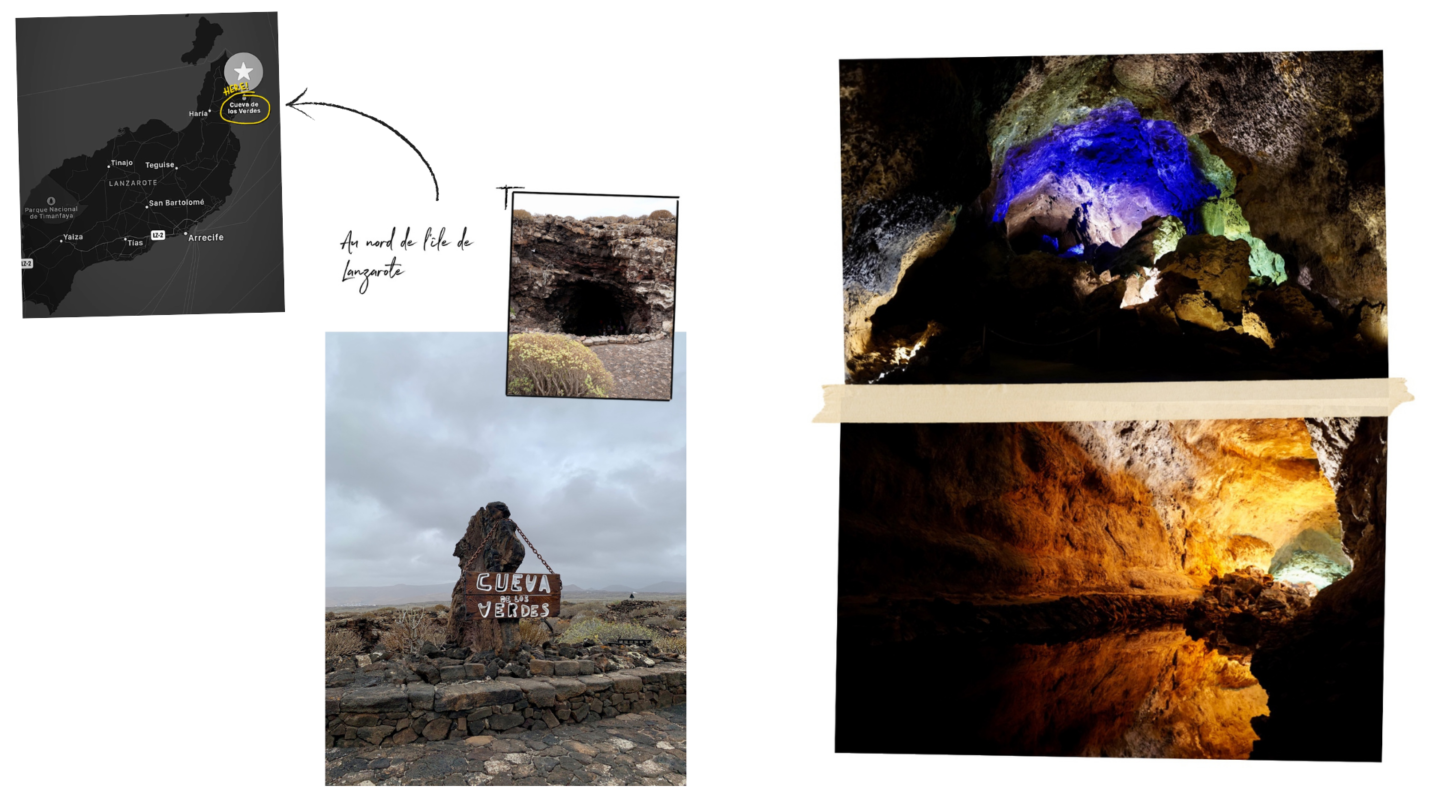 Jameos del Agua – Entrance is 10€ for adult
Cactus garden at Guatiza – Beautiful garden of cactus (around 4 500 specimens)
Entrance is 6,50€ for adult / Opening hours 10am-17pm / tour duration 1,5 hour
Corona Volcano – climb to the highest crater of the island to see beautiful landscapes
Mirador Ermita de la Nieves – view is similar to the Mirador del Rio but it's free entrance
Some beaches around, if you want to stop and chill a bit:
Caleton Blanco beach – quiet beach
Playa Bajo el Risco – goldish beach
Playa Caleta de Famara – spot very famous for the surf, very windy and high cliffs
On the road, some picture spots:
Ermita de Santa Maria Magdalena church – Masdache, road LZ 30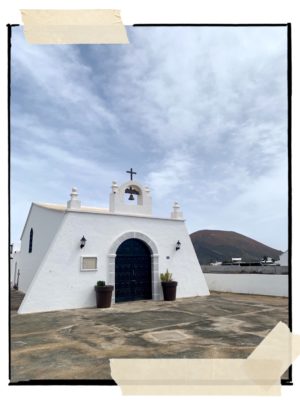 Camino La Vegueta, spot on the road that gives a view of the Tesa montana – Road LZ 58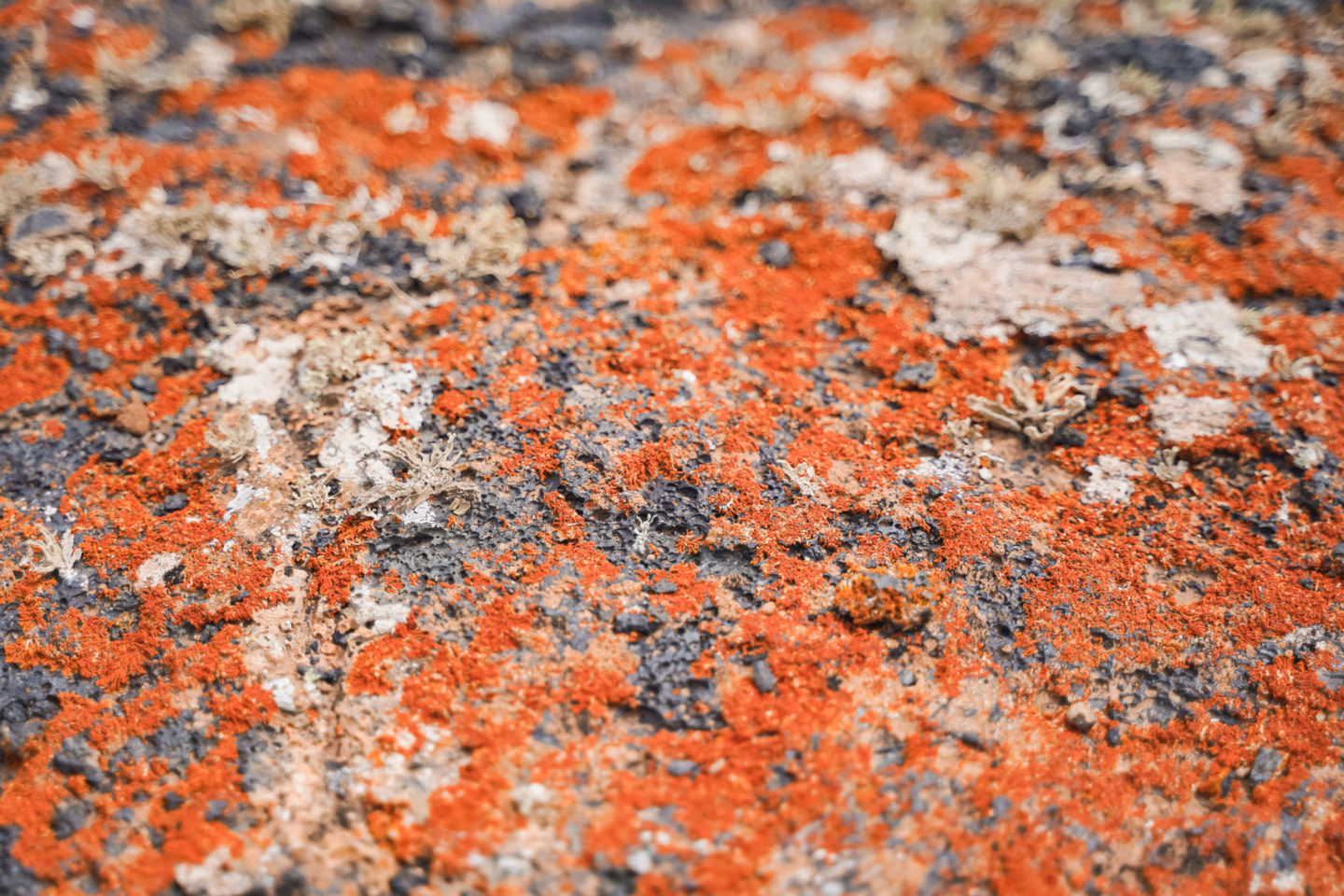 La Woerden, a volcano that attracted us on the road. Big hole or not? If you follow me on Instagram you know the answer 🙂 – Road LZ 34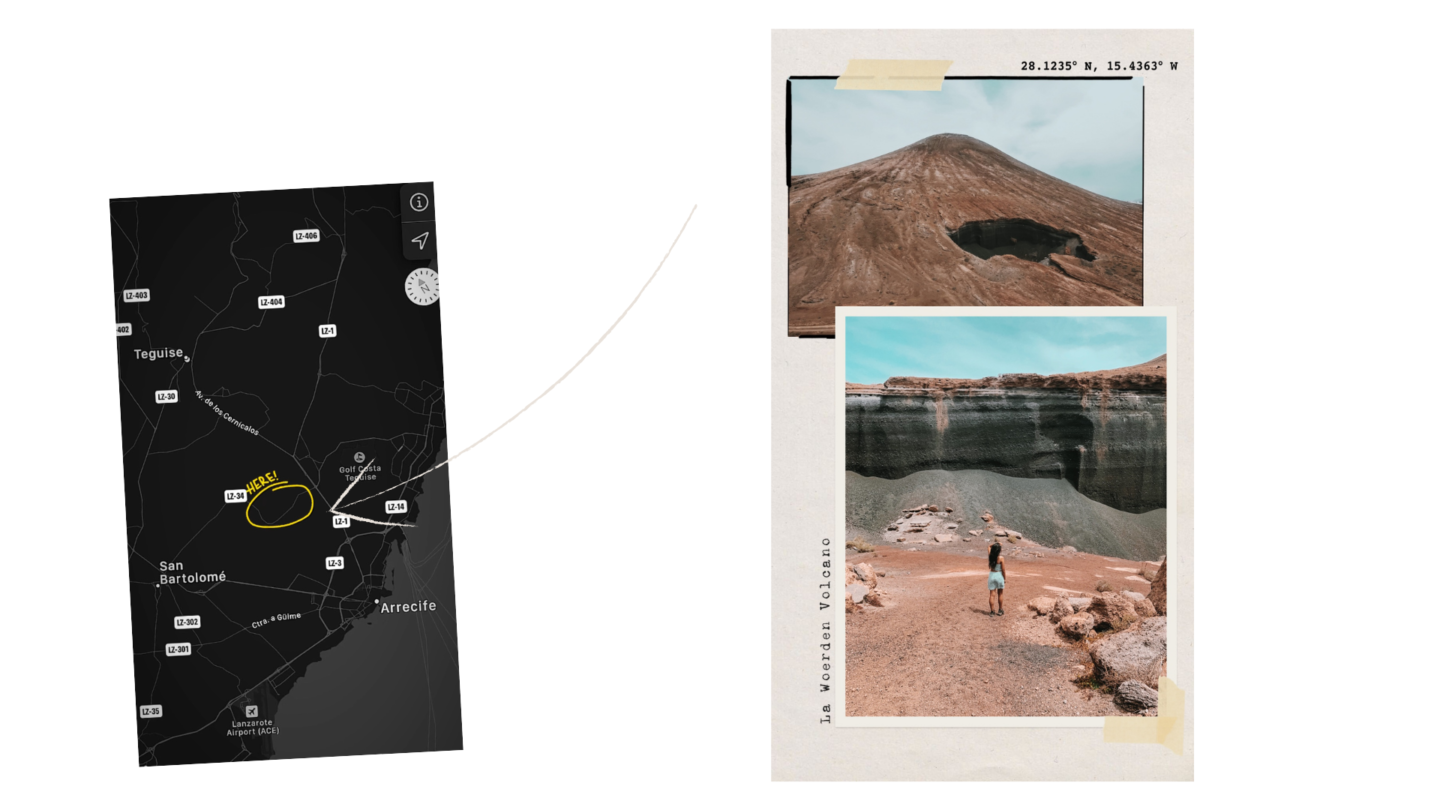 Villages/places in the area where you have to stop by and explore:
Punta de la Mujeres – Small fisherman's village and capital of natural pools. The streets are tiny and cute, it's very quiet and peaceful ; I like the authenticity of this place.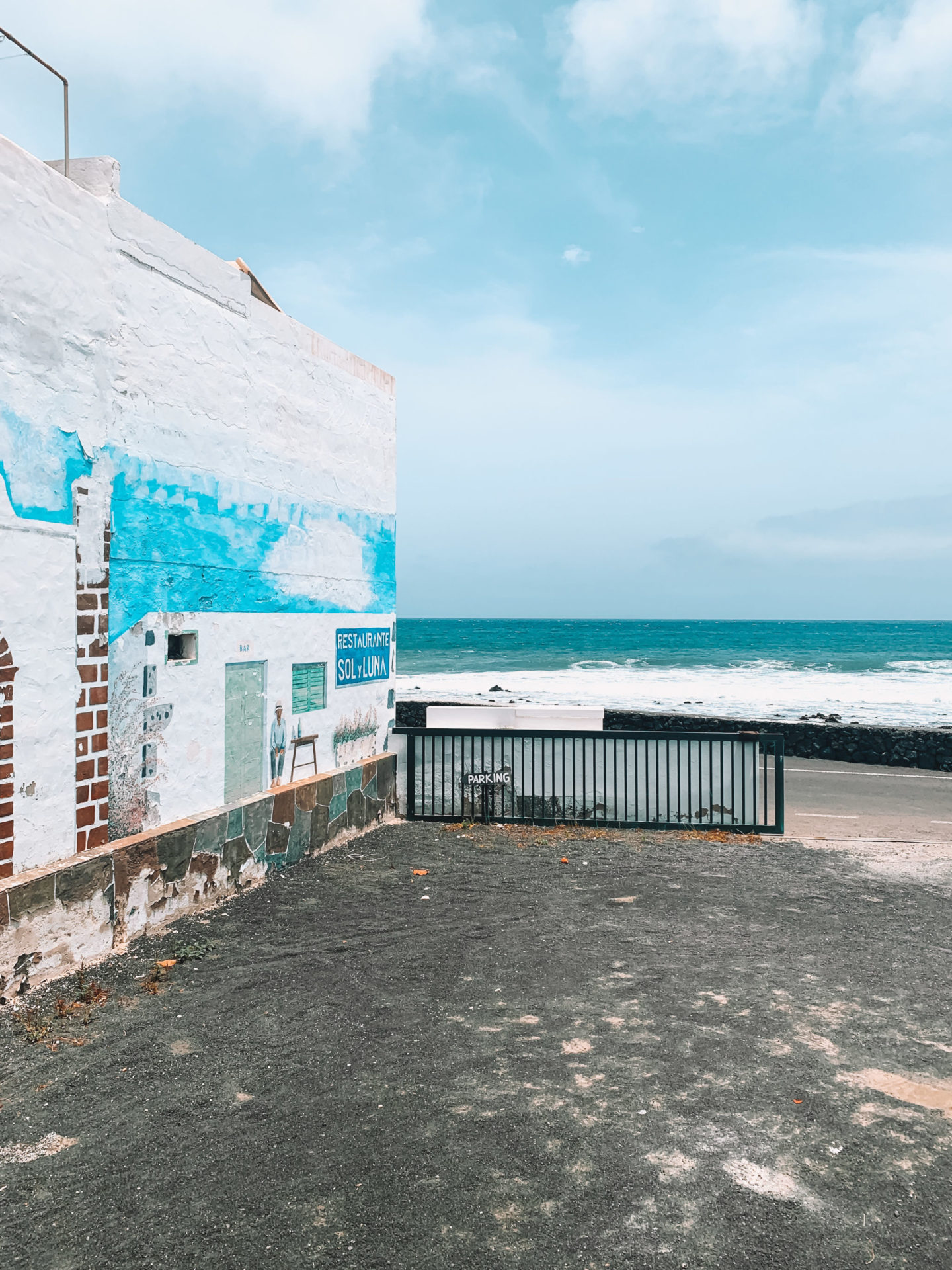 Teguise – Probably my favorite city, it's the former capital of Lanzarote! We passed by Teguise for lunch but we didn't have enough time to explore the place. For the few things that we had seen I liked its very old architecture and its historic buildings, I really like the real spirit of the island. Also this place has some few museums, and a lot restaurants which are located in the narrow streets as well as shops of decoration, crafts and clothes.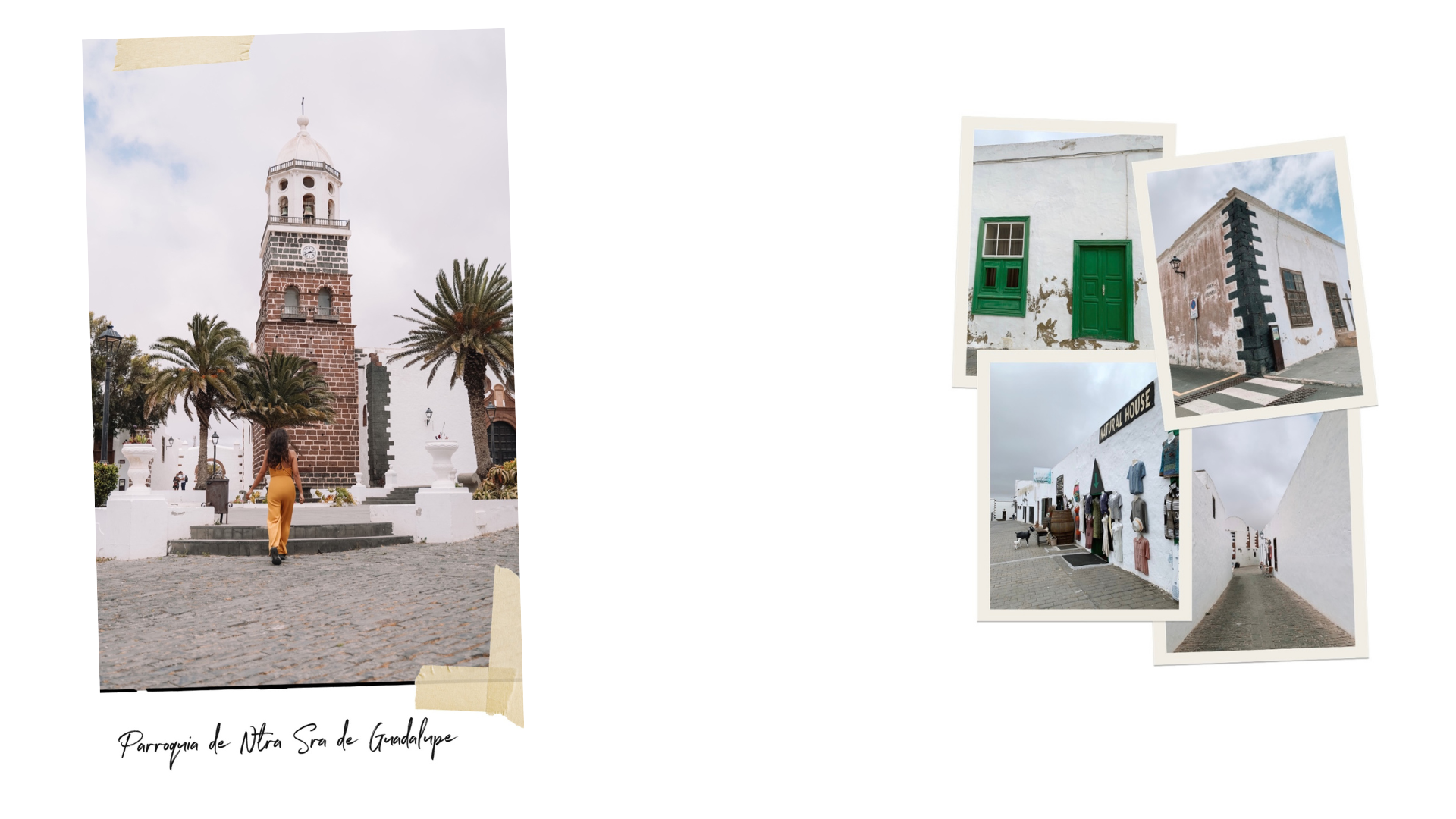 Costa Teguise – One of the seaside resorts of Lanzarote. Very popular with tourist families, it offers a magnificent beach (las Cucharas) with activities such as surfing, windsurfing, but also an aquarium and a water park – so we understand why it's perfect for families with children 🙂
Arrecife – Capital of Lanzarote and former fishing village! This small town is very welcoming and. even if it's not very impressive like the other villages of the island, it deserves to be discovered because we learn a lot about the history of Lanzarote, the origins and its first inhabitants. This former fishing village was before the refuge for boats that came to hide from pirates.
THE SOUTH
Costa de Papagayo – In the very south of Lanzarote, the place is easily accessible.
When you arrive at your destination, you can leave the car in the public car park, they said there's a fee entrance but when we wen there it's completely free! The coast of Papagayo offers an incredible view of high cliffs, the turquoise blue sea and a landscape of impressive volcanos. Here you enjoy the beach or explore the surroundings! or both 🙂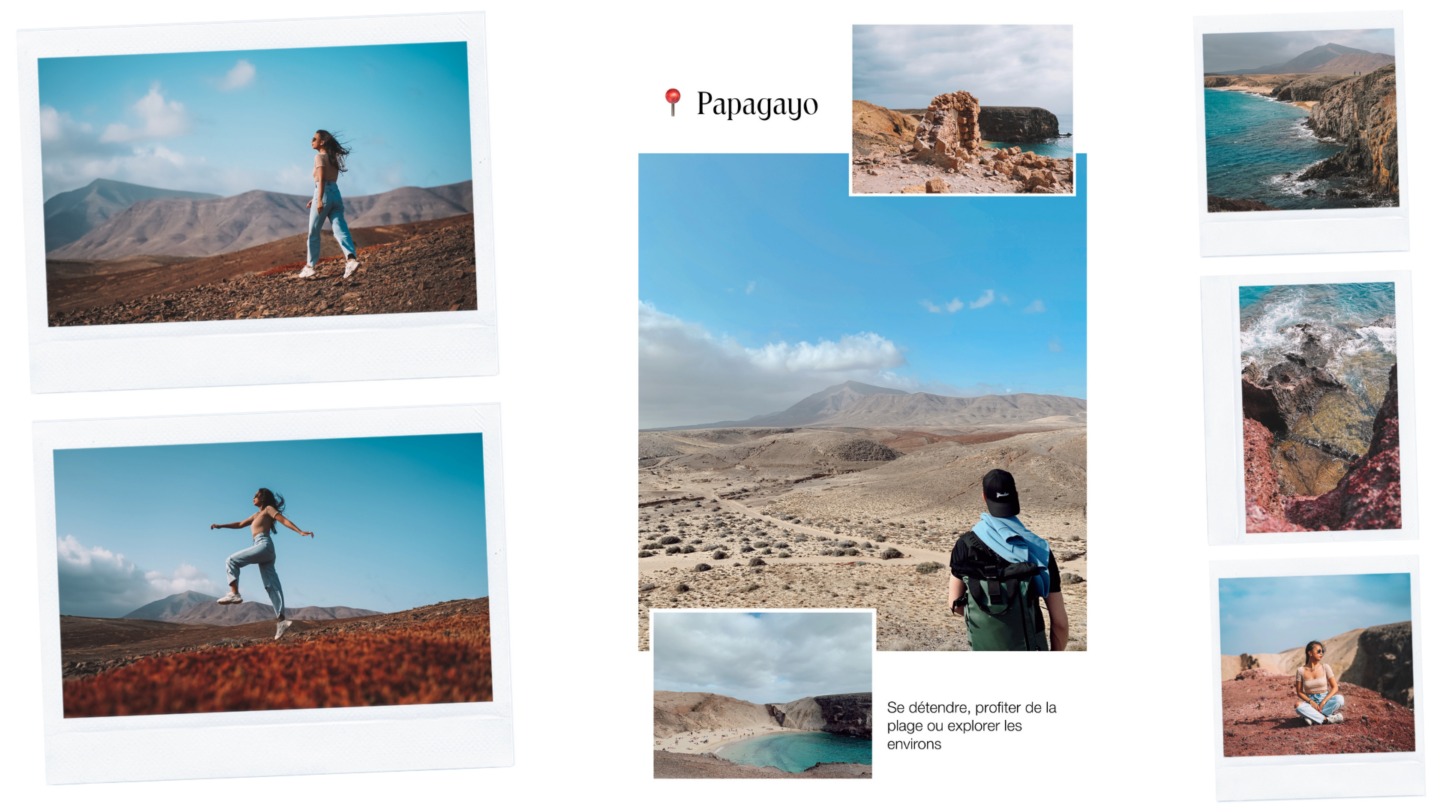 Los Charcones – Many natural pools with very clear water, located just above Playa Blanca. You go there by car and then by walk because the road is very winding and there are very large stones which do not facilitate access. The setting is nice but you have to be very careful with the strong wind and the swamp which can rise quickly. TIPS: Don't forget to get good shoes too 🙂
Salinas & Playa del Janubio – the salt lakes and the black beach, a magical place I had never seen such a beautiful landscape. In the west of Playa Blanca and just below El Golfo, this place should definitely be visited! TIPS: in the morning there is nobody if you want to have the place just for you 😉
The lakes are seen from the road so you really won't have a hard time finding and accessing it.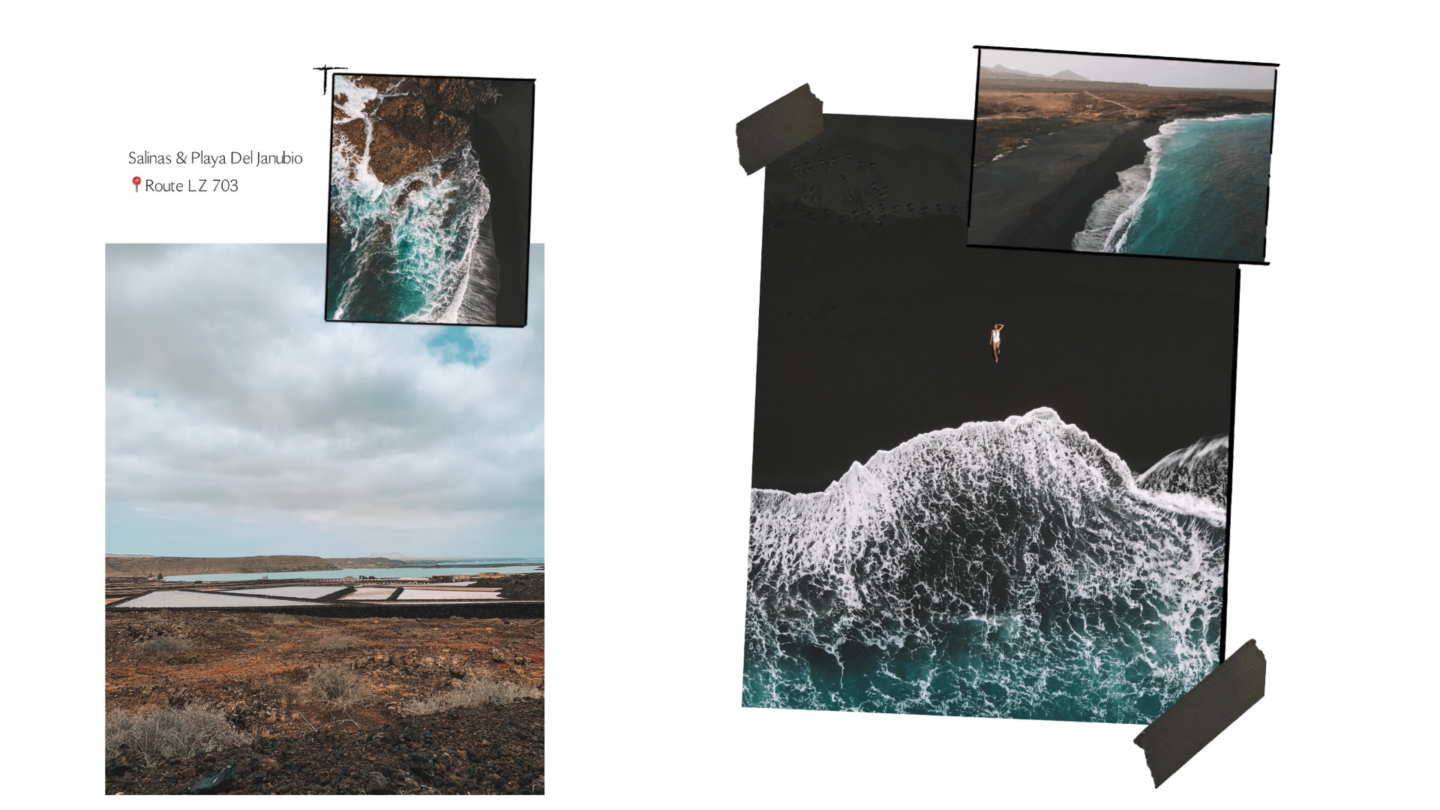 Los Hervideros – along the LZ-703 road from Janubio beach, you will come across Los Hervideros, a site composed of a lava flow dating from the 18th century eruptions, that reaching the ocean. It forms of several caves that are carved in lava and where the waves crash into the cave walls! A magnificent spectacle of contemplated nature!
Lago Verde – A surreal spot! The Green Lake is located in the west of the island below the Timanfya National Park and El Golfo Beach. High cliffs around the beach and the green lagoon are part of a half of a volcano crater decomposed over time by the sea. The crater was formed during the eruptions of 1970.
Lago verde formerly called Charcos de los Clicos is green color because of the seaweed in the salt water.
It's one of the spectacular places to see on the island! The contrast of different colors is incredible, we were speechless when we discovered this magnificent place!!!
TIPS: To avoid the crowds and be able to enjoy this place solo go there early in the morning or late afternoon. We left in the aprem, there were just a few people, but we were still able to take wonderful photos without crowds 🙂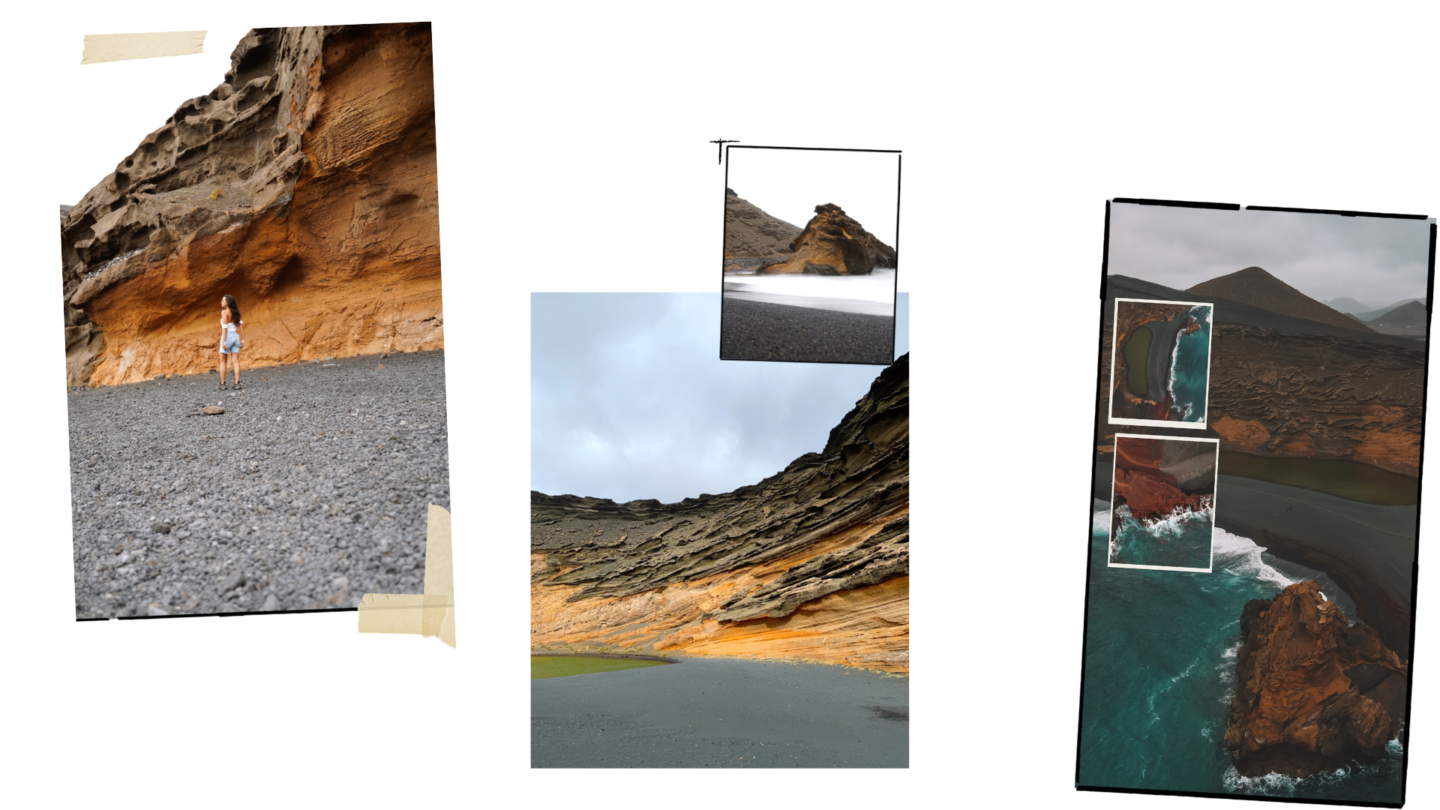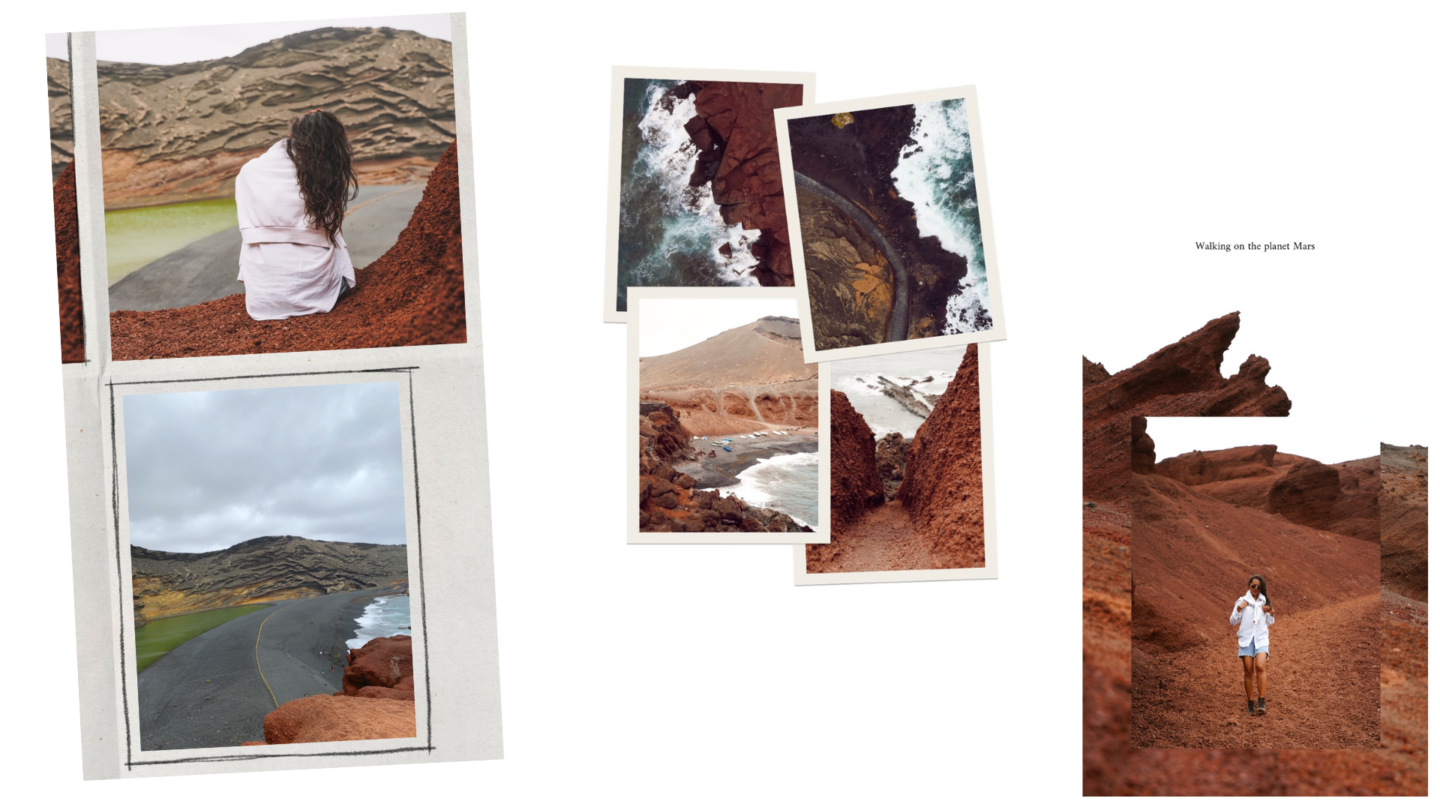 Playa del Golfo – Best place to eat! Plenty of restaurants are located on the coast facing the sea, it's the ideal place to discover Canarian cuisine. Playa del Golfo is located right next to the famous Lago Verde, you can eat here before or after a walk near the green lagoon.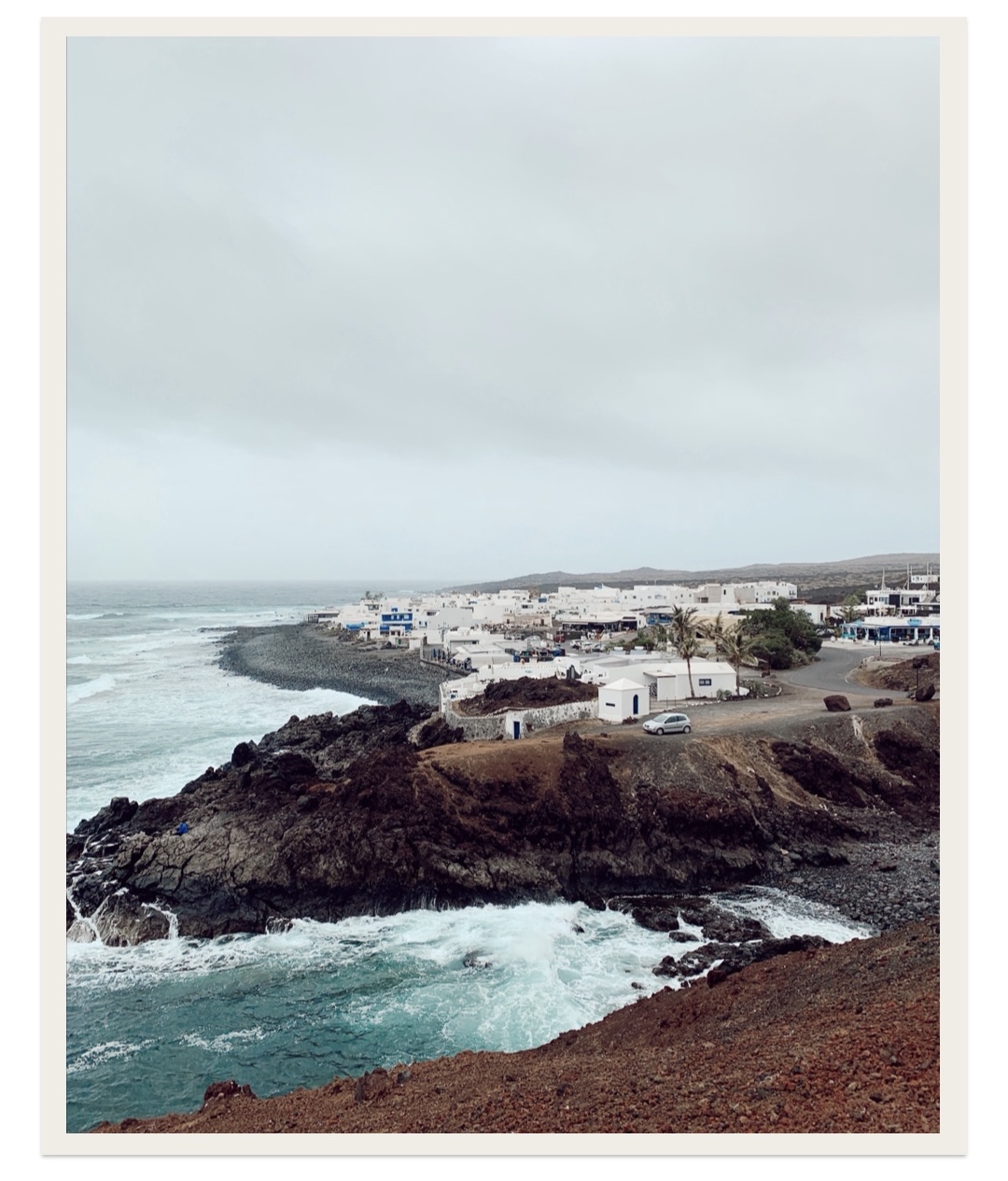 Parc national de Timanfaya – one of the most beautiful natural sites in the Canary Islands! The experience trip lasts about 30 minutes, a bus takes you around the park where there are more than 100 volcanoes, a natural landscapes and even astonishing vegetation growing on layers of lava; grandiose landscapes over 300m above sea level.
Admission fees is 11€
TIPS: Prefer to go at the opening or at the end of the afternoon before closing there are fewer people. Up there the wind is blowing very, very strongly, I almost lost 2 hats just by opening the trunk of the car (thank God I managed to catch them in time), do not bring or wear things that could fly away 🙂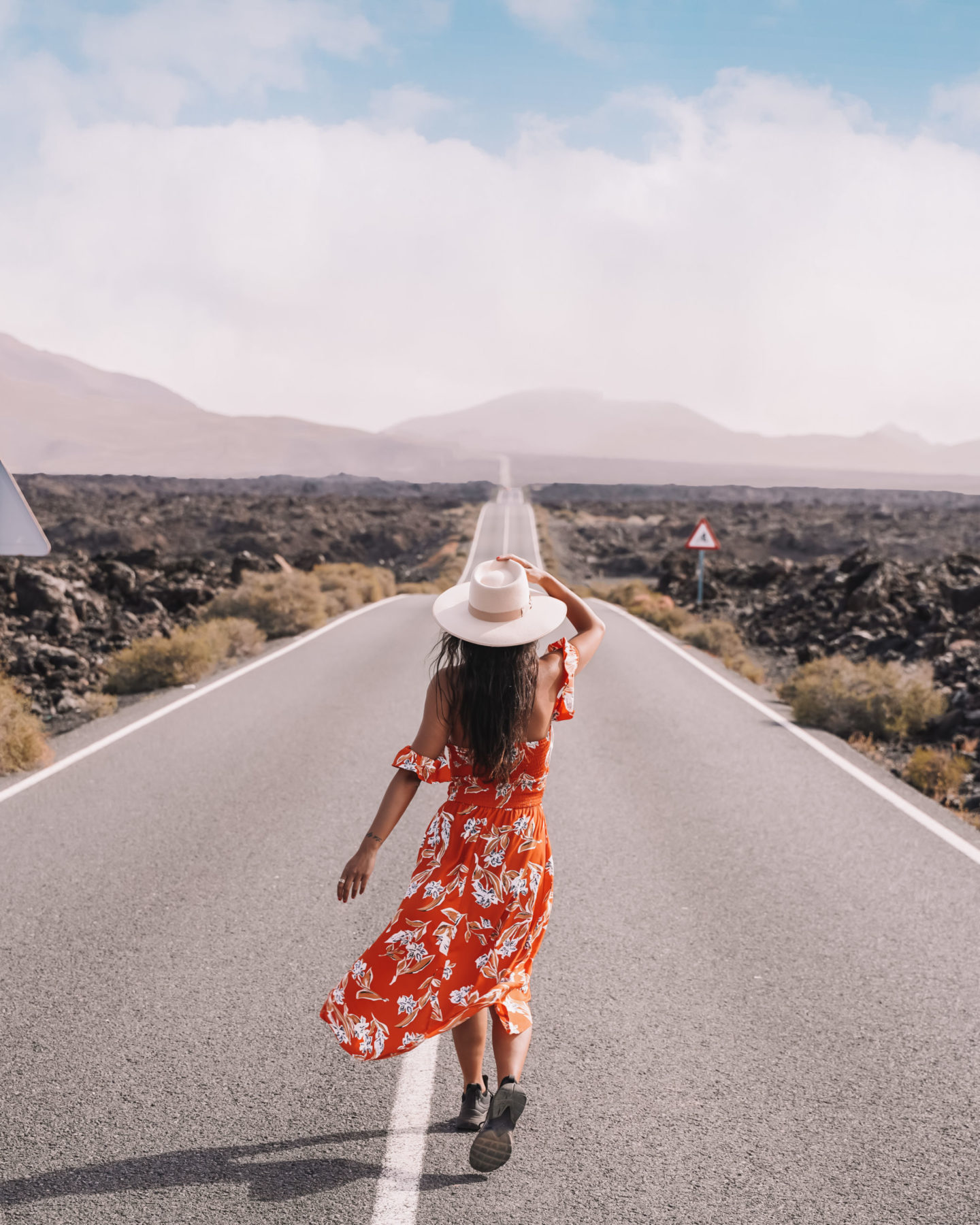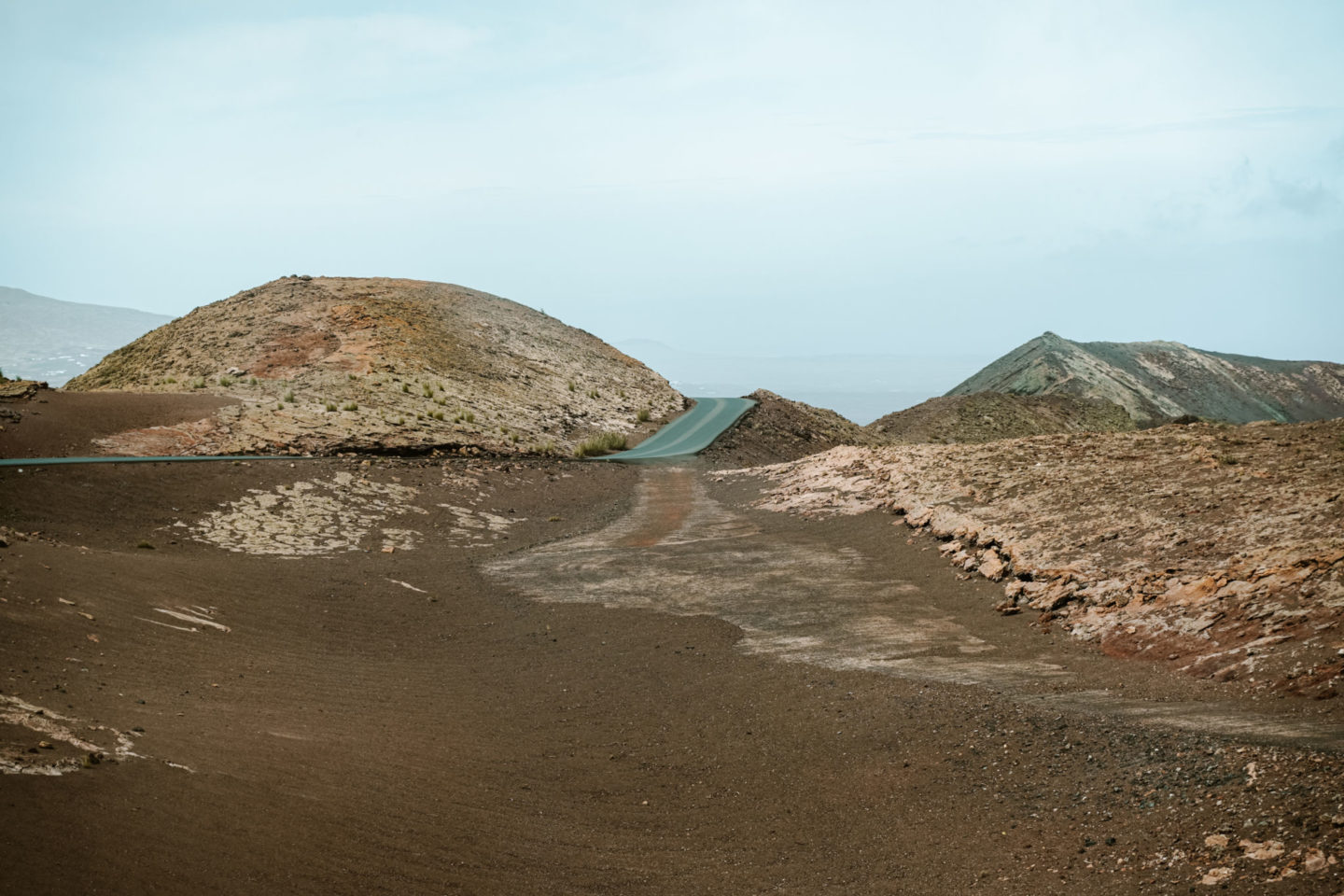 At the end of the visit, a demonstration is presented to you to show you that the volcanos are still active. A person puts a few twigs in a hole, the hole begins to smoke – then a fire appears within seconds.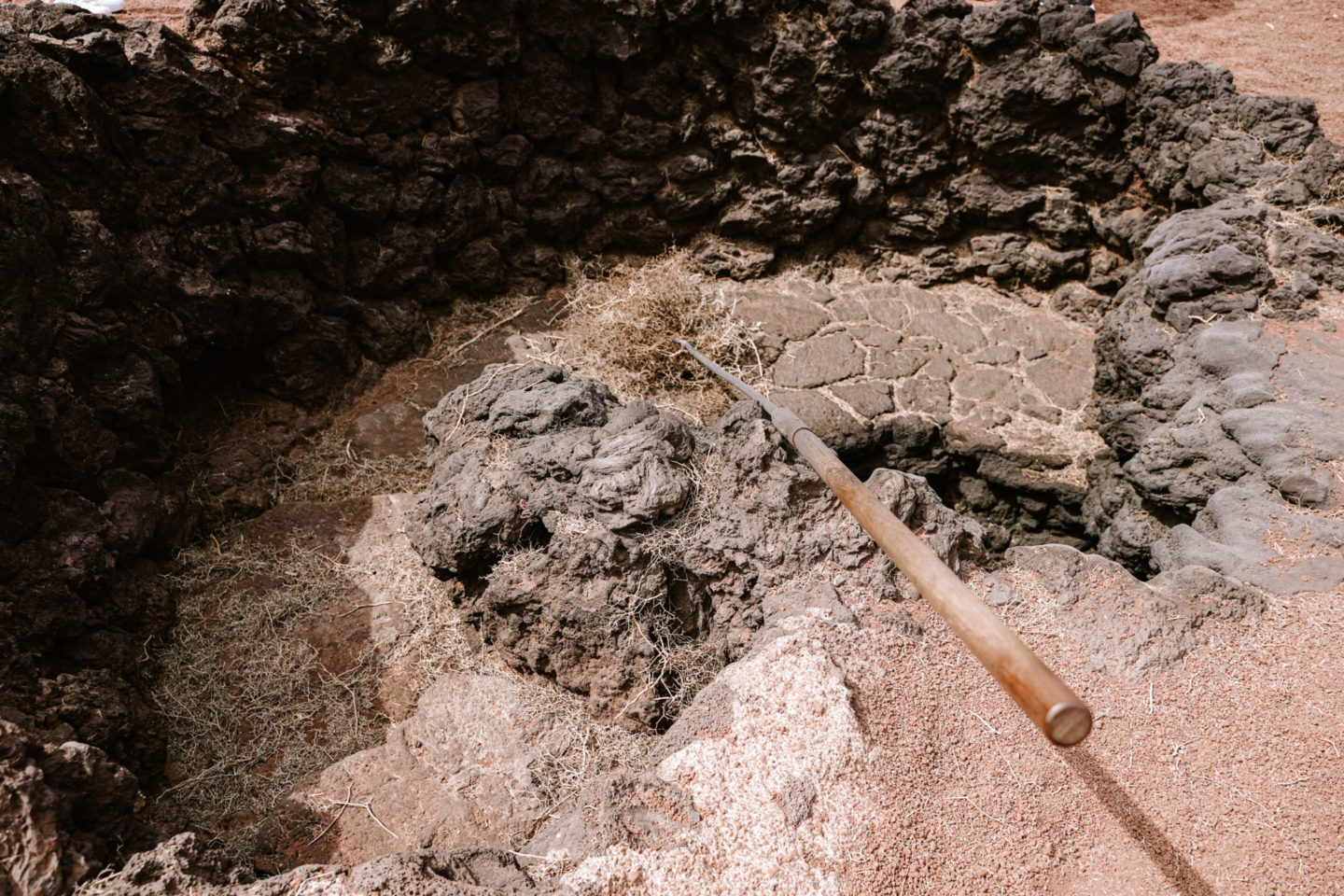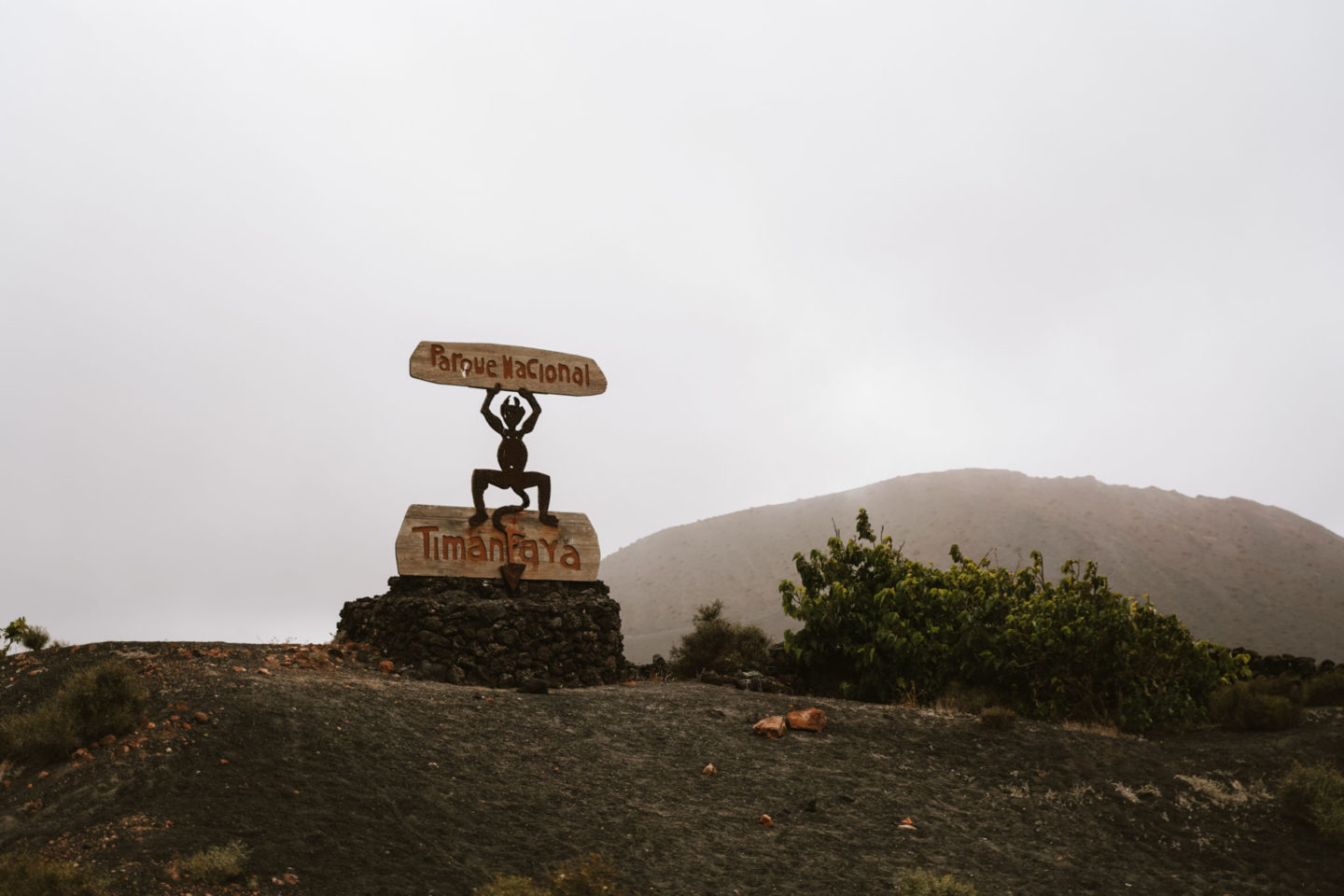 La Geria or El Grifo – visit a vineyard and do a wine tasting in the region of La Geria. You will find quite a few but it's better to book before than to go directly there because in general the slots are full. We did the tasting of El Grifo a family vineyard, right in front of La Geria (the most visited and known). The place is very cute, there is a cactus garden facing a landscape of volcanoes, it's perfect for photos 🙂 Admission is € 15 per adult.
Of course we left with 2 bottles.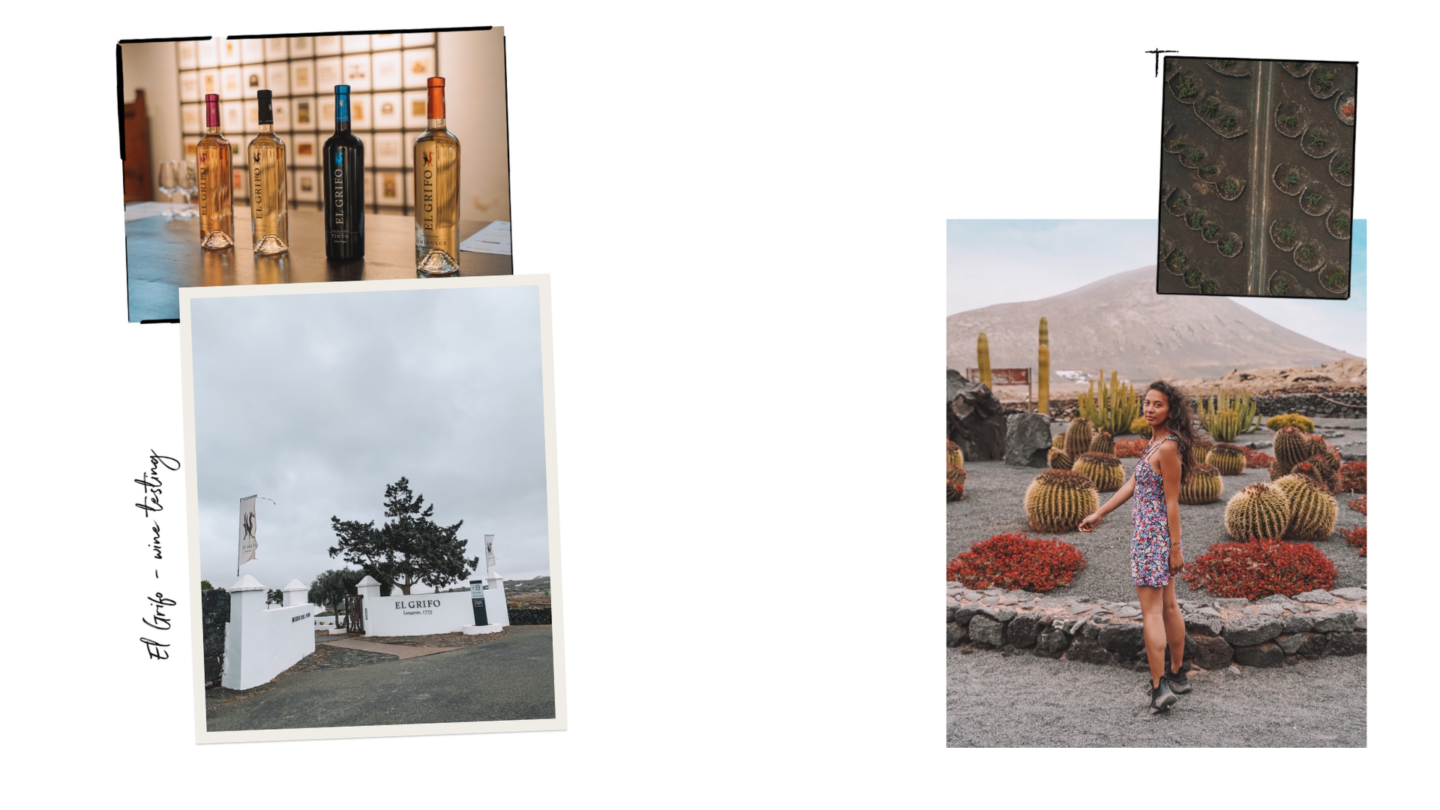 Parc Naturel Los Volcanes – walking around the volcano de los Cuervos, a nice little walk to do there! and it's free, no entrance fees!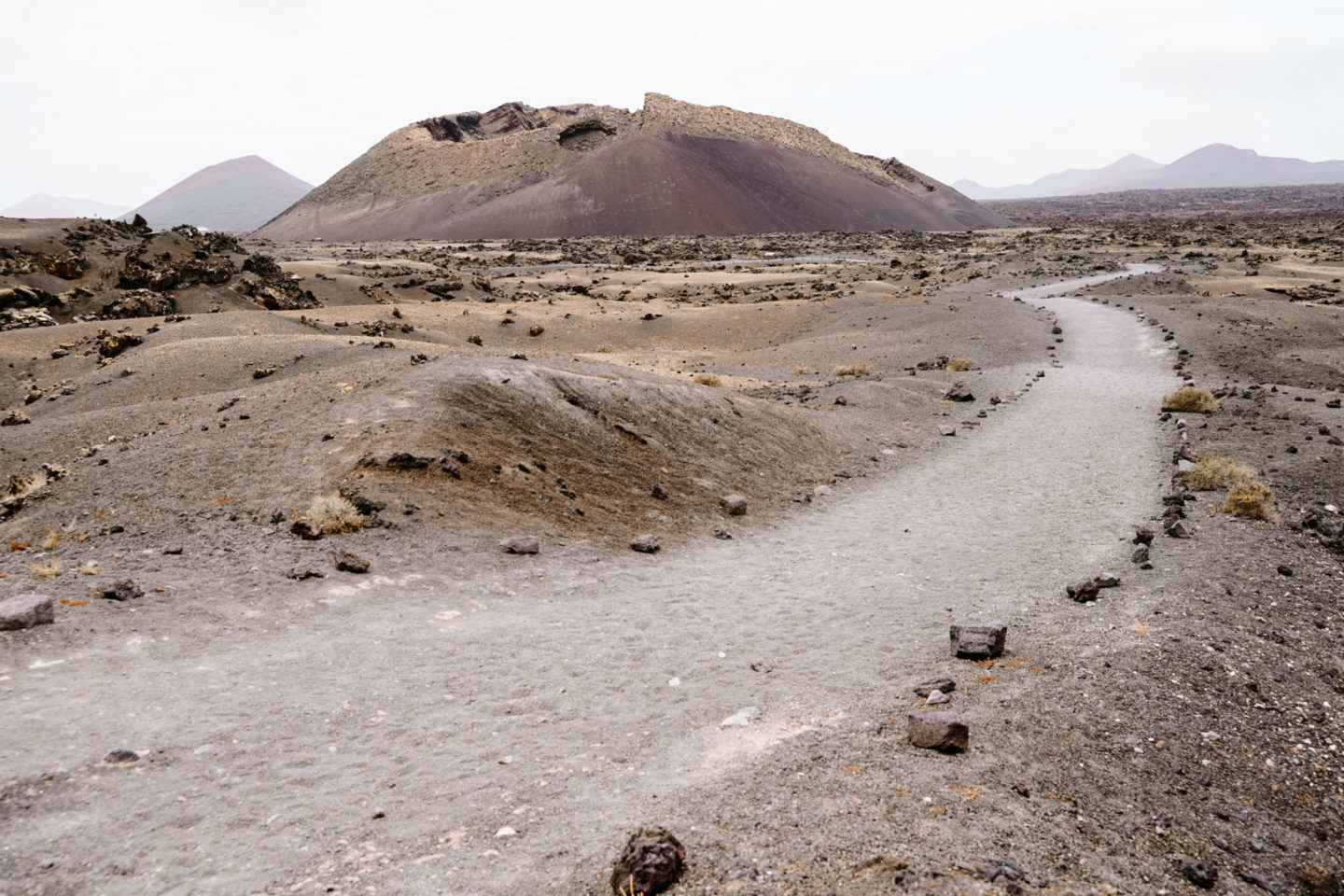 WHERE TO EAT
We didn't go to many restaurants because most of the time, we had a big lunch and sometimes even late, so in the evening we weren't very hungry. We chilled at the villa after a long day of exploring and cooked a few light meals, not necessarily dinner.
For the few restaurants that we did, here are my recommendations:
Cantina restaurant in Teguise – we eat tapas, burgers, tagines (yes yes you read that right) – €€
Address : Calle León y Castillo, 8, 35530 Teguise
Bar Andalucia 1960 in Arrecife – the best restaurant I've done! They also eat tapas with fresh and local products. Andalusian decor, I love it! – €€€
Address: Calle Inspector Luis Martín, 5, 35500 Arrecife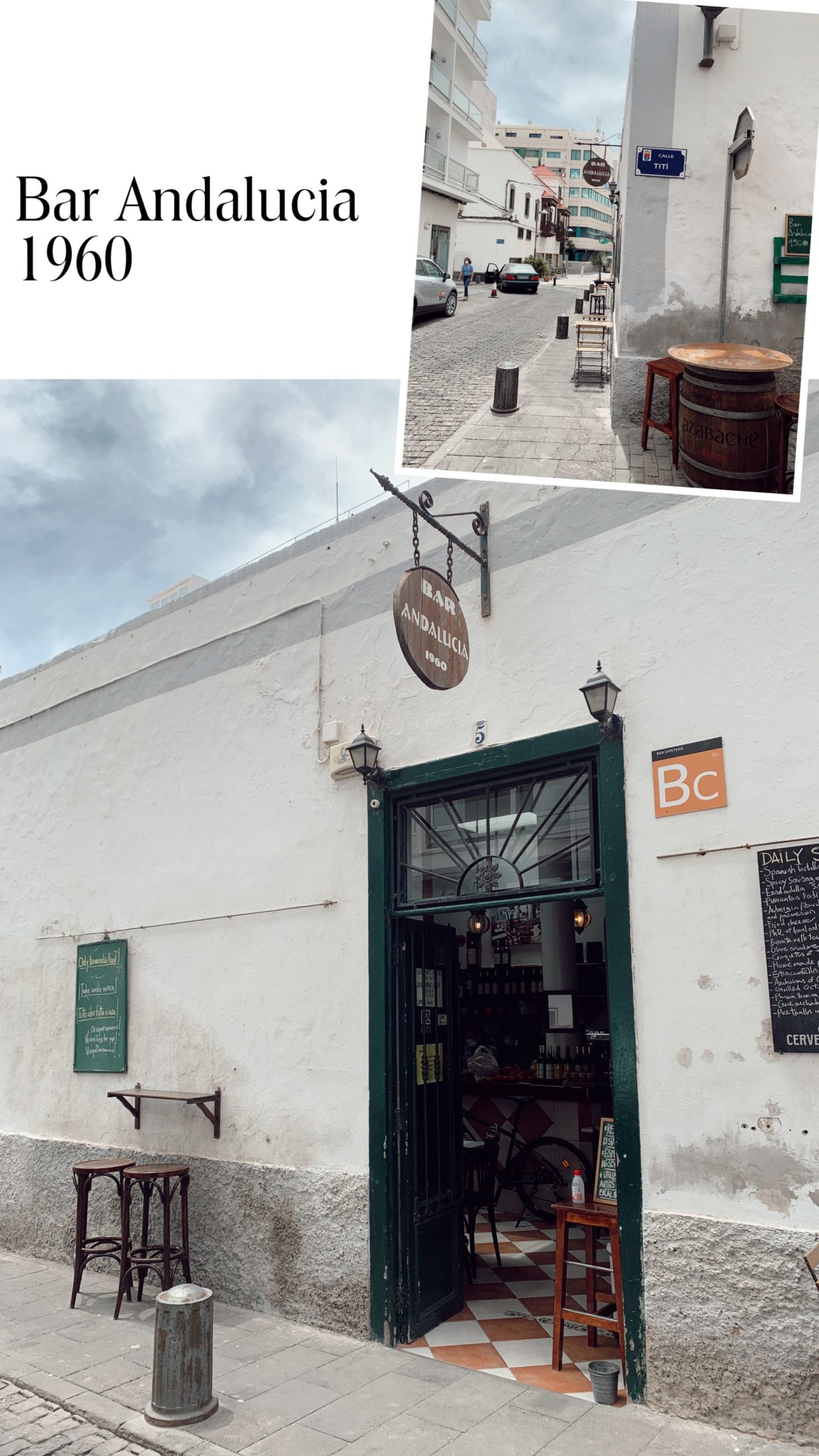 Restaurant Casa Brigida in Playa Blanca – located in the Marina (a few steps from our villa), it's a family restaurant offering traditional Canarian cuisine specializing in seafood and market cuisine. We enjoyed a delicious paella for 2 (just talking about it makes me want a lot)!!! The prices are not too excessive – 15,90€ the large dish of paella minimum for 2 people – €€
Address: Calle el Berrugo, nº2, Local 32B, 35580 Playa Blanca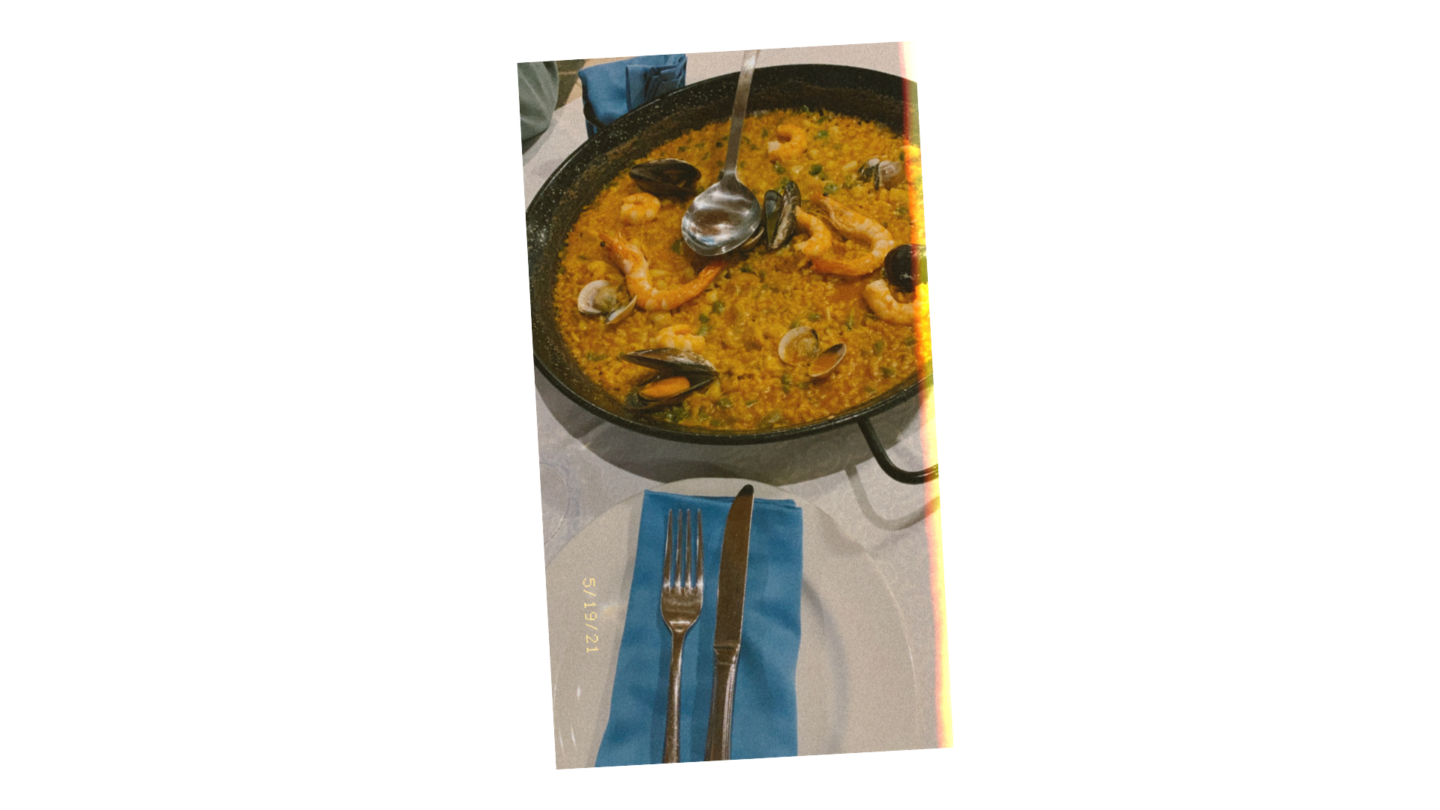 Restaurant El Caleton in El Golfo – First restaurant we did when we arrived, which I loved and can be trusted one hundred percent. Located on the west coast of the island about 15 minutes from Playa Blanca, El Caleton offers sea views with a lovely terrace. Friendly staff, the service is great! I recommend the grilled octopus served with canarian-style potatoes (a specialty of the island, you will see they serve almost all of this with a green or red sauce), a delight! – €€€
Address: Av. Marítima, 35570 El Golfo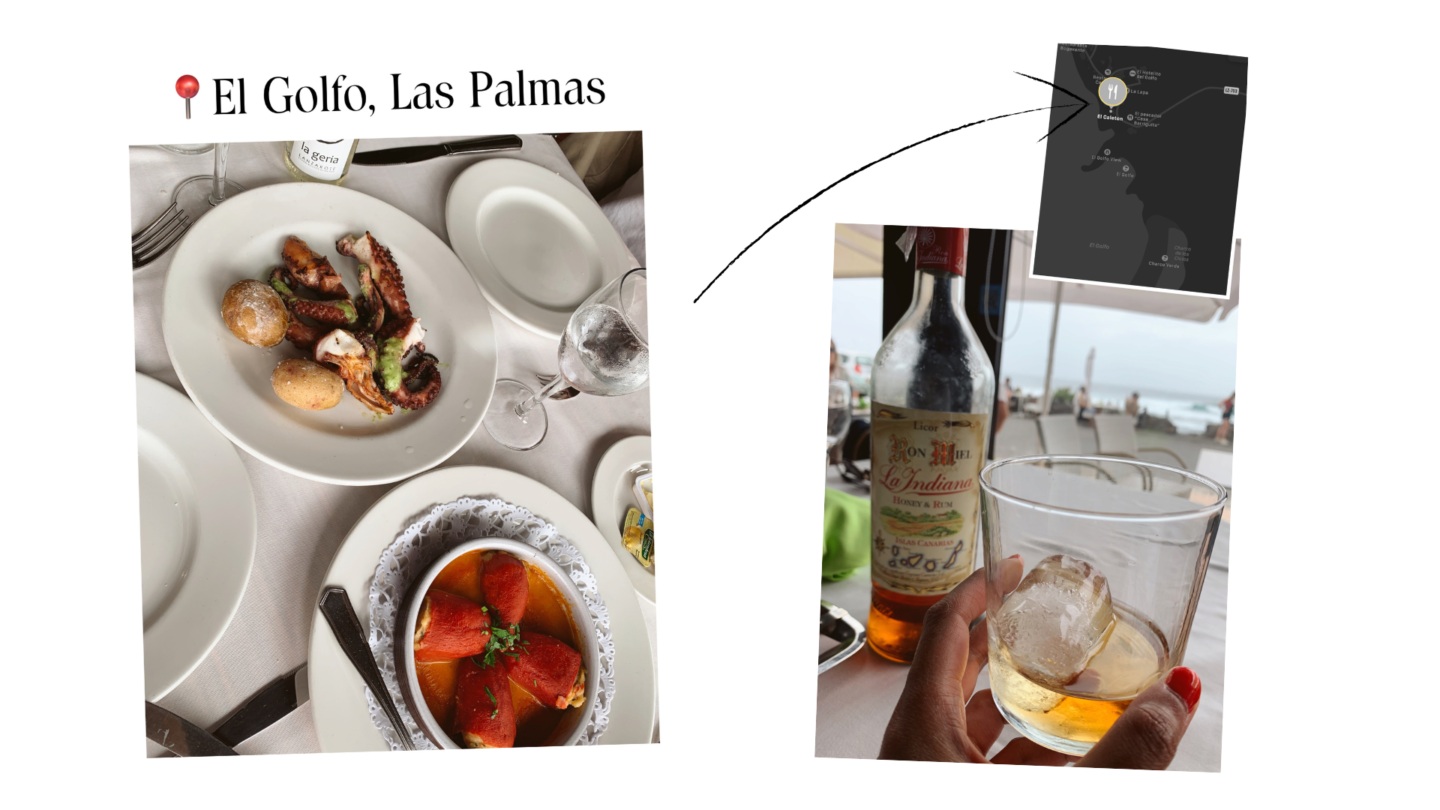 INSTAGRAM POSTS
To watch :
– Instagram posts
– Instagram stories
CONCLUSION
MY OPINION
One of my best trips ever, Lanzarote enters in my Top 3 !!! It was a total change of scenery, it changes from what we usually see: paradise places, coconut palm, white sand and clear blue water… On this island it's like you were on another planet or an apocalyptic place. The lava fields are awesome, the volcanoes spectacular, the color of the black sand on some beaches are WOW – I've never seen this before! Vegetation growing on lava soil as well as some palm trees, you wonder how this is possible?
In short, you'll so surprised by all the beauties that you might never see before! I recommend this island, because it's also not very far from France (4 hours of flight, well it will depend for who lol), still few people who talk about it I find (many prefer Tenerife, Fuertaventura or even Gran Canaria), at the moment it's not very expensive (depends on the period you go).
TO KNOW
It's so windy there, I don't really know if it's all round the year like that but when we went there, during the whole week, it was very windy!
Moreover I almost lost my hats when I opened the car lol
Better to go in low season between October and June – it's cheap, it's still warm and it's not crowded
Pictures and videos by Vincent Hurdequint / Website / Instagram
Edited by me :)
If you like this article, save the pins in your Pinterest account and don't hesitate to share this!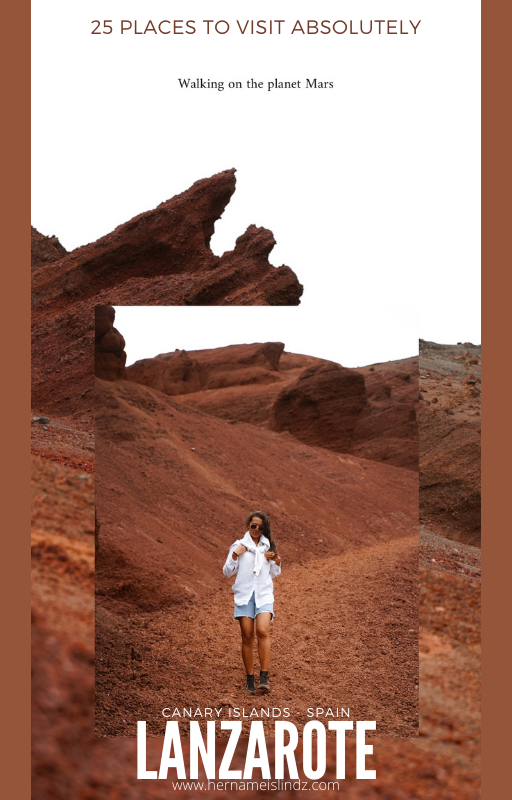 MORE ABOUT MY TRAVELS AROUND THE WORLD HERE